Every detail of your home matters, the furniture, paintings, shelves, and even the curtains, which are capable of completely changing the appearance of a room depending on the style you choose. And your trusted home store Zara Home has innovated in its web catalog with 3 models of curtains that have the three "E": Elegant, economical, and exquisite.
Of course, in Look At The Square (LATSQ) we cannot miss the opportunity to detail them. And let you know that it is very easy to order them from their web catalog anywhere in the United States. In addition to having the best products from IKEA and Target, complete your collection with the items shown below.
Zara Home White Linen Curtain
It is an elegant style curtain that fits naturally in different decorations for the interior of a house. The White Linen Curtain model by Zara Home uses a rough irregular weft fabric that is perfectly complemented by a textured finish that gives it a unique touch. In addition, it has loops in white and the following dimensions: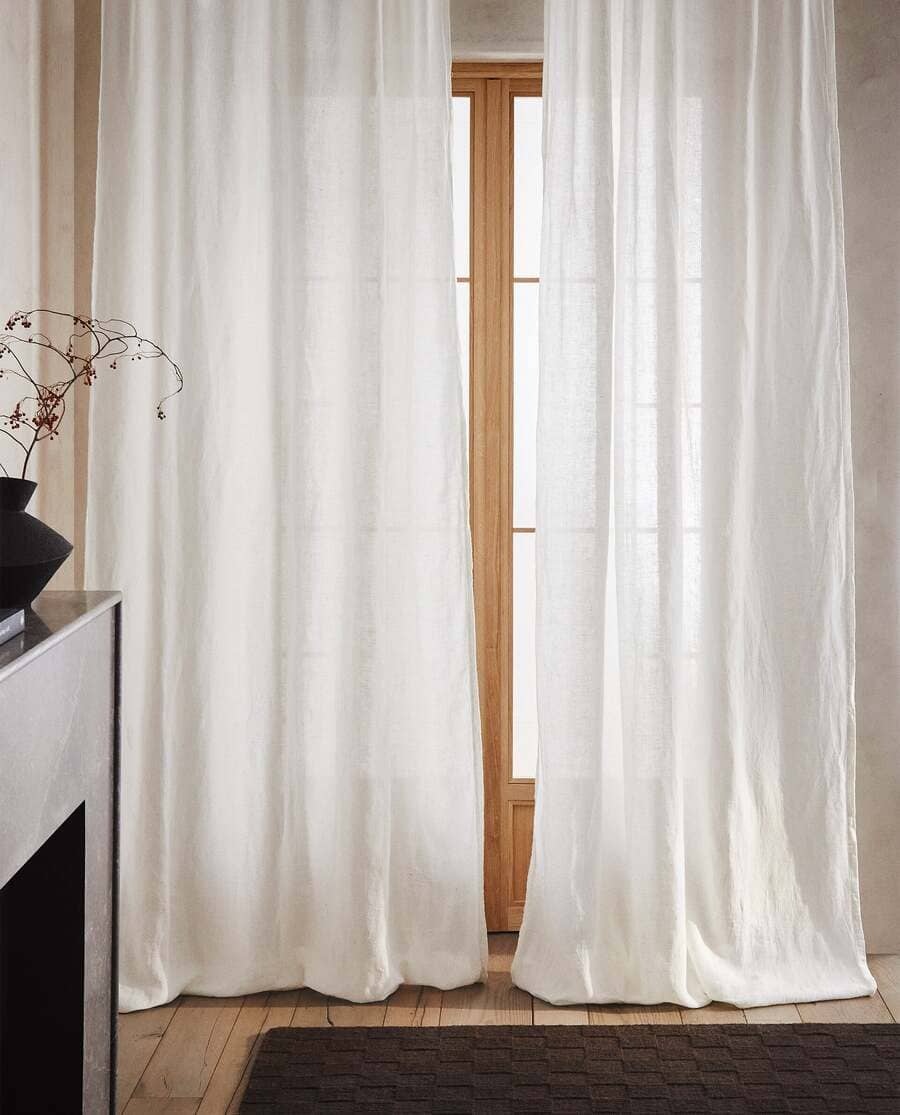 Width: 55.1 inches.
Length: 106.3 inches.
On the other hand, White Linen Curtain is medium opacity and 1000 GSM. As for its basic maintenance, it can be machine washed with a gentle cycle. Under no circumstances should you use bleach or iron the curtain, as it damages its fabric. This product for housing from Zara Home has an economic price of $109 on the official website.
Zara Home Plain Cotton Curtain
Another accessory that can be adapted more easily to the decoration of your home, is the Plain Cotton Curtain model from the Zara Home catalog. This has a more elegant design in a different color than the previous model, complemented by a curtain headboard for easier use. On the other hand, this product has the following measures: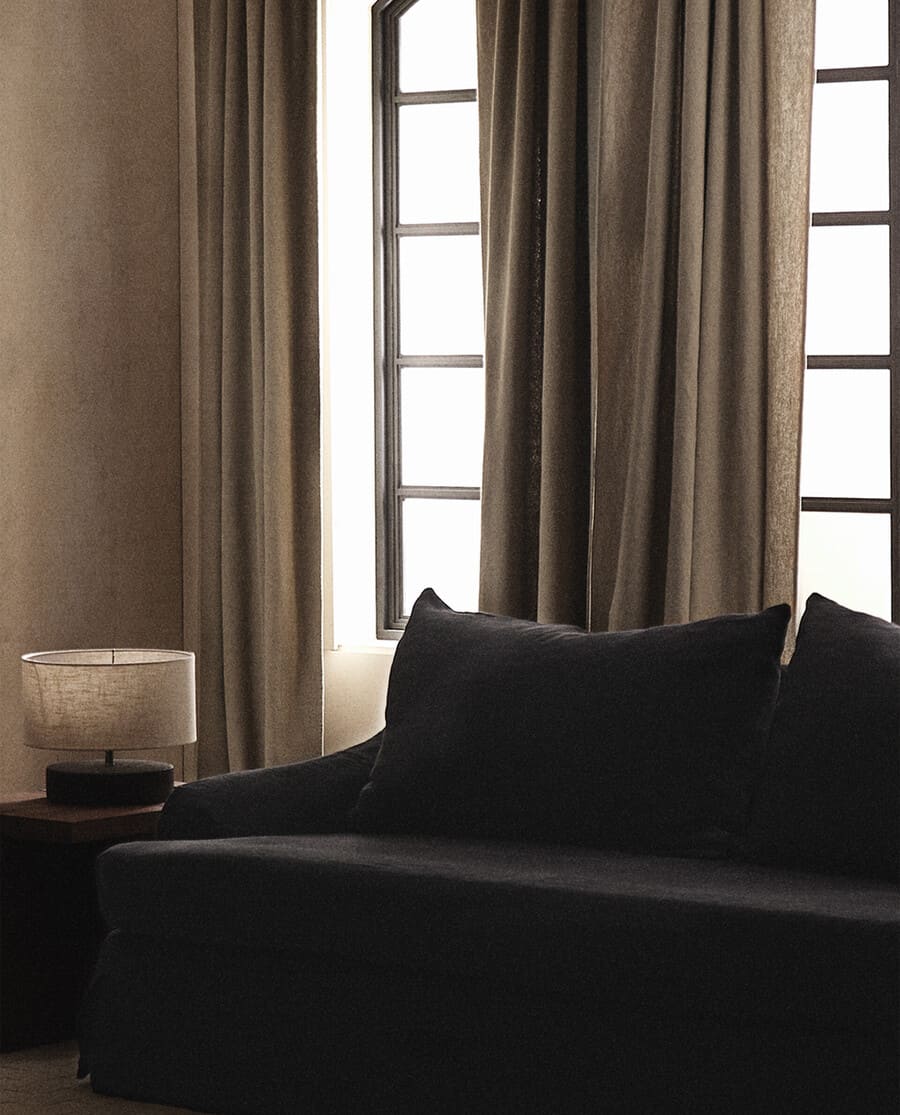 Width: 51 inches.
Length: 106.5 inches.
It should also be mentioned that the Plain Cotton Curtain model is made with cotton, viscose, and linen as the main materials. Thanks to this, it has a splendid texture and great resistance to decorating your home for many years. Like the previous one, this product can be machine washed. On the website, you get it for a price of only $109.
Zara Home High GSM Linen Curtain
We finish the list of recommendations with the High GSM Linen Curtain model. This is an accessory for the house that stands out for having hanging ties and washed linen of high grammage. Therefore, its appearance is a bit more subtle than the products mentioned above. In addition to this, it is a high opacity curtain with 2 different sizes that are the following: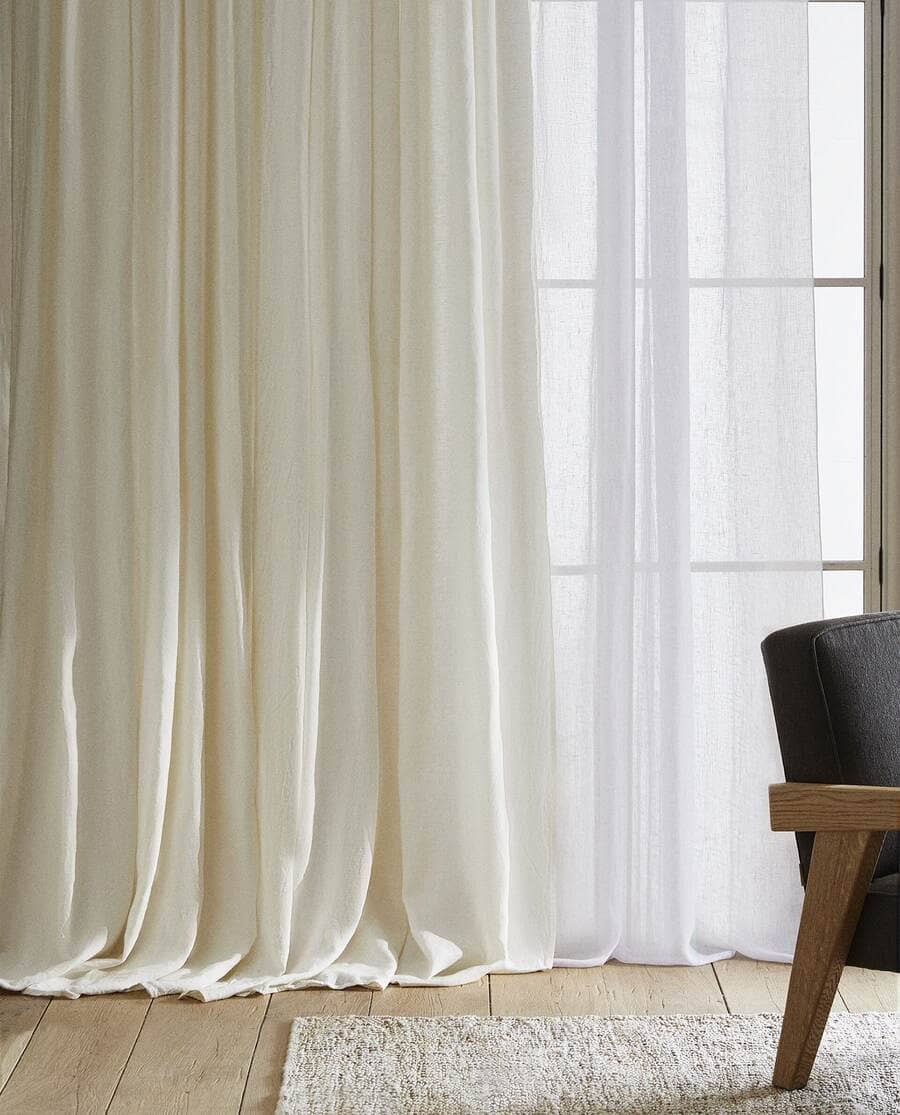 Large: 70.9 x 106.3 inches.
Standard: 55 x 106.5 inches.
Another quality to highlight about the High GSM Linen Curtain model from Zara Home is that it only uses linen as a manufacturing material. In addition, it has 1400 GSM. You can machine wash this product and iron it at a maximum temperature of 150ºC. Depending on the model you choose, the price of this product can be $149 or $179.
Shipping & Returns
Each of these products has multiple shipping methods that you can choose according to your convenience. In this way, Zara Home facilitates the purchase process to make it as fast and efficient as possible.
On the other hand, you also have options for the return or refund of curtains, in case they have factory defects. You can request it by logging into the website or entering as a guest.