Best Buy has surprised everyone with a discount on one of the most popular deep fryers in the United States. It's the new Bella Pro Series 9-quart fryer that's packed with perks. First of all, it does not use oil so the calorie consumption is much lower than a conventional fryer and it takes care of our health. Secondly, and unlike other level fryers such as COSORI or Ninja, this model allows you to cook two different foods at the same time.
With many available functions, large capacity and with an innovative touch screen, this appliance promises to take cooking to the next level. From Look At The Square we can give guarantees that this type of air fryer preserves much more food flavor, saves time and avoids having to dirty a lot of utensils.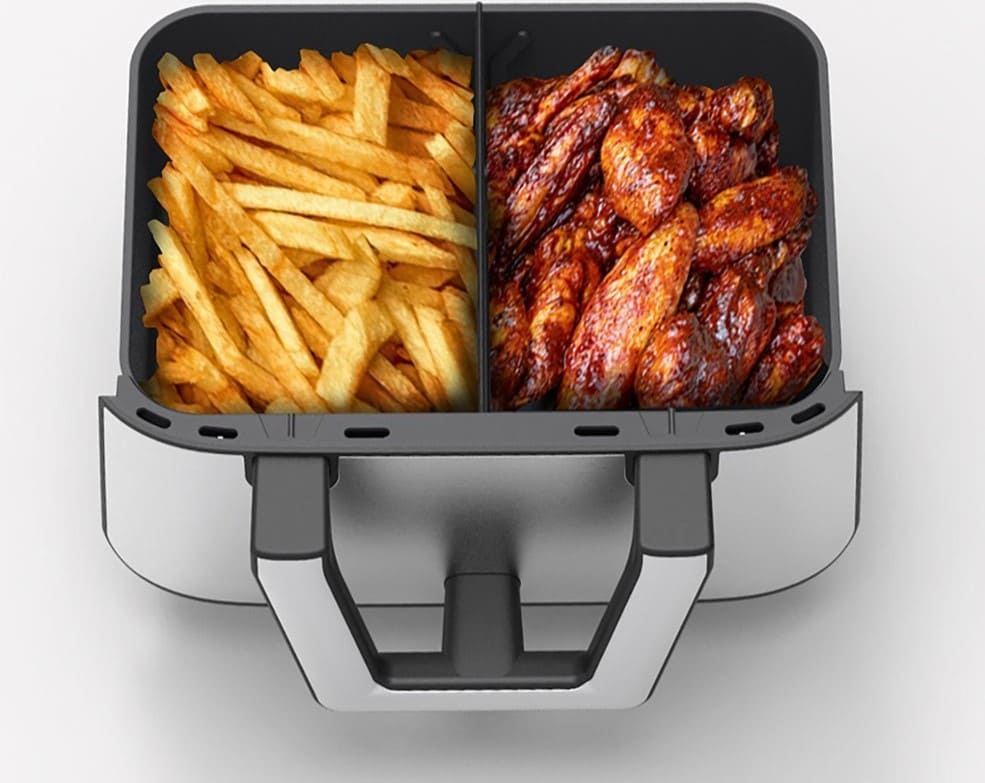 Best Buy Bella Pro Series Digital Air Fryer
Within the Best Buy catalog, the Bella Pro Series Digital Air Fryer model is an exceptional addition to any modern kitchen. In particular, it has a capacity of 9 quarts, a flexible double basket, and is made of stainless steel. This versatile appliance allows you to cook a variety of dishes more healthily.
Its most outstanding feature is its double basket, which allows you to cook 2 different portions of food at the same time. On the other hand, the high-quality stainless steel used in the construction of this fryer makes it durable and resistant. In addition, its elegant and modern appearance adapts perfectly to any style of kitchen.
Air fryer with 6 cooking programs
This model of air fryer is a versatile and efficient culinary tool that simplifies the preparation of a wide variety of dishes. It is equipped with specific programs, such as air frying, roasting, baking, reheating, and dehydration. Thanks to this, it provides the flexibility needed to cook delicious meals with a healthier touch.
Its hot air circulation technology ensures even heat distribution for consistently delicious results. Best of all, the built-in cooking programs are easy to use. Therefore, it opens up a wide range of possibilities for cooking all kinds of food.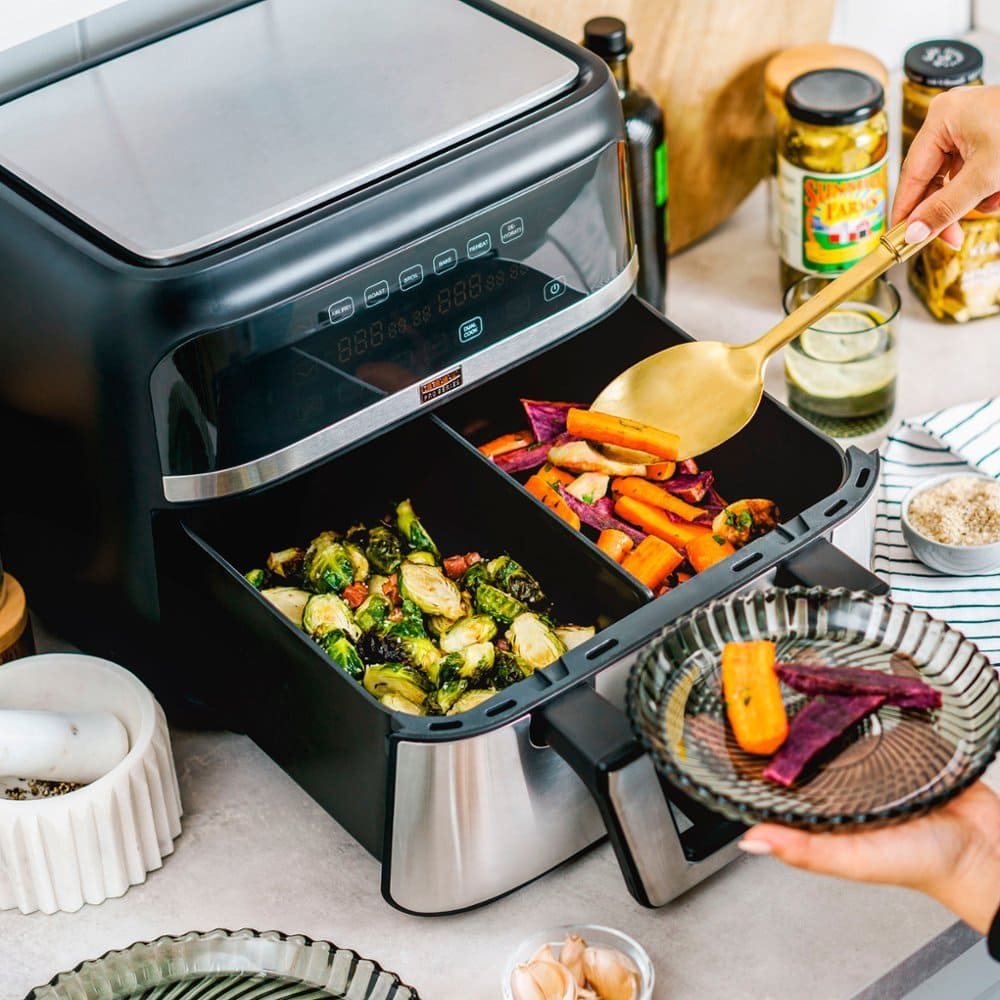 Air fryer with integrated touchscreen
Among the most outstanding qualities of this Best Buy product is the touch screen that it has in the case. This innovative feature makes the operation of the air fryer easy to use. In this way, it does not matter that the user has little experience handling this type of appliance.
By simply touching the screen, you can select the cooking program, and adjust the temperature and time. It is also possible to monitor the progress of your dishes in real-time. This means you can cook your favorite meals quickly and accurately, without having to guess the right settings.
Details of the Bella Pro Series Digital Air Fryer model
It has an internal capacity of 9 rooms to cook large amounts of food.
It operates with a power of 1800W and a temperature of 90 to 450 °F.
Cooking times can be synchronized automatically.
It has non-stick crispy trays that facilitate cleaning.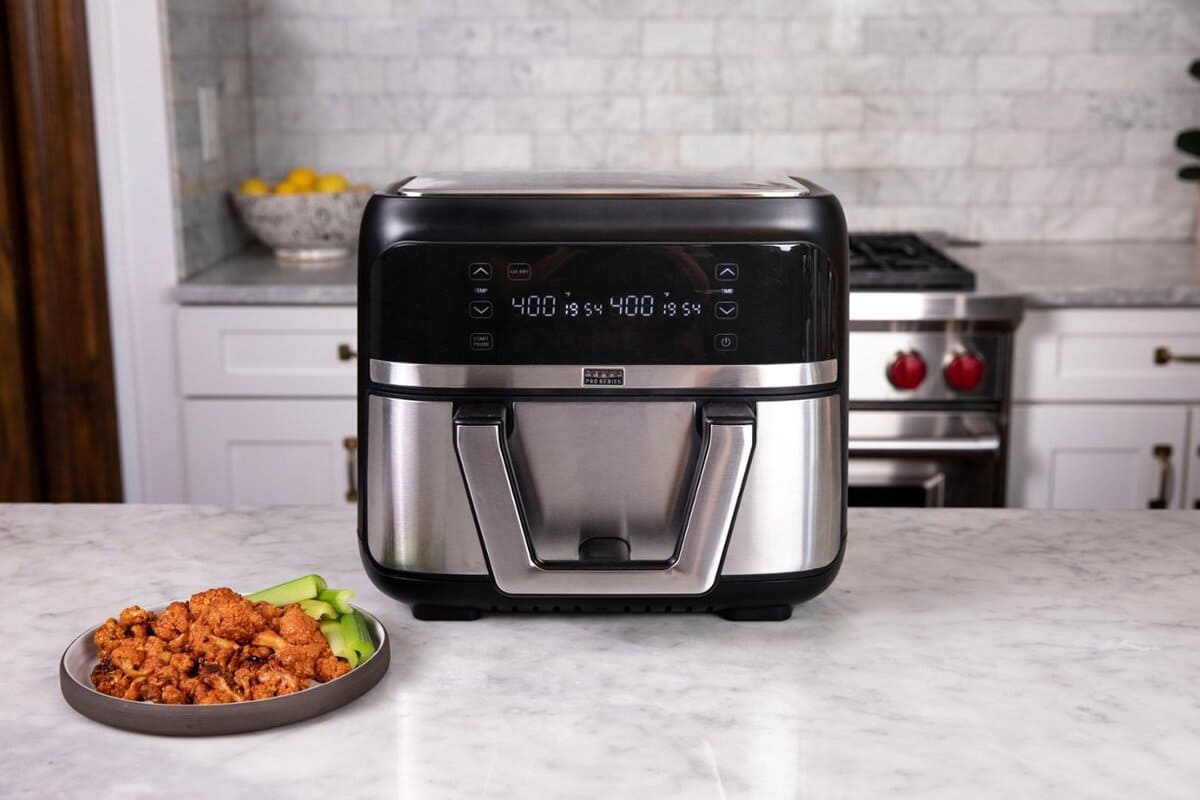 Best Buy Bella Pro Series Digital Air Fryer Price
Best Buy's Bella Pro Series Digital Air Fryer model is currently available for sale. On the official website, this product has a discount of $80.00. As a result, its original value of  $179.99  was reduced to $99.99. In addition, it can be paid in 4 monthly installments of only $25.00.