The seasons pass, and with that, our taste changes to different styles, wanting to change everything around us, from our clothes to the entire decoration of the house, but a big problem with this is that the cost can be very high. One of the things that we cannot change all the time is the frame of the bed for all the space it occupies and the price of most of the options in the US market, but IKEA helps with this problem with its SLATTUM line now with a fantastic discount.
The Swedish store' designer was responsible for the creation of a versatile bed frame, which could be in any room, and thanks to the fact that it can be combined with any set of furniture and decoration, apart from being made of a resistant material, presents an incredible durability, which will help save a lot of money over time, being a long-term investment.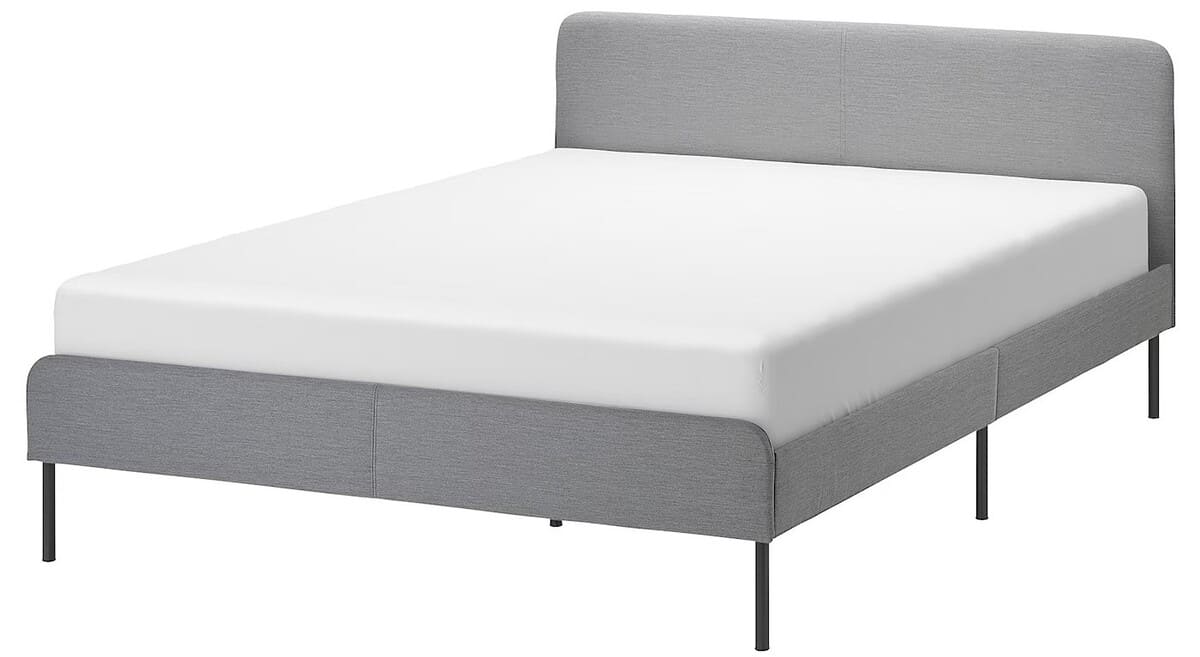 IKEA SLATTUM Upholstered bed frame
To have an elegant and aesthetic bedroom, the SLATTUM Upholstered bed frame model from IKEA is an ideal product. It is designed with durable materials, to be part of a room for many years. In addition, it has a gray upholstered surface to provide a more modern and sophisticated appearance within any bedroom.
Due to its minimalist design, the SLATTUM Upholstered bed frame model from IKEA can fit into different spaces. It also can be complemented with other decorative accessories. In this way, it is a focal piece that allows to creation of a unique atmosphere inside the bedroom, so that each user feels more comfortable.
Bed frame with soft upholstery
This IKEA product stands out for several reasons, such as the padded and soft coating it has. This quality provides comfort to the user at bedtime. At the same time, it provides an elegant look to decorate the room in a contemporary way.
The soft upholstery of the bed frame is pleasant to the touch and provides a sense of prosperity when lying down. On the other hand, it has enough space at the bottom to add storage boxes or other essential accessories.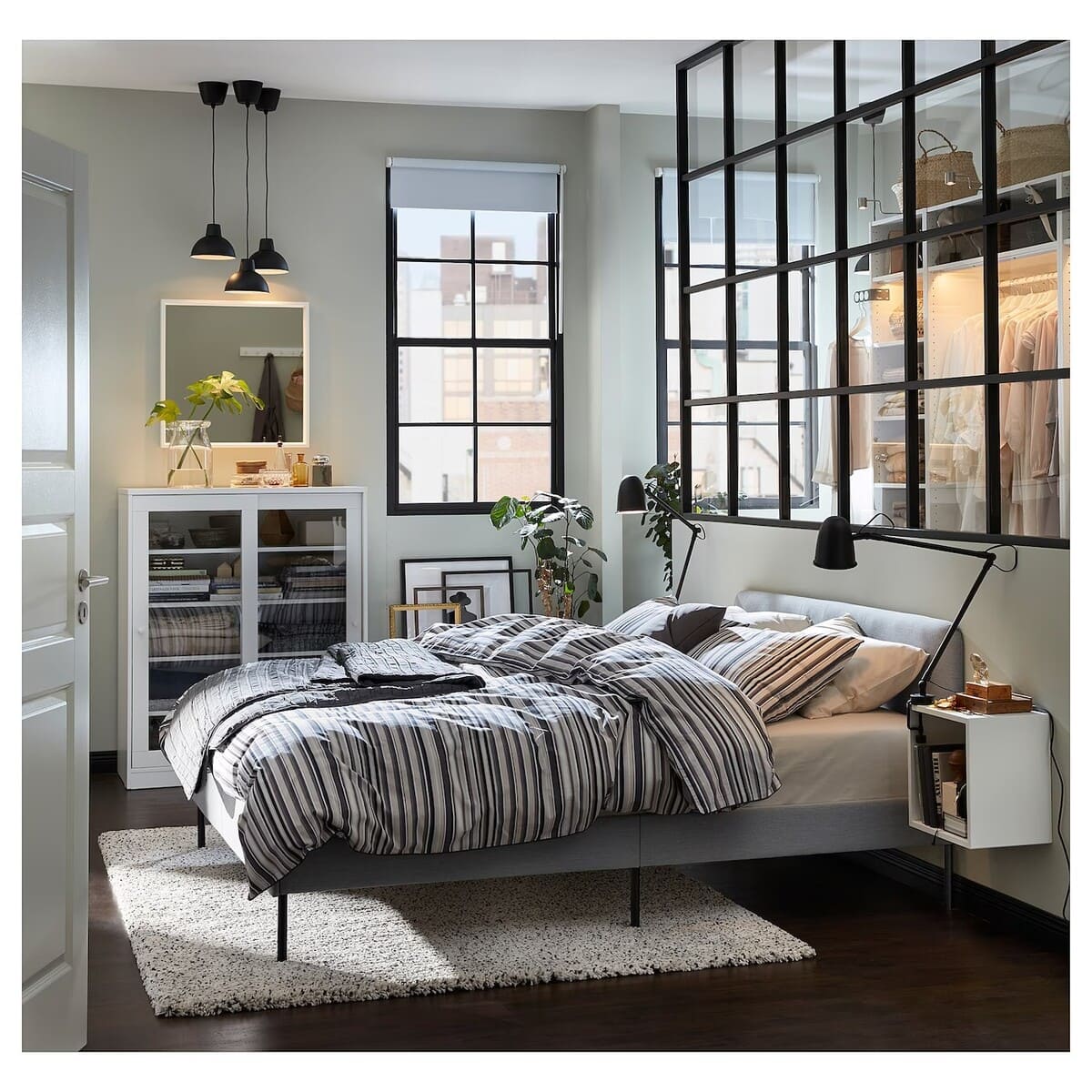 Bed frame with padded headboard
To increase the comfort, it offers, the IKEA bed frame has a built-in padded headboard. This allows for a more versatile functionality since it helps to sit down to read or watch television. In this way, proper posture is obtained and the possibility of experiencing muscle problems is reduced.
The padded headboard of this product not only stands out for its comfort but also for its good quality composition. It is designed to remain in good condition for many years. It does not require much care and is not easily damaged.
Relevant details of the SLATTUM Upholstered bed frame model
Made with polyurethane foam, steel, polyester wadding, and particleboard.
Uses glued wood veneer and adhesive resin as a coating for durability.
It can be kept dust-free with a dampened cloth and any type of mild cleaner.
It is a bed structure of large dimensions, with the following measures: 81 7/8 x 61 3/8 x 15 3/4 inches.
It has a case designed with a high level of light resistance. However, it cannot be washed.
Comes with the box spring and the central beam included in the purchase of the bed structure.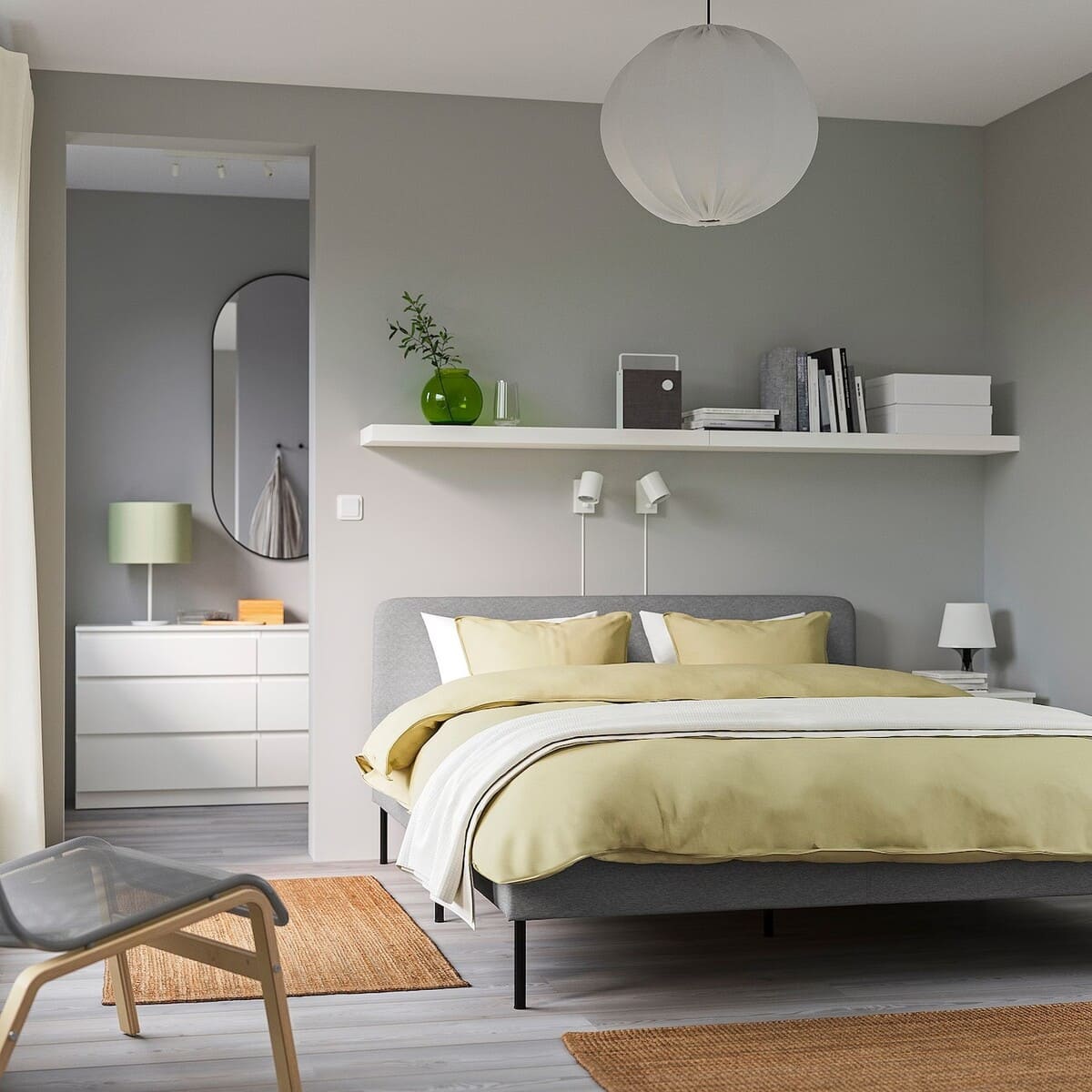 IKEA SLATTUM Upholstered bed frame price
On the IKEA digital portal, the SLATTUM Upholstered bed frame model can be purchased in a matter of minutes. This is one of the best-selling products in the Beds and Mattresses section, with a discounted price. It used to cost $249.00 and now it's $199.00. However, keep in mind that mattresses and bedding are sold separately.