If it has happened to you that you have a huge wardrobe, but still have no idea how to order all your things, you are not the only one. And to attack this problem, IKEA has an option that in addition to being elegant, with the wood of excellent quality and durable, is very functional and practical.
In Look At The Square (LATSQ) we look at the HEMNES 8-drawer dresser, which in addition to the very spacious drawers, has dividers that help you share all the available space. This translates into time savings, less clutter and increased popularity of the Swedish store in the United States, remaining the main competition for stores such as Zara Home or Costco. Let's see more details about it: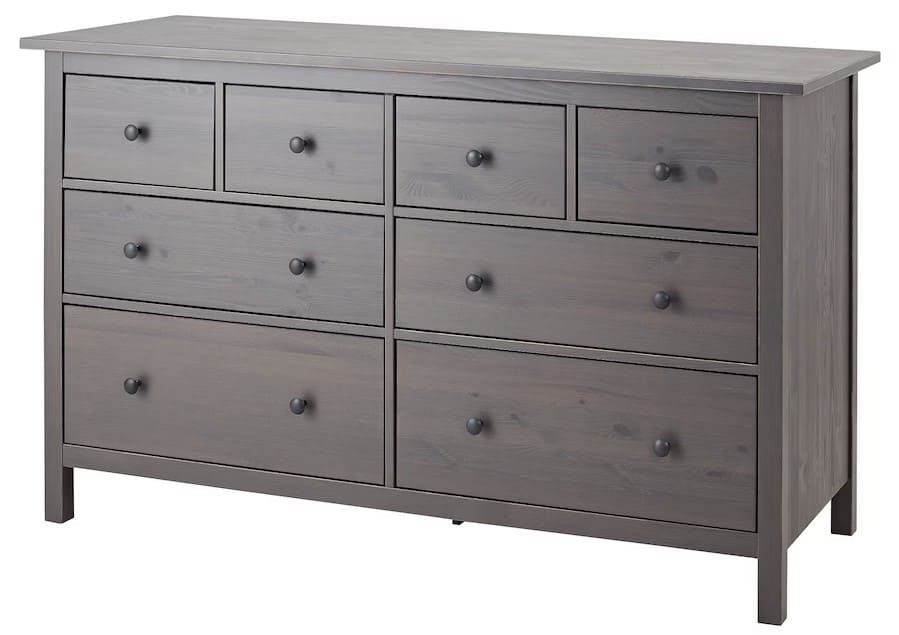 IKEA Hemnes 8-drawer dresser
Having a good wardrobe is essential to prevent clutter within a room. At the same time, it is an accessory that helps you save time and improve the aesthetics of your bedroom. For this reason,  the IKEA Hemnes 8-drawer dresser model is one of the best options in the catalog of home products available at the moment.
The IKEA Hemnes 8-drawer dresser model has a timeless design, ideal to fit into different spaces. Due to its structure, it can be kept balanced within any type of surface. In addition, it is a product that you can anchor to a wall with ease. In this way, you will be ready to order your clothes and accessories in the shortest possible time.
Plenty of storage space
Because of the size of this chest of drawer models, you will have enough space to store what you want. From your clothes to the accessories for personal use that you have scattered in your home. In this way, you can have a more precise order on all your things, so that you do not miss anything because of general disorganization. This way you will save a lot of money.
In addition, this is a household product that can be used by several people who share a home. This is thanks to the fact that the wardrobe has a wide variety of drawers that are separated in similar measures. In addition, you also have the upper part of the chest of drawers to add more essential accessories.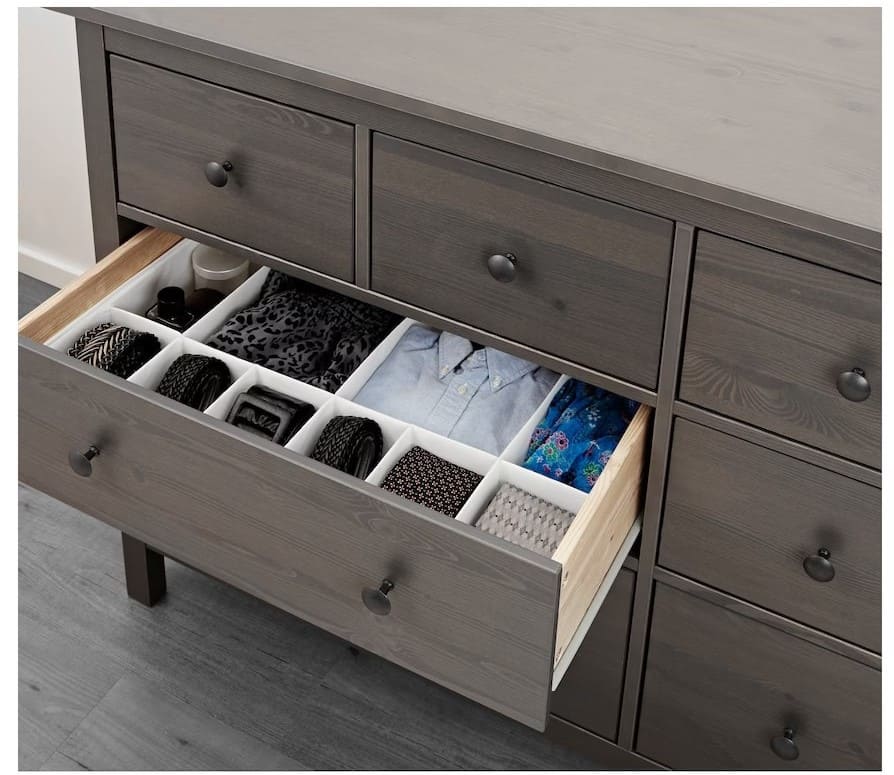 With soft drawers
This IKEA product not only stands out for all the drawers it has, but also for the way in which they are designed. These are smooth running with pull stop for quick access. In addition, it allows the drawers to work in a quiet way that does not disturb anyone when you have to take out your clothes or personal accessories.
And best of all, these smooth-running drawers are quite durable and resistant to different environments. You just need to make sure you perform proper maintenance when they need it. In particular, cleaning with a damp cloth when they accumulate a lot of dust or dirt. Then, you can dry them in a simple way with a dry cloth.
Measurements and materials
Width: 63 inches.
Depth: 19 5/8 inches.
Height: 37 3/8 inches.
Height under furniture: 4 3/8 inches.
Materials: Solid pine, Adhesive, Dye, Colorless acrylic varnish, Fiberboard, Acrylic paint and vulcanized fiber.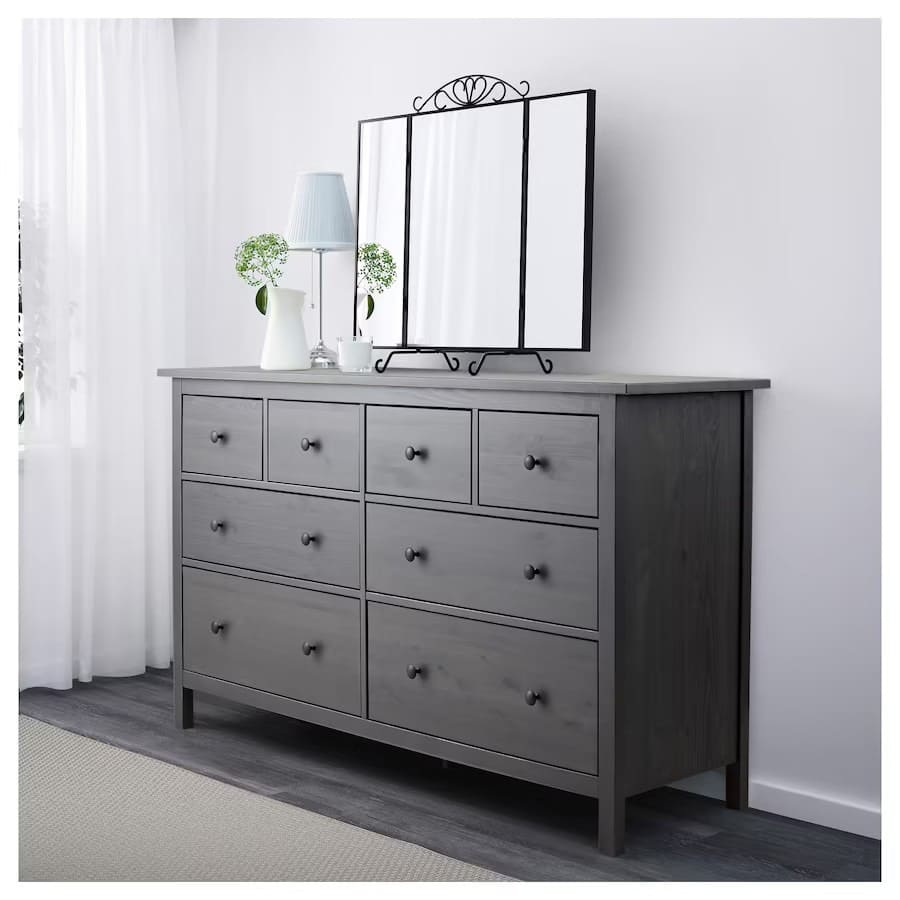 IKEA Hemnes 8-drawer dresser Price
You can start the process of buying the Hemnes 8-drawer dresser model from the official IKEA website. At the moment, this is a product for the home that is available with an offer price. Before it cost $ 399.99 and now you can buy it for $329.99. The wardrobe offer is maintained in any of the available colors.
IKEA Hemnes 8-Drawer Dresser: Beauty and Functionality Combined
Design and Functionality: The IKEA Hemnes 8-drawer dresser is renowned for its elegant design, made from high-quality wood, ensuring durability. It's not just about aesthetics; the dresser is highly functional, offering ample storage space for various items.
Spacious and Organized: The dresser features eight spacious drawers, each equipped with dividers to maximize storage efficiency. This design ensures time-saving, reduced clutter, and has contributed to its popularity in the U.S., rivaling other brands like Zara Home and Costco.
Timeless Appeal: The Hemnes dresser boasts a timeless design, making it suitable for various room aesthetics. Its structure ensures balance on any surface, and it can be easily anchored to a wall for added stability.
Smooth-Running Drawers: One of the standout features of this dresser is its smooth-running drawers with pull stops. This design ensures quiet and efficient access to stored items.
Materials and Dimensions:

Width: 63 inches
Depth: 19 5/8 inches
Height: 37 3/8 inches
Height under furniture: 4 3/8 inches
Materials: The dresser is crafted from solid pine, adhesive, dye, colorless acrylic varnish, fiberboard, acrylic paint, and vulcanized fiber.

Pricing: Originally priced at $399.99, the Hemnes 8-drawer dresser is currently available for $329.99 on the official IKEA website.