A kitchen is never complete without a wine fridge like the one IKEA has for you. Because when there comes a time to celebrate, enjoy a romantic dinner or share with distant relatives, you can never miss a bottle of wine. And what better way to enjoy it than fresh from the fridge?
In addition, when the family gathers in the United States for Christmas, the celebrations begin. That's why IKEA wants you to have a fantastic kitchen accessory that will cool your wines and any bottle you put inside. We at Look At The Square (LATSQ) want you to enjoy, and with this Wine Cooler you will do it to the fullest.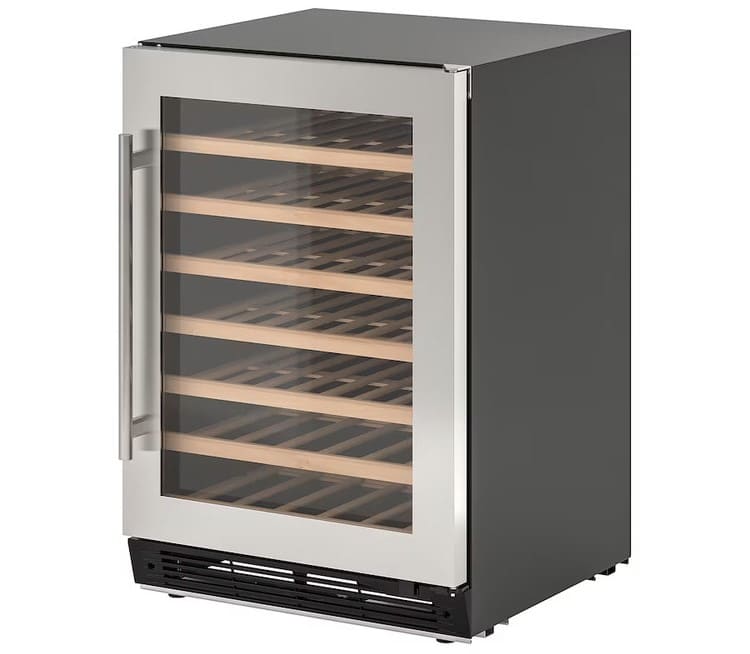 IKEA Numrerad 52-bottle Wine Cooler
It's a stylish compact-sized fridge for storing wines and keeping them cool for long periods. It can store up to 52 bottles of wine inside it, with a stainless-steel structure to adapt to multiple environments. In addition, it has a transparent glass door so you can see inside the fridge.
The IKEA Numrerad 52-bottle Wine Cooler also features LED lighting inside. In this way, you can locate the bottle you want to drink in a matter of seconds. In general, the interior of the refrigerator is composed of 7 wooden shelves, with a classic style that resembles that of a cellar of yesteryear.
To facilitate the extraction of wine bottles, the internal shelves of the refrigerator can be taken out in a subtle way. In addition, LED lights are maintenance-free and have a life cycle of many years. Without a doubt, the Numrerad 52-bottle wine cooler model from IKEA is very useful. Its main qualities are as follows.
Easy installation
This is a product that does not come assembled, but must be assembled from home. Luckily, your installation can be completed in a matter of minutes, thanks to the assembly instructions included in the package. And best of all, you can install the fridge door on the right or left side, depending on your stylistic preferences.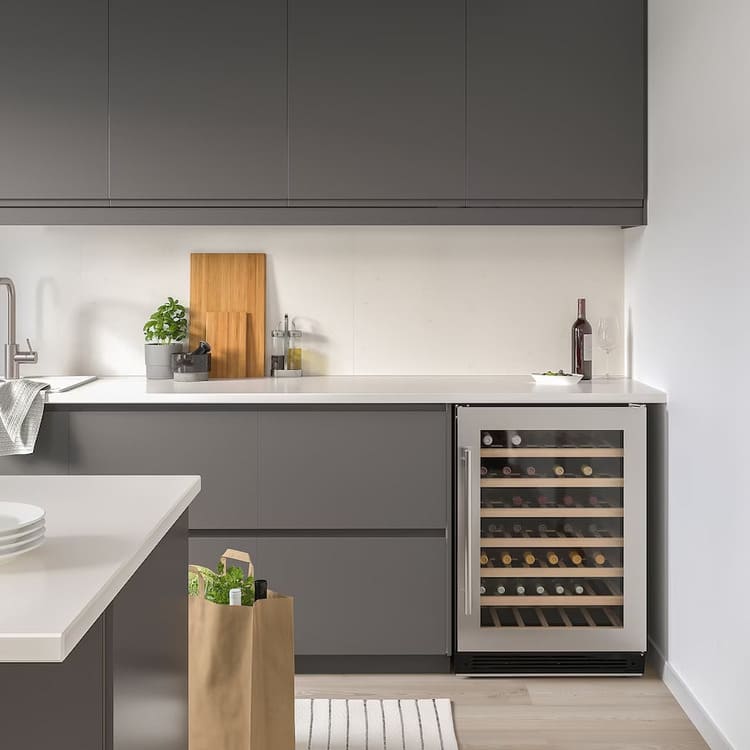 Basic maintenance
You can keep the IKEA Numrerad 52-bottle wine cooler in good condition for many years, just by performing its basic care. As we mentioned before, the lights do not need any maintenance. Instead, the rest of its structure can be cleaned with a soft cloth moistened with warm water and mild soap, both inside and outside.
To avoid problems with cleaning the refrigerator, do not use solvents or abrasive products. These can cause damage to the structure and operation of the product. In addition, we recommend to check the door seals frequently.
Power consumption
One of the best qualities of this IKEA product is its low energy consumption. The wine fridge is Energy Star-rated. Therefore, it is a home accessory that does not cause damage to the environment and can also help you save money on electrical expenses.
Measurement
You will have the opportunity to install the wine fridge in any space of your kitchen or the rest of your home. Especially because it is a product of compact size and reduced weight. Therefore, you can also move it wherever you want. The exact dimensions of this IKEA wine fridge are as follows.
Width: 23 7/16 inches.
Depth: 23 7/16 inches.
Height: 34 1/4 inches.
Maximum installation height: 35 1/16 inches.
Minimum installation height: 34 1/4 inches.
Volume: 5.37 cubic feet.
Weight: 108 lbs.
Cable length: 5.7 inch.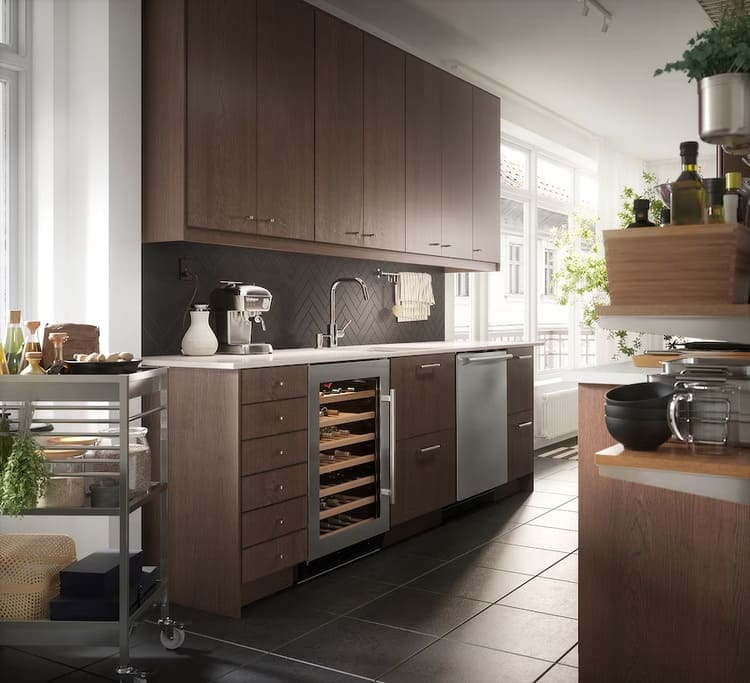 IKEA Numrerad 52-bottle Wine Cooler Price
You can buy this wine fridge from the official website of IKEA for a price of $799.00. Comes with 5-year limited warranty coverage.