IKEA thinks about keeping your kids busy while they have fun and learn about the deep sea and all the species found there. For us at Look At The Square, it is crucial that you and your little ones have the ideal excuse to get out of the routine, which is why we talk about this coloring board.
An ideal product to give to your children, nieces, nephews, or grandchildren on these Christmas dates that are getting closer, and you will need something to give as a gift from Santa. Fill your tree with vast and functional toys you can order without going to a physical store in the United States.
Blåvingad IKEA Coloring Rolls
If you need to entertain your kids this December, you should know about the Blåvingad IKEA Coloring Rolls. It is perfect for distracting the most miniature house while learning about the sea, its fauna, and its flora. This role is ideal for every mini-artist. With it, you get 10 meters of paper to color while it is spread over the surface you want.
In that sense, this roll can be filled with markers, colors, and watercolors. It is a single-use roll, which you can remember and hang on the refrigerator, on the bulletin board, or wherever you want, it is also perfect for sticking in a notebook or notebook.
Features of the Blåvingad Coloring Roll
Blåvingad is the ideal tool to let your children's imagination run wild. It has several important features to mention, and these are the following:
It is a coloring book that measures about 10 meters.

Within its design are details of marine life, with 

aquatic animals drawn

 in the style of 

children's cartoons

.

It is a product designed to raise awareness about the need to keep the 

marine environment

 clean. In that sense, your little ones can also be educated so that they can protect the beaches and seas when they grow up.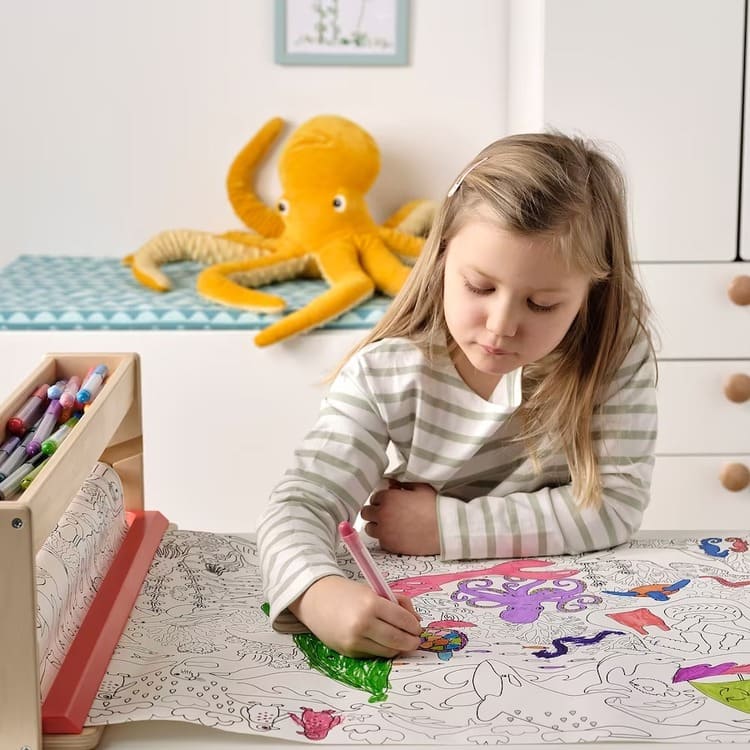 It has drawings of surfers, squids, starfish, waves, sand, and beach balls.

Its dimensions are as follows: a bottom diameter of 1″, an outside diameter of 2″, a length of 394″, and a width of 17″. On the other hand, it can cover a diameter of 46 square feet.

Designed by S Edholm/L Ullenius.

This product does not include markers, pencils, watercolors, or brushes, but they are necessary.
Benefits of giving your little ones this coloring roll
If you have decided to buy this coloring book, you should know its benefits, and those benefits are as follows:
You can keep your 

kids above three years

 old busy while you leave the house or do other activities like preparing food, cleaning, working, etc.

You can use it for various purposes.

You can also keep it as a souvenir for years to come, just like a vast jigsaw puzzle. You can even frame it if you like.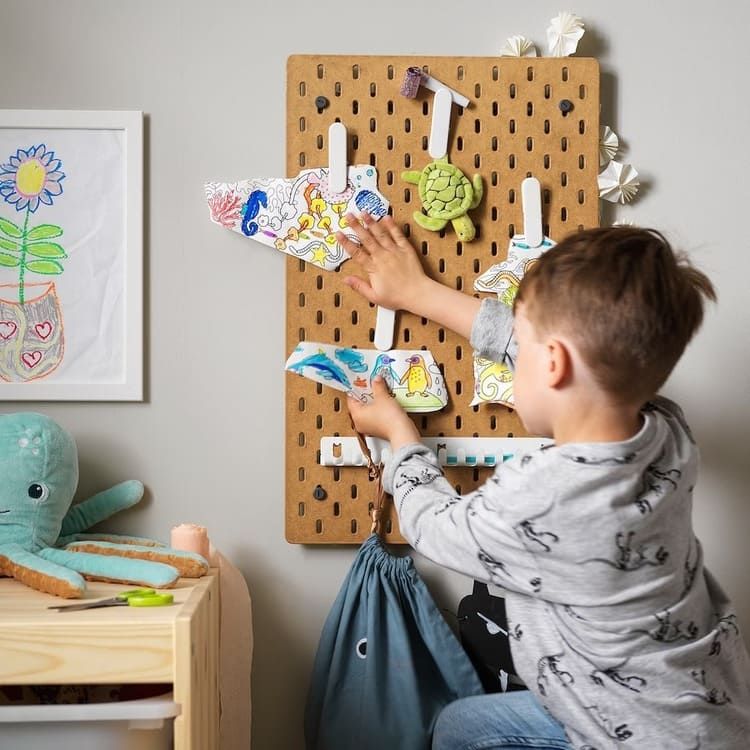 Blåvingad Coloring Roll Price at IKEA
This Blåvingad coloring roll has a special offer price at IKEA. The cost is $8.00 net which does not include the amount to pay for shipping, as this varies depending on your location.
The store also offers a 5% discount on selected products if you use your IKEA credit card to pay for your purchases.