It is not the first time that in Look At The Square (LATSQ) we see how Urban Outfitters' designs defy fashion. From its unique footwear, sweaters, and urban and contemporary clothing, to furniture and shelves that bring a unique style to your home at a comfortable price and exclusivity that falls in love.
They are designs that you can find anywhere in the United States as long as they are from UO stores. Since their exclusivity is so much, you will not find them on Amazon or Target no matter how much you want it. So we talked about design, functionality, quality, and unique style that will take the decoration of your home a level further this year.
Urban Outfitters Hugo Side Table
We start with a side table of contemporary and minimalist style, which you can use to decorate different spaces of your home. The Hugo Side Table model from the Urban Outfitters collection has a durable and fun composition. It is a product that offers many possibilities to decorate a home. In addition, it has the following qualities: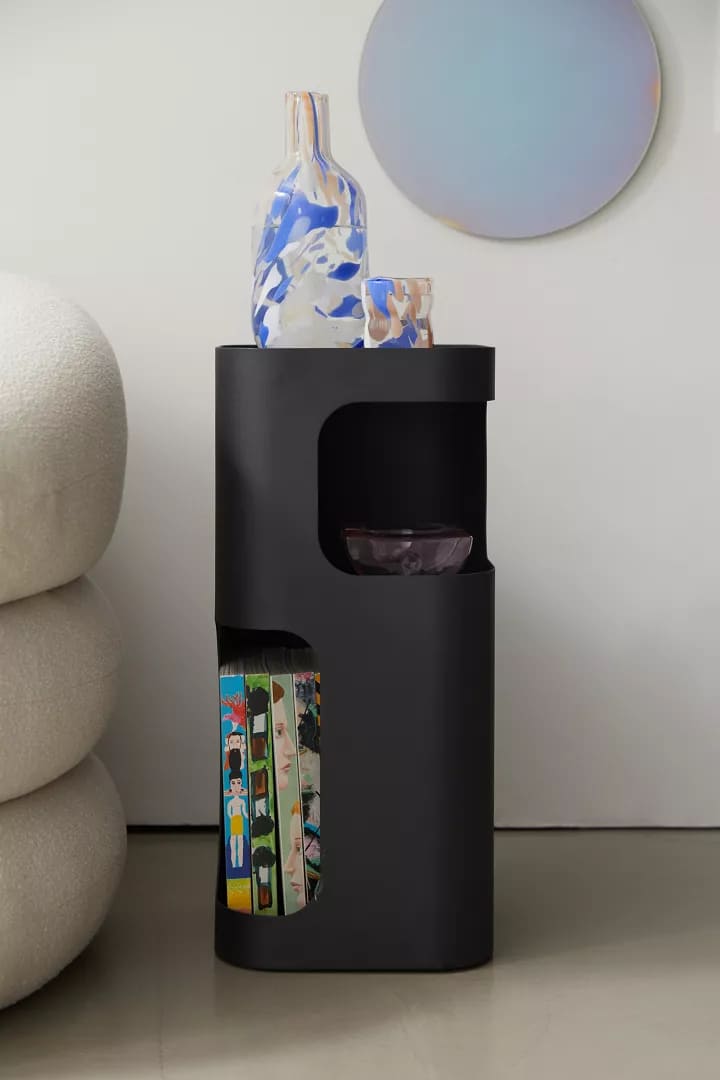 It has 2 integrated cubicles to display decorative objects or personal use.
It has removable legs to move inside the home more easily.
It can be cleaned with a damp cloth and a dry cloth in times of dirt.
It has the following dimensions: 10.6 x 10.6 x 22.8 inches, weighing 16.3 pounds.
Best of all, Urban Outfitters' Hugo Side Table model comes assembled from the factory. So, you won't have to waste time on a tedious installation process. Do you want to purchase this product for your home? You can do it from the official website. This is available for an economical price of $199.00, in any color.
UO Maura Wall Shelf
Otra de las opciones que Urban Outfitters tiene disponible para organizar tus accesorios decorative at home, is the model Maura Wall Shelf. Unlike the product mentioned above, this one must be installed on one of the walls of your home. However, they are shelves of similar styles in their contemporary design. Its characteristics are as follows: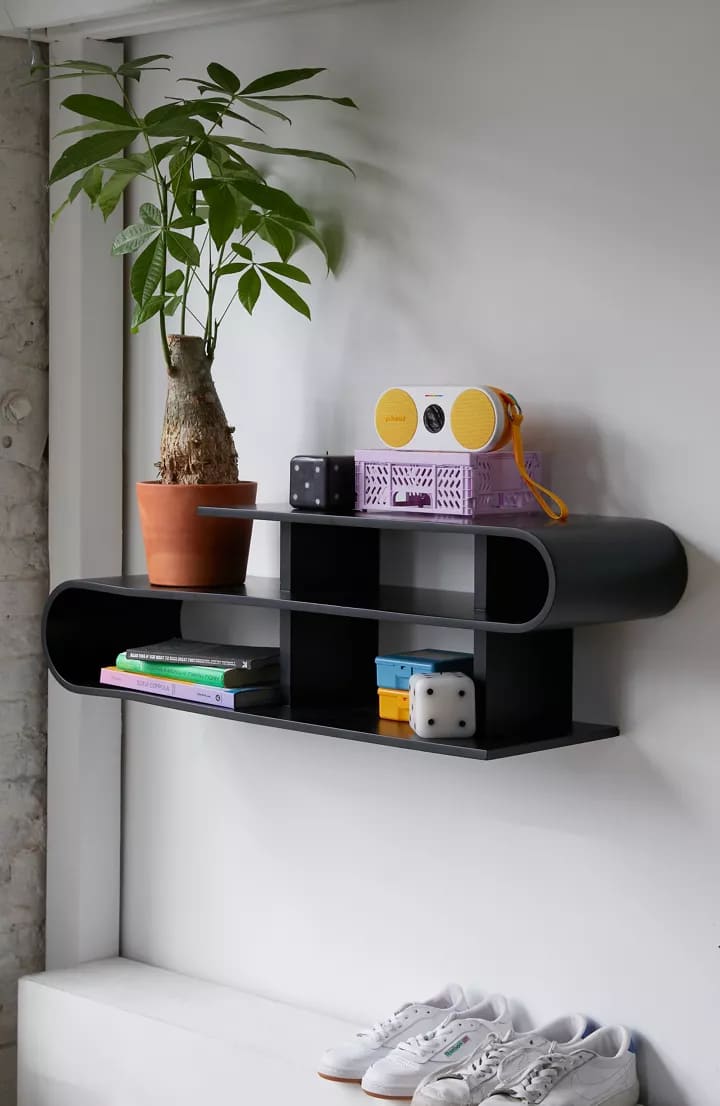 It is a product made with curved wood.
You can clean it in a simple way with a cloth.
It has the following measures: 39.4 x 10.5 x 10.94 inches.
The shelf has a compact weight of 22.1 pounds.
Within the official website of Urban Outfitters, the Maura Wall Shelf model can be purchased for an affordable price of only $189.00. You also have the option to pay it in 4 interest-free installments of $47.25 with Afterpay or Klarna.
Urban Outfitters Ebba Storage Console
We finish the list of recommendations with the Ebba Storage Console model from the Urban Outfitters catalog. It is enough to see it with the naked eye to notice that this is a different product from the previous ones. Both in design and size, it is easily distinguished and instantly catches the eye. Apart from this, it is a shelf with the following specifications: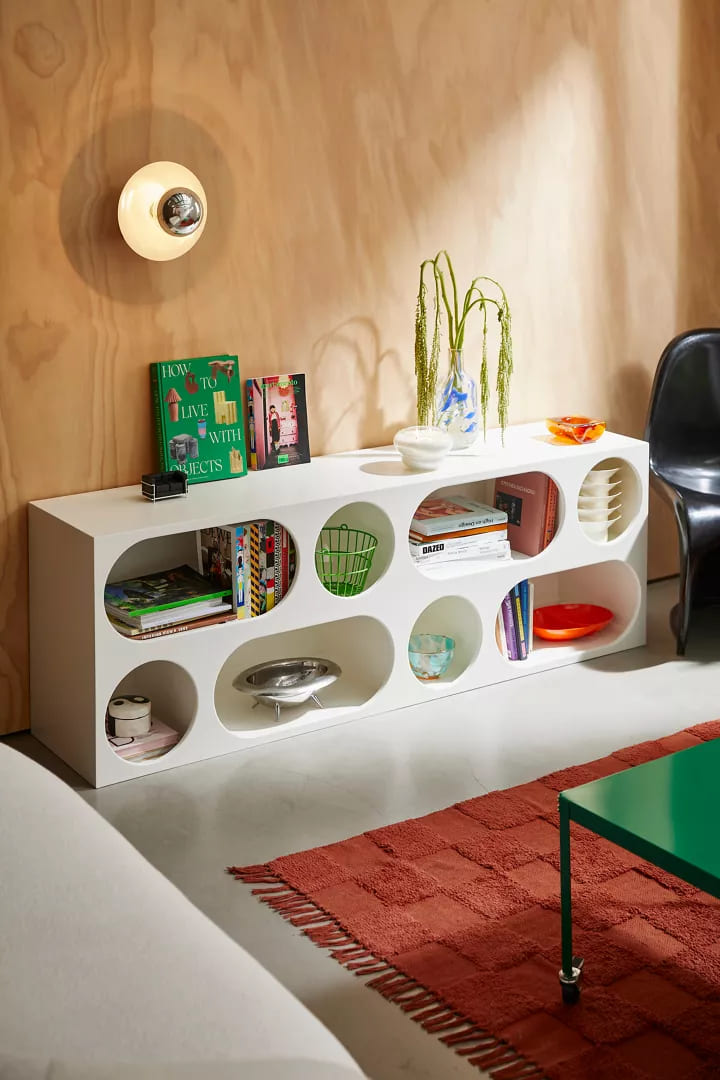 It has 8 integrated shelves with circular frames.
It has 2 cutouts for cables on the back panel.
It can be installed vertically or horizontally inside your home.
It has the following measurements: 34 x 14.5 x 34 inches, weighing 61 pounds.
It is also necessary to emphasize that the Ebba Storage Console model of Urban Outfitters is a product that requires assembly. Luckily, it comes with the corresponding instruction manual. As for its price, this is a home accessory that you can buy for $699.00.