Los expertos en decoración de Look At The Square (LATSQ) gritan una cosa: no subestimes el poder de un espejo para cambiar la apariencia de un espacio. Actualmente, hay muchas opciones para elegir en catálogos como Urban Outfitters , Zara Home, o IKEA … Pero, llegar a tu verdadero gusto y estilo es importante para sacar lo mejor de tu hogar.
Recientemente ha destacado una línea de espejos, uno más abstracto que otro, que ha disparado como nunca las ventas de UO en Estados Unidos . Que, junto a las estanterías , librerías , pufs y sillones similares , harán que tu salón o dormitorio parezcan sacados de una revista de moda ochentera que dejará a todo el mundo con la boca abierta. Veamos las mejores opciones:
Espejo de pared sin marco UO Squiggle
Empezamos por uno de los modelos más llamativos ya que se trata de un espejo sin marco que deja un espacio muy amplio para que puedas verte fácilmente al espejo sin problemas. Puede encontrarlo como Frameless Squiggle Wall Mirror , en el portal de Urban Outfitters por un precio de descuento de $49.00.   Es una oferta que no te puedes perder ya que anteriormente la encontramos por $69.00.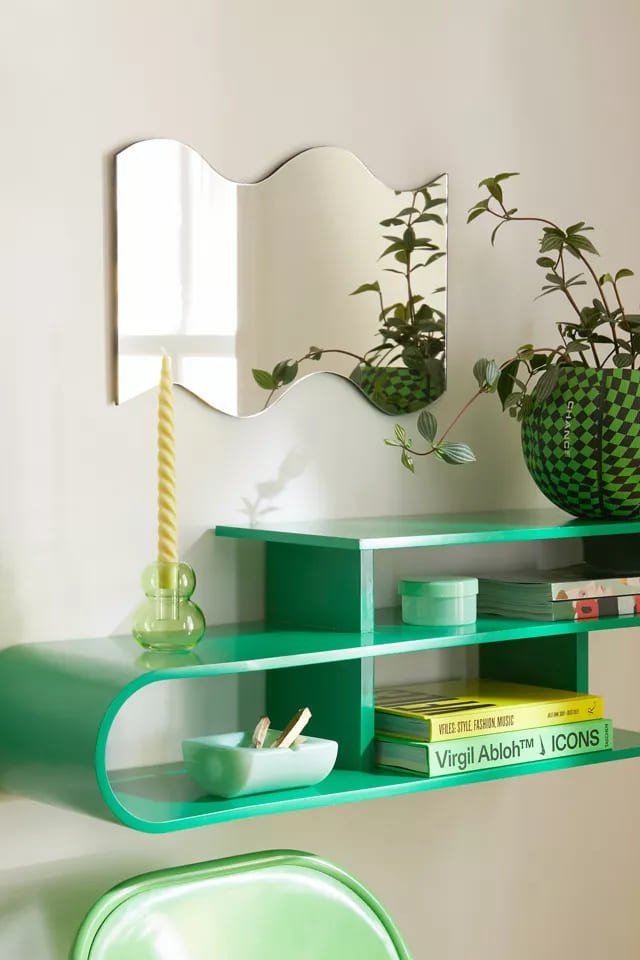 Además, no es el simple espejo que encuentras en cualquier tienda. El espejo de pared Frameless Squiggle tiene bordes ondulados y una orientación horizontal que crea un espacio totalmente diferente a otro. Con características como:
Acabado limpio y extremadamente elegante gracias a su diseño sin marco.

Fácil de montar en cualquier superficie.

Fabricado con vidrio y MDF.

Fácil de limpiar, solo necesitas un paño de microfibra para dejarlo totalmente brillante.

Puedes comprarlo en tallas: Pequeña, mediana y grande.

Consulta cada una de las medidas para elegir la que mejor se adapte a ti.

Peso 4.6 libras.
Urban Outfitters Galisfly Squared Wiggly Reflector Espejo de pared
A continuación, nos sorprende con el espejo de pared Galisfly Squared Wiggly Reflector que aporta un toque vintage y único a tus espacios. Una de las características más de moda actualmente, al estar hecho con un espejo reflectante que da la impresión de ver todos los colores del arcoíris.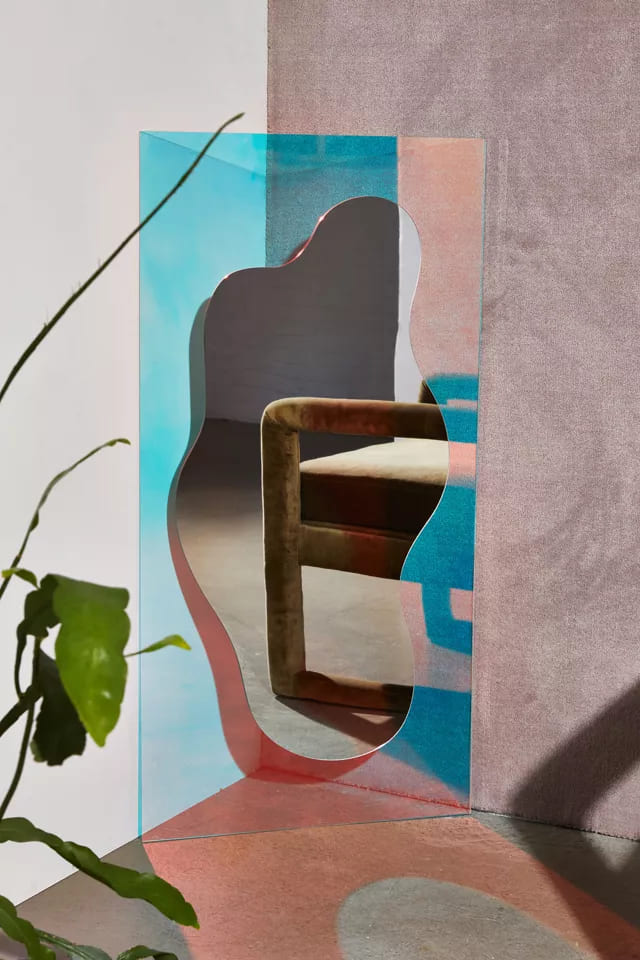 And most fun of all, the Galisfly Squared Wiggly Reflector Wall Mirror is not your typical mirror. Since it works more as a psychedelic ornament than a tool to see you in it. Since being manufactured with acrylic by Galisfly, it can present some distortion from a distance. Priced at $599, you'll enjoy features like:
Excellent dimensions that make it a perfect mirror for any space. Measures: 47.2″ large x 23.6″ wide.
More durable and resistant than average since it is made of acrylic.
Easy to clean. It keeps its surface smooth and flawless for much longer.
UO Waverly Body Mirror
Finally, this is an option that is designed to adorn the spaces of the most classic people and lovers of the elegant. However, like the previous mirrors, it maintains the style line that so characterizes Urban Outfitters. We are talking about the Waverly Body Mirror, which has a tubular handle that gives it a stately look.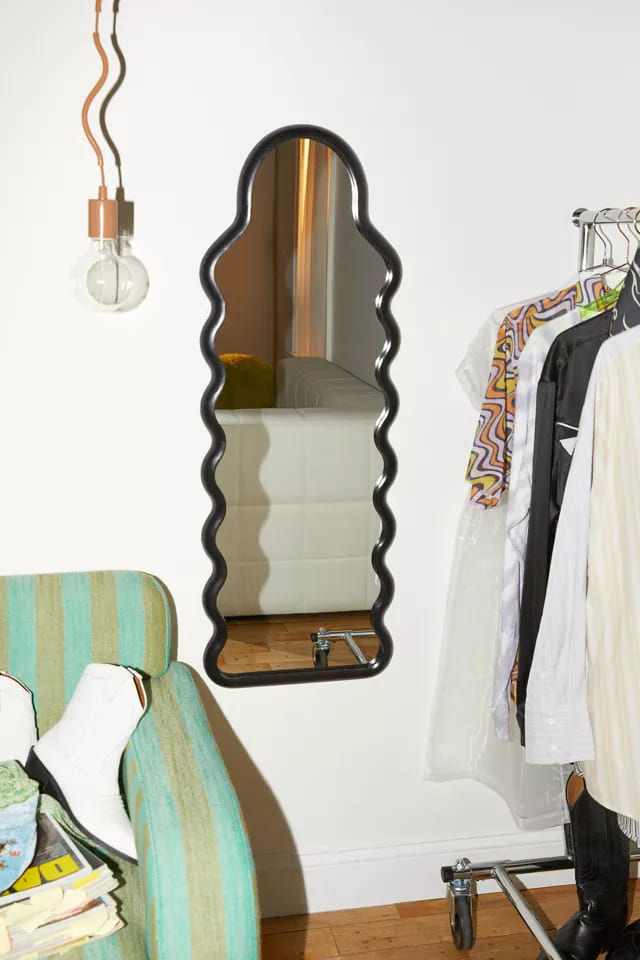 Many of the reviews claim that they love it for giving the spaces an artistically eclectic look, which you don't see every day. And the fact that it's an exclusive store mirror that you won't find anywhere else, gives it better acceptance. For as little as $149.00, you can enjoy features like:
Choose it in the colors: Black, orange and green.
Move it and place it wherever you want without problems since it weighs only 7.8 pounds.

Fácil de limpiar, con solo pasar un paño limpio quedará como nuevo.

Fabricado con los mejores materiales que lo hacen altamente duradero.