Although you do not think it is necessary, each kitchen accessory has a specific function. The organization above all, in addition to making the kitchen look very tidy and neat, makes you get the best out of your appliances and ingredients. Look At The Square (LATSQ) leaves aside this time the air fryers of Amazon and the blenders of Target to focus on something much simpler.
We are talking about the Zara Home eggs holders that have designs totally adaptable to your kitchen. And if you are a fan of changing the decoration in each season of the United States, we bring 3 equally elegant, practical, and safe options so that you never waste food and have accidents when cooking again.
Zara Home Lacquered Metal Egg Holder
Eggs are essential utensils for the proper storage and handling of eggs. For this reason, products such as the Lacquered Metal Egg Holder from Zara Home are necessary in any kitchen. In particular, this model has a timeless design that fits into different styles of decoration. In addition, it has the following measurements: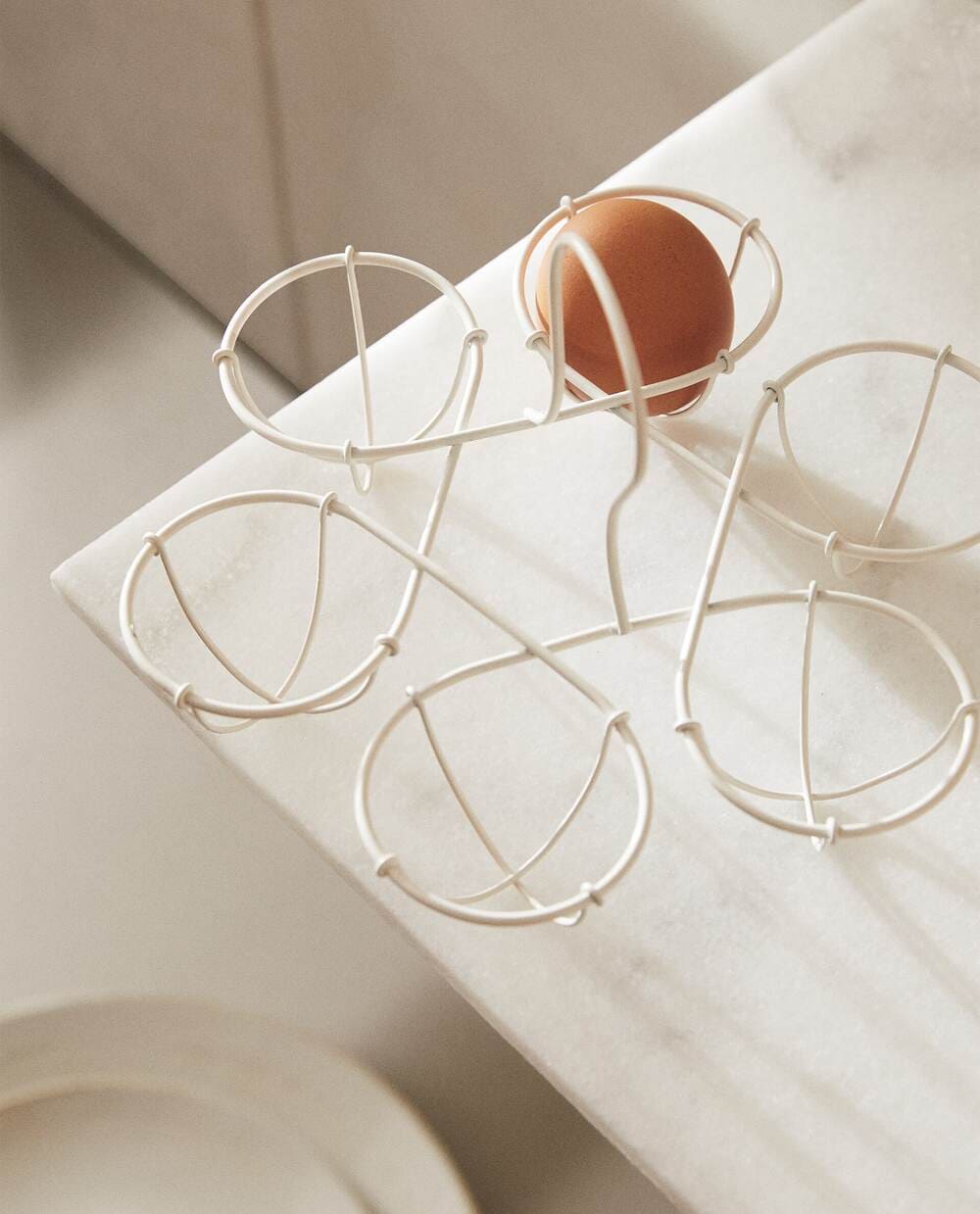 Height: 4.7 inches.
Width: 8.1 inch.
Depth: 7.5 inches.
Weight: 98 grams.
On the other hand, it is necessary to mention that the Lacquered Metal Egg Holder model from Zara Home uses white lacquered metal as the main material. Thanks to this, it is a durable product that can be part of your kitchen for many years. Interested in buying it? On the official website of Zara Home, it is available for only $25.90.
Zara Home Stoneware Egg Cup with Handle
If you are looking for an egg tree with a more minimalist design and easy to transport, you will love the Stoneware Egg Cup with Handle model from Zara Home. In particular, it is a compact product that has a splendid central handle for safe mobility. So you can easily store it anywhere. Its measures are as follows: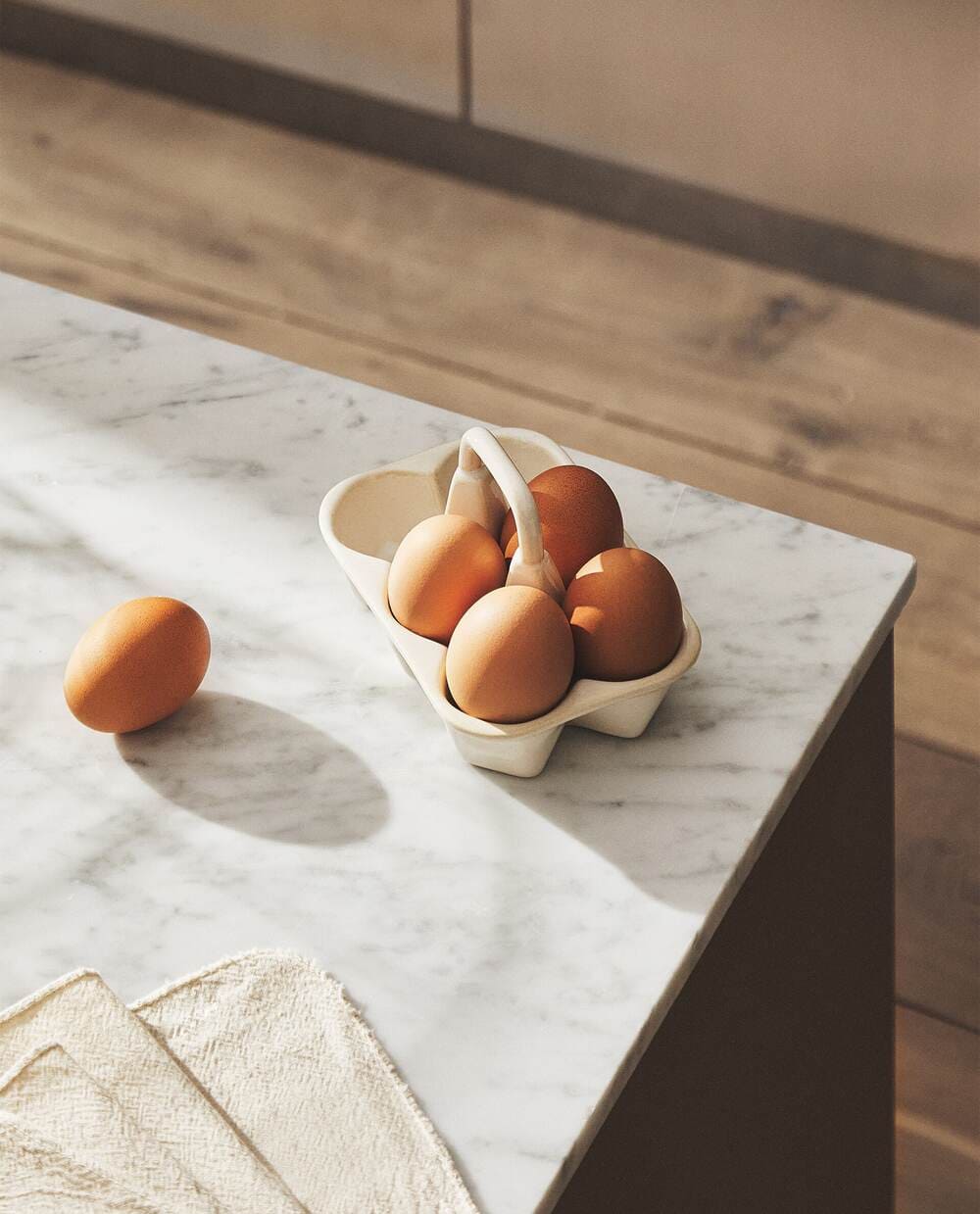 Height: 3.7 inch.
Width: 4.1 inch.
Depth: 6.1 inch.
Weight: 392 grams.
With regard to its composition, the Stoneware Egg Cup with Handle model from Zara Home uses reactive glazed stoneware in its overall structure. As a result, it is a highly resistant product that can adapt to different environments with ease. On the other hand, this is a kitchen accessory that has an affordable price of only $25.90 from the official website.
Zara Home Acacia Wood Egg Carton
Finally, Zara Home has available in its catalog the model Acacia Wood Egg Carton classic style to equip your kitchen. This is a compact egg that can easily stand out and decorate your space in an incredible way. At the same time, it will help you cook in a safe way to prevent accidents. It has the following dimensions: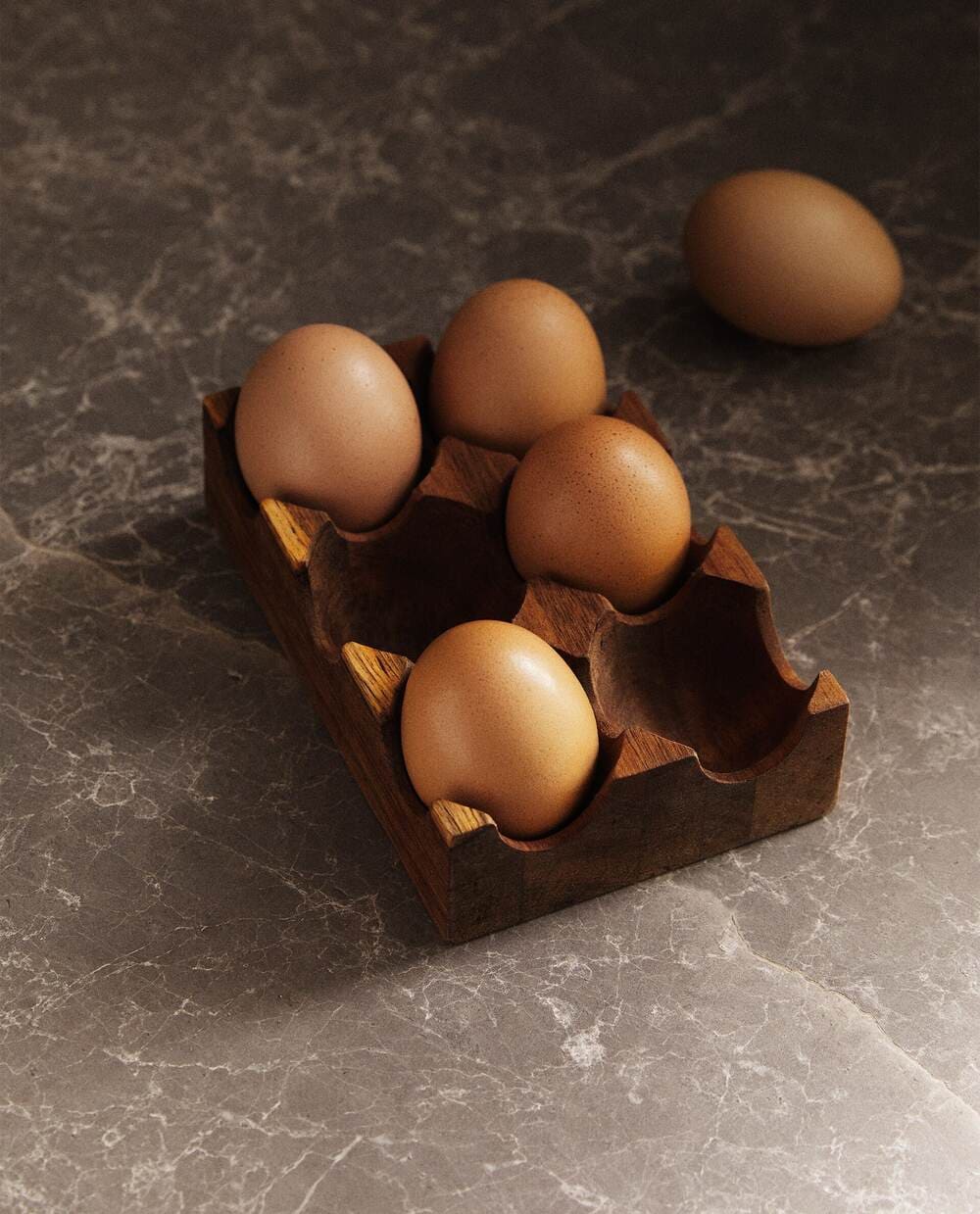 Height: 1.6 inch.
Width: 5.9 inches.
Depth: 3.9 inches.
Weight: 184 grams.
As its name indicates, the Acacia Wood Egg Carton model from Zara Home is composed of 100% acacia wood. Therefore, it is a kitchen utensil of great durability that does not pollute the environment. In fact, the extraction of its materials meets safety standards. The product has an economical price of $25.90.
Purchase steps
Enter the official website of Zara Home as a guest or with a registered user.
Select the egg model you want to buy and check the Add to cart button.
Following that, tap on the Process Order button.
Finally, you just have to choose the payment method to make the purchase.