Some snacks, the best (or worst) horror movies, and pajamas are the perfect ingredients to spend a relaxed Sunday for these autumn dates. And while temperatures drop and the best dates of the year approach, Zara adds a fantastic collection of pajamas to its catalog so that you are comfortable inside the house, but at the same time very fashionable.
The new two-part set proposed by the fashion store remains one of the most popular options in the United States according to the experts of Look At The Square (LATSQ). Quite versatile, fashionable, and of a quality that has nothing to envy to the best models of Urban Outfitters or Macy's, and that have done a great job earning positive reviews on the portal of the Spanish fashion store.
Zara Long Striped Top
To dress comfortably at bedtime, Zara's Long Striped Top model can meet this goal. This is a garment for women that stands out for its versatility and freshness. In addition, it has a front button closure that facilitates its use and allows a personalized adjustment. In this way, comfort is guaranteed.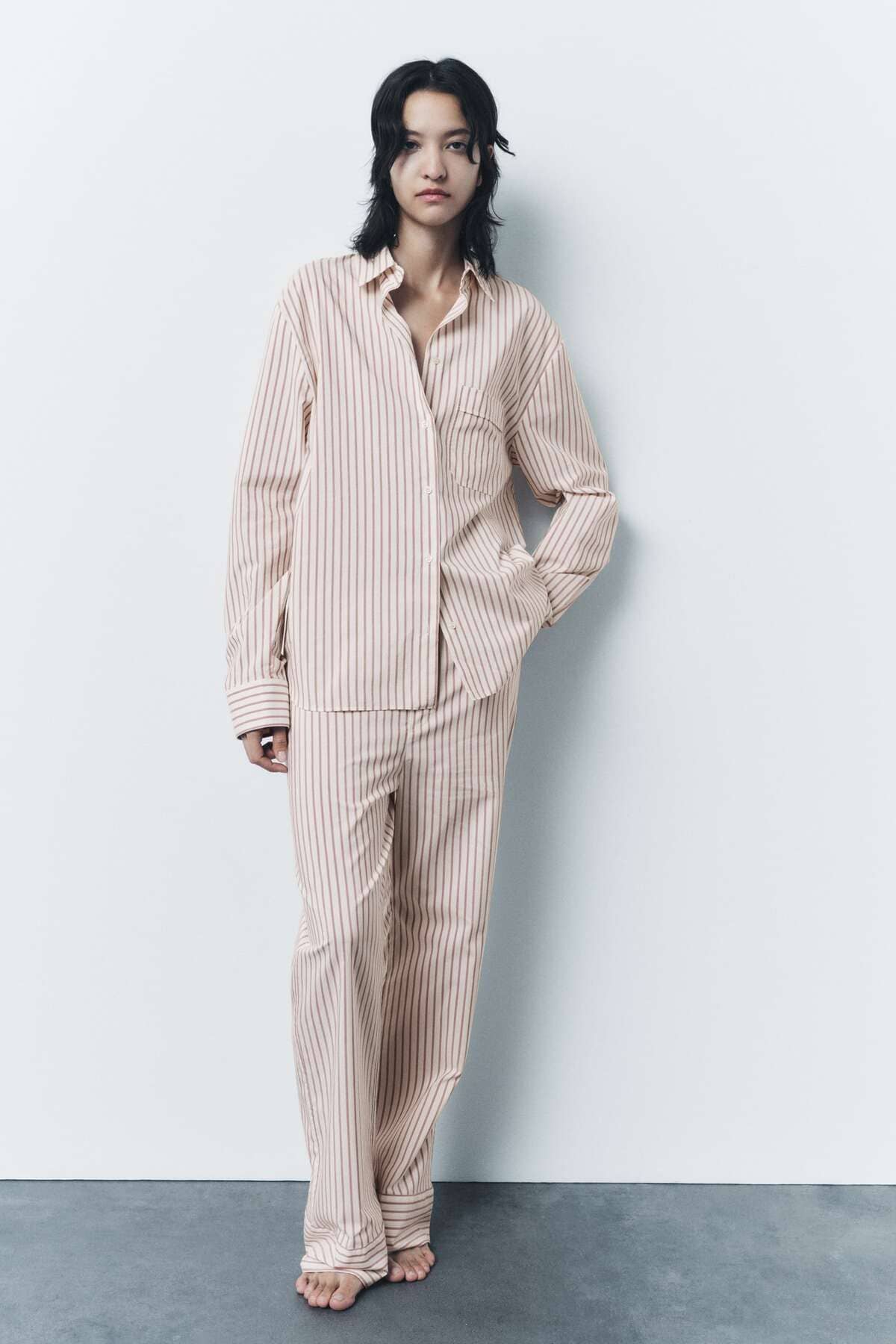 On the other hand, it should be noted that Zara's Long Striped Top model has a timeless style. Its striped aesthetic can be easily combined with all kinds of sleepwear. Thanks to this, this is an ideal piece that cannot be missing in the closet of any woman. It will always have some utility when resting.
Key details of the Long Striped Top model
It is designed with quality materials, such as cotton and polyester.
It uses organic components in its preparation, so as not to damage the environment.
It is a garment that can be machine washed, with a delicate cycle.
It is available in sizes from XS to SG.
Zara Long Striped Top Price
On the official website of Zara, the Long Striped Top model can be purchased quickly and safely. This garment has an affordable cost of $49.90 and can be paid with different methods. In addition, it has multiple options for efficient shipping. In case of any defect, this piece has free returns for 30 days.
Zara Striped Pants
To complement the sleeping set, Zara has the Striped Pants model in its pajama catalog. This is a garment with a style similar to the piece discussed before. Therefore, it has a refined and timeless style that can be employed for sleeping or home use. It is very comfortable and keeps your legs cool at all times.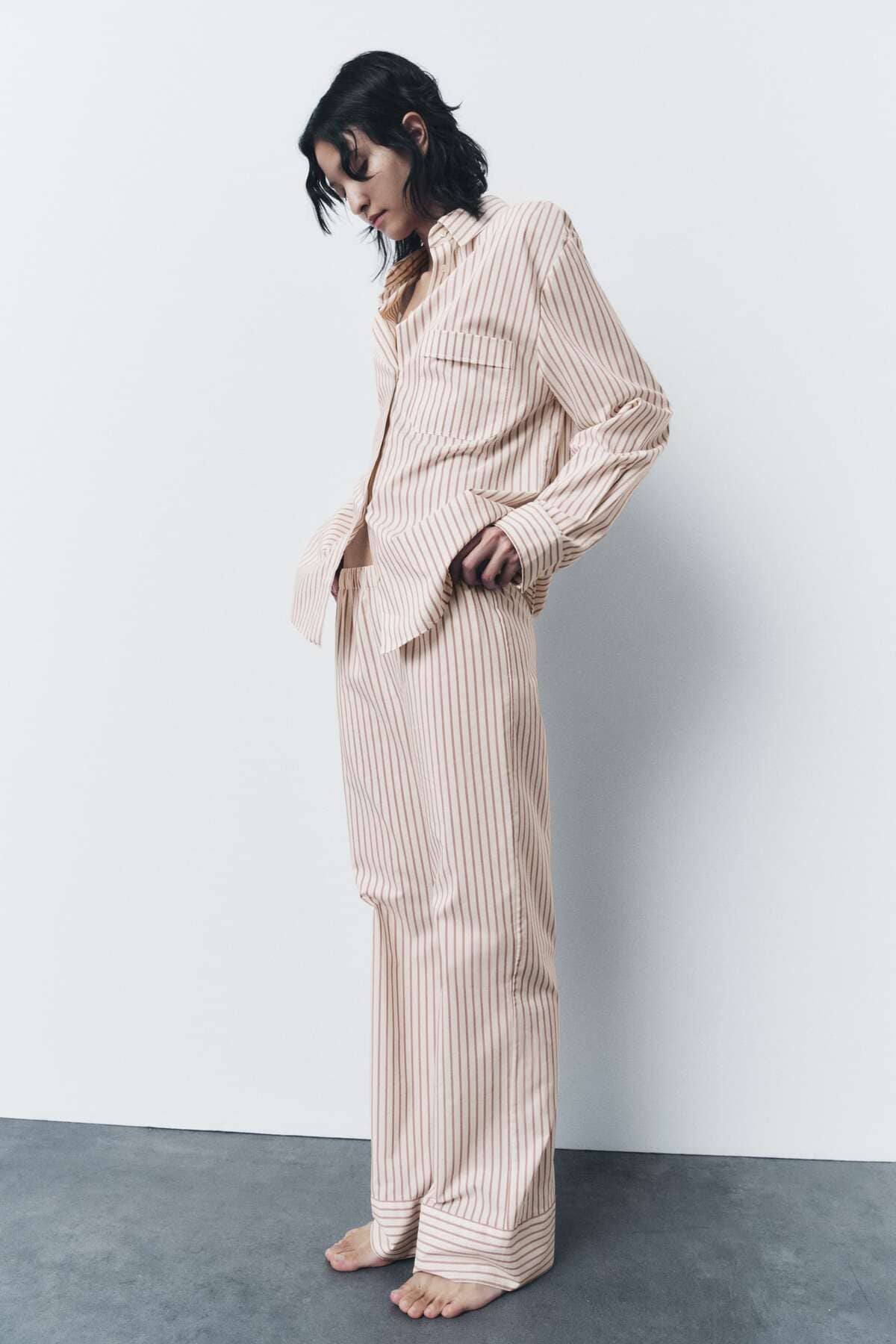 The Striped Pants model easily adjusts to the texture of the woman who uses it. It does not generate any pressure and allows to maintain a good range of mobility. And best of all, it has a good quality composition, to keep in good condition. For this reason, this is a garment that will be well-used for a long time.
Relevant specifications of the Striped Pants model
It has an elastic waistband and elastic drawstring design for a custom fit.
The composition of the garment is straight leg, to provide greater mobility.
Its outer shell is made of cotton and polyester.
It is a garment that can be dry cleaned to remove stains and accumulated dirt.
Zara Striped Pants price
Within the virtual portal of Zara, the Striped Pants model can be purchased for an economic price of $39.90. These have immediate availability, in any of the sizes of the piece. In addition, the official website has updated information on the shipping policy, exchanges and returns.