Although making a delicious coffee is not a complicated task, it can take a few minutes out of your day if it is cooked on the stove. So, if you are one of those coffee lovers who can't live without this delicious beverage that helps you stay awake and have an excellent day, you have the option of buying this automatic coffee maker in the United States.
At Look At The Square, we are also passionate about caffeine and professional preparations. For that reason, we took on the task of creating a whole explanatory about this wonderful coffee maker called the Jura S8 (piano black), which will reduce your time and effort when making coffee.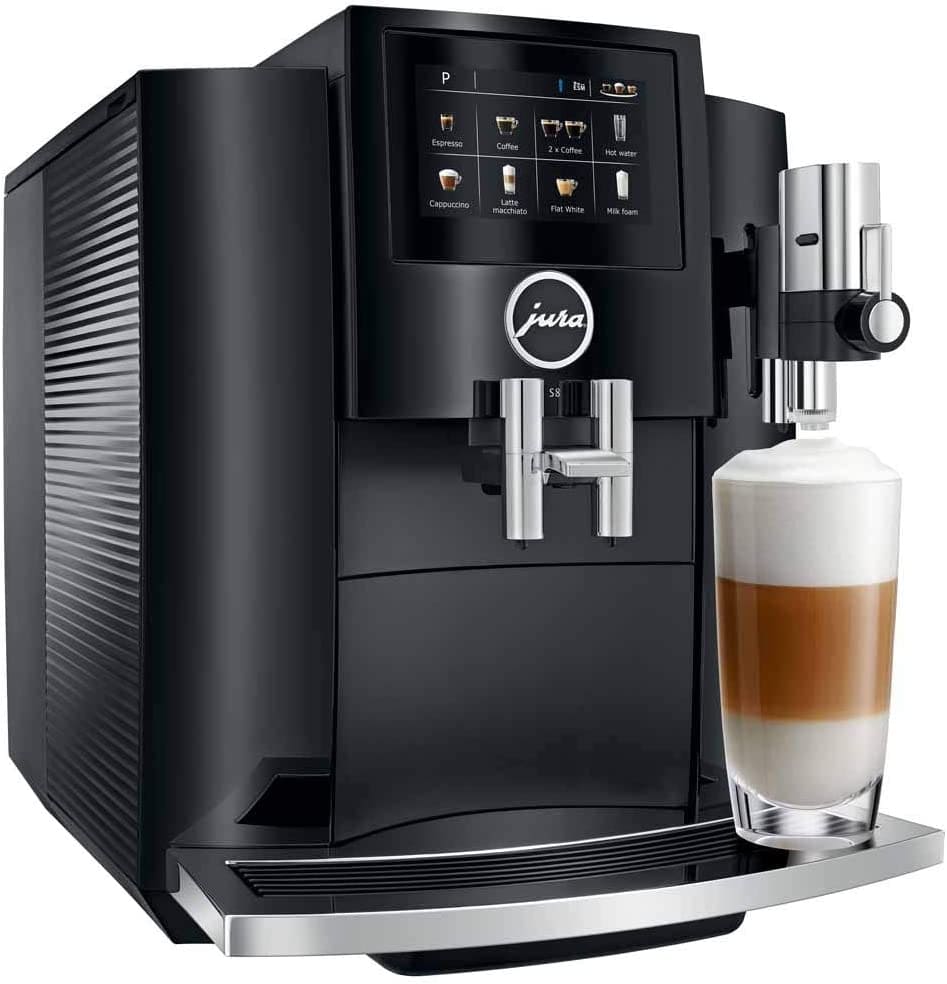 Costco's Jura s8 coffee maker that fits in your kitchen
The design of the Jura S8 coffee maker, can easily match any space within the kitchen or dining room. It features a high quality ribbed water tank, which promises to remain in excellent condition over time and has a maximum capacity of 64 ounces.
Within its structure, it includes a high-resolution touch screen of about 4.3″ with intuitive navigation system. It also includes a professional frother which can generate thick or light foam according to your preference.
On the other hand, this coffee maker has a weight of 22 pounds and dimensions of 11″ x 13.8″ x 17.3″, which makes it lightweight for easy transportation. In addition, it belongs to a line of Premiun, high-end products. These were specially designed to meet and satisfy the needs of its customers.
The benefits and disadvantages of the Jura S8 coffee maker to consider before buying it
If you are a housewife or an office worker, you will surely want to know the virtues and disadvantages that this coffee maker brings with it and how you can achieve a professional finish. Without the need to be an experienced bartender, those advantages and disadvantages are as follows:
Advantages
Actually, this type of professional coffee makers have many advantages and virtues to mention, here we list you a few:
The intelligent system of the coffee maker optimizes the mode of preparation and the time of preparation. This means that you will not have to invest neither effort nor time in preparing a professional and delicious coffee.
You can choose from 15 different preparations, which can vary depending on the ingredients you add to each one and the brewing times with which you configure the machine.
Easy operation from the touch screen or from your mobile device, if you configure it for that purpose.
Automatic milk and foam system, which generates excellent results for both the eye and the palate.
It is a highly durable coffee maker, which will only require preventive maintenance over the years. Maintenance, which can be done by yourself, without the need for technical assistance.
Disadvantages of the Jura S8 coffee maker
As nothing in this world can be perfect, this coffee maker also has a few disadvantages to consider. Those are as follows:
It is one of the most expensive coffee makers that can be seen within the market. Although this is due to its high quality materials, it is definitely not a product that can be easily purchased by just anyone.
The accessories that are included in its packaging are not necessarily aligned to the functions of the coffee maker and many users have not felt the need to add them to their purchase.
That's it! Those would be all the disadvantages that can be seen at the moment of buying a coffee maker to make 15 different types of beverages.
Cost and Warranty
This coffee machine Jura S8 from Costco has a net cost of US$2,660, not counting the shipping costs, which vary depending on the zone in which you are located or if it is an international shipment.
On the other hand, the warranty of this product extends for 2 years or until the coffee maker has been used for 6000 brews. Whichever comes first, the brand is responsible for sending a new machine for repair.