Technology is our best friend and ally when it comes to immersing ourselves in our favorite stories. And at home, sound equipment, headphones, computers, and, of course, state-of-the-art televisions cannot be missing. Luckily for you, the United States is a country awash with technology that you will love. And the experts at Look At The Square (LATSQ) are pleased once again to present you with various options for an appliance that will ensure hours of entertainment.
With family and friends at home, you need quality pictures and sound. And Costco has never been far behind in giving you the best options within its catalog. For any time and season, a television never fails to give you the best hours of fun by immersing yourself in a story through the small screen.
Costco Hisense 55″ Class A65H Series 4K UHD LED LCD TV
Hisense is a brand of great recognition and popularity in the world of electronic equipment. They have been innovating in the market for several years with smart TVs with good specifications and affordable prices. The A65H Series model from Hisense is a clear example of this, being a spectacular 55-inch device with Google TV operating system.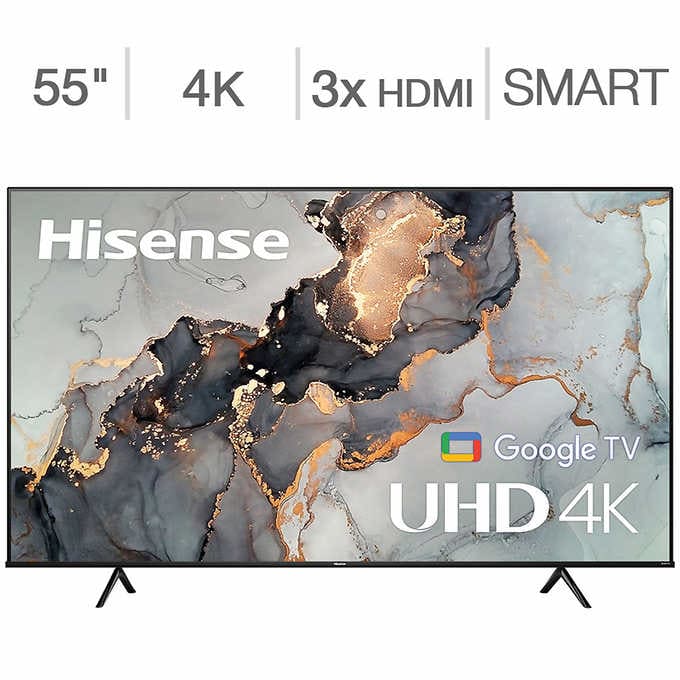 The screen resolution of this Smart TV is 3840 x 2160 pixels, complemented by a high dynamic range HDR10. In addition, it also uses Dolby Vision technology to optimize the images it reproduces. On the other hand, it has a motion rate of 120 and a native refresh rate of 60 Hz.
This flat panel display equipment is driven with a full matrix Mini LED-LCD display type. It can connect to wireless networks via Bluetooth and long-range Wi-Fi. On the back, it has 3 HDMI inputs, 1 USB, and 1 digital optical audio. It has a 3-year warranty coverage and is priced at $299.99.
Samsung 55″ TU700D Series 4K UHD LED LCD TV
If you are interested in purchasing a Smart TV from a brand other than Hisense, this Samsung model is also available in the Cost catalog. It is also a 55-inch device with a 4K UHD screen resolution. It is a television with an LED and LCD screen, complemented by Tizen technology and an intelligent Hub.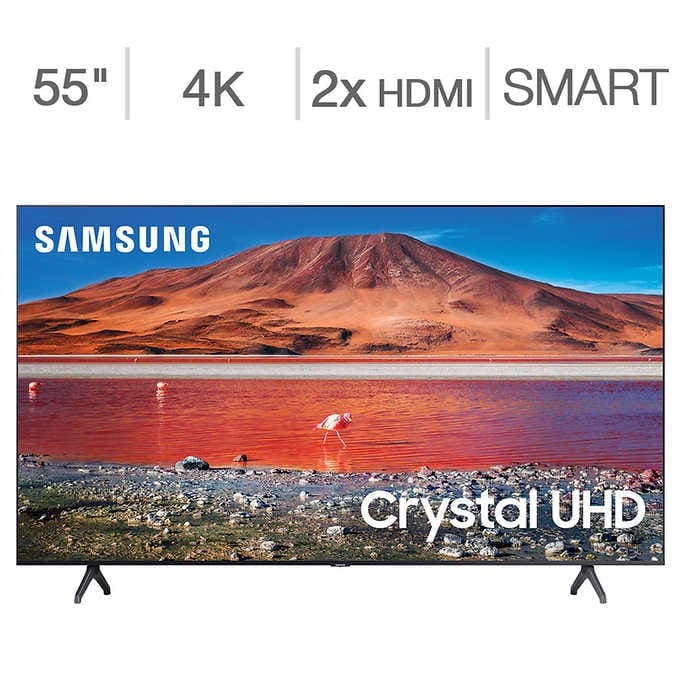 This Samsung model has a 4K glass processor and is compatible with different assistants. Between them, it works seamlessly with Alexa and Google Assistant. On the other hand, the native refresh rate is 60 Hz and the movement rate is 120. That is, it has similar specifications to the previous model.
The Samsung Series 4K TV also has Wi-Fi, so you can connect to streaming services. Once installed and supported, it measures 9.8 x 30.6 x 48.4 inches. Currently, it has a 3-year warranty period and a price of $399.99.
Costco LG 55″ Class UQ8000 Series 4K UHD LED LCD TV
Finally, LG is another of the brands available on the official Costco website. In this case, it is a Smart TV with qualities similar to the equipment mentioned earlier in the list. That is, it is 55 inches, LED screen, and 4K UHD resolution. However, this model uses a webOS operating system.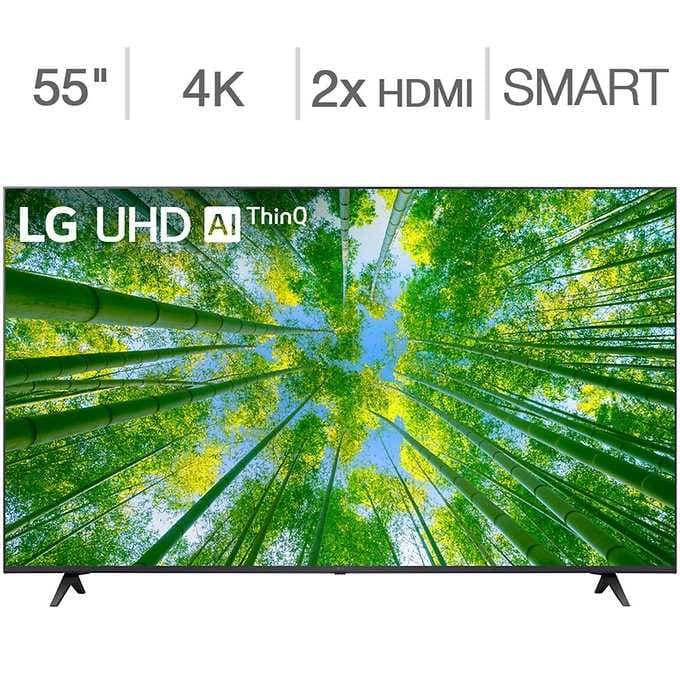 It is also equipped with an α5 Gen 5 AI 4K processor and artificial intelligence to optimize sound. Reproduce images naturally, thanks to HDR10 and TruMotion 120 technology. In addition, the refresh rate of the TV is 60 Hz. You can use it with different voice assistants such as Google or Alexa.
Today, this LG model is available for $369.99. Although, for an additional $75, you can buy it with the streaming service.