Believe it or not, appliances are indispensable accessories no matter where you are. And if when traveling of course you cannot take your house with you, no matter where you are in the United States, you can be prepared thanks to Target or Walmart. With your new dishwasher, you'll be comfortable and save time no matter where you are.
At Look At The Square (LATSQ) we love portable stuff. With the ease of moving from one place to another, while still enjoying your favorite accessories and appliances. Visit your family, stay with your friends, or visit that place you've always wanted, while taking your accessories with you to make tasks easier no matter where you are.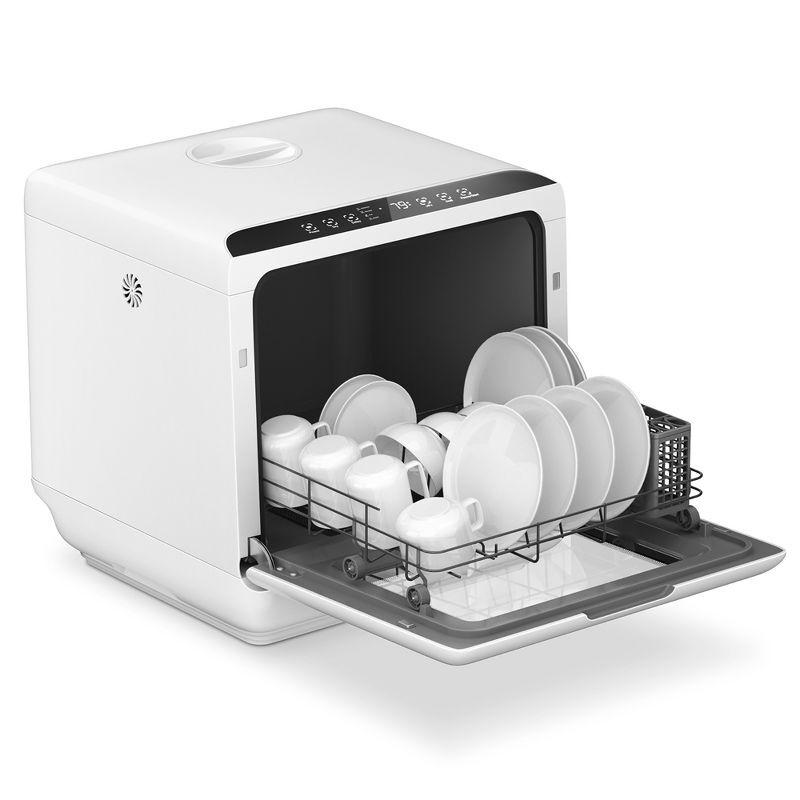 Target Costway Countertop Dishwasher Air Drying
Something that takes a lot of everyone's time is having to wash the dishes. So that you do not continue to waste time, the Costway Countertop Dishwasher Air Drying can do this work for you. You can have 5 different modes to wash and you can also choose the intensity of the washing depending on the dirt of the dishes or the type of material they are.
In addition to just washing, it also takes care of drying, so you're not going to waste any time with this either. It has several advanced features that allow you to enjoy a much more efficient and personalized wash.
Washing Programs
This device has 5 different washing programs. These are the normal, fast, ECO, fruit washing and intensive. Depending on how many food scraps the tableware has, you can choose any of those types.
You can get excellent results thanks to the fact that it has a spray arm at the bottom that sends water everywhere. You can put the hot water at a temperature of 149°F which completely disinfects everything you touch.
Drying and smart configuration
It has a drying modality using hot air that leaves the dishes completely dry. It works intelligently in a time of 90 minutes every 12 hours. After 163 hours of use, it turns off automatically. It features a wash delay setting that lets you choose when you start washing and when it ends.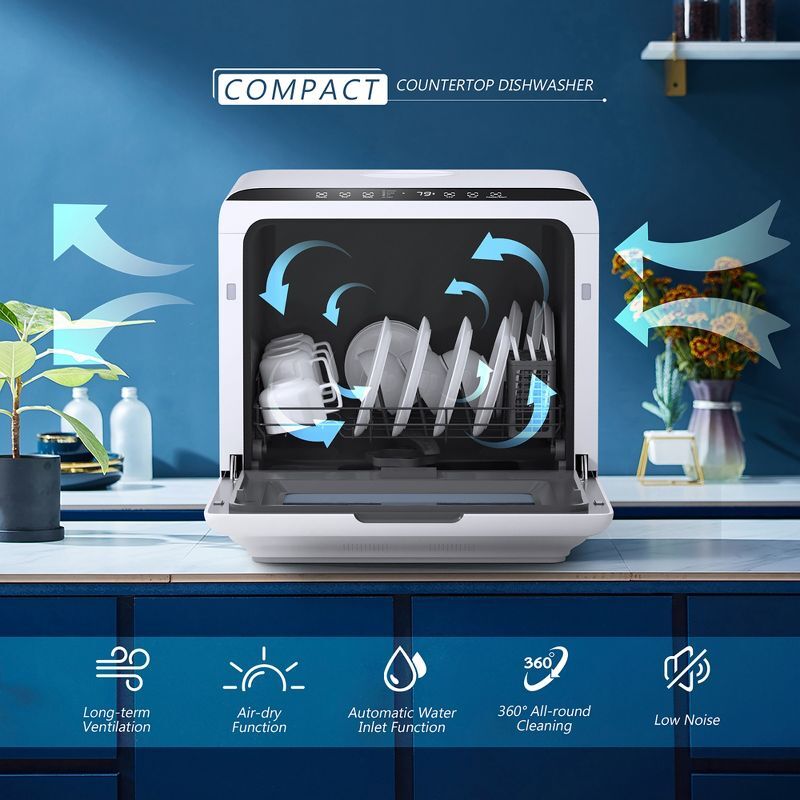 Uses of water
Depending on the amount of water you want to allow yourself to use in each wash you can select between 2 modes of water use. The first mode is using the 5-liter water tank that comes built-in and with that, the dishwasher takes care of doing its job. You can place it anywhere without having to connect water to it.
The second mode is by connecting it directly to the water hose. With this mode, much more water is spent, but it works from the kitchen comfortably.
Compact design
The dimensions of this dishwasher are:
Height: 20.83 inches.
Width: 21.42 inches.
Depth: 21.42 inches.
Weight: 30 pounds.
Thanks to its dimensions and low weight, you can move it to any part of the house without any problem or discomfort. Also, as for its interior, you can put very large plates and get the same washing results.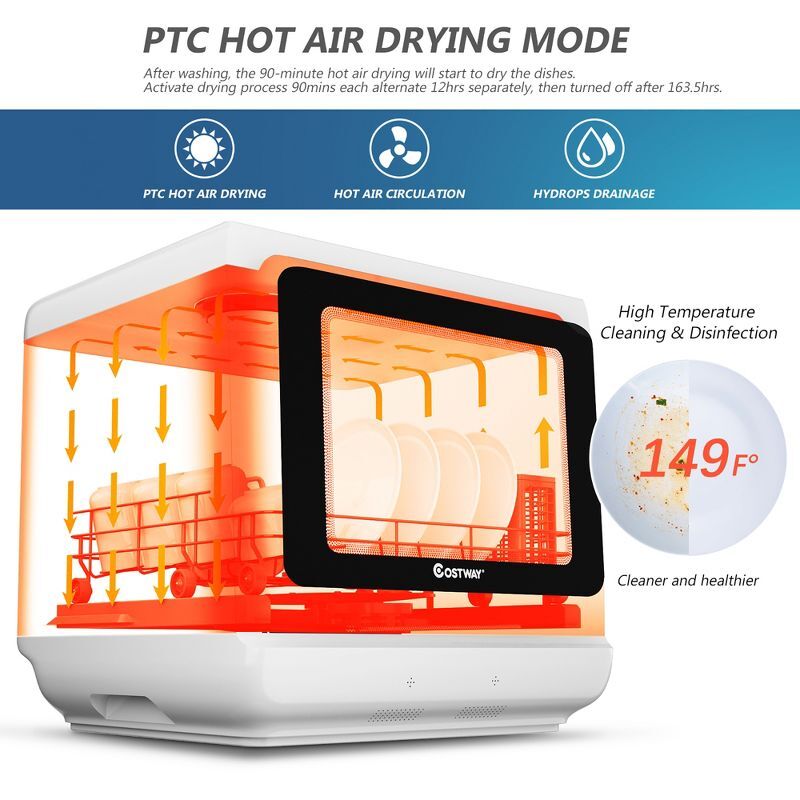 Content
All you're going to have when you buy the dishwasher is:
1 basket of crockery.
1 measuring cup.
1 drain pipe clamp.
1 box of chopsticks.
1 water inlet tube.
1 suction cup.
1 fruit basket.
1 drain pipe.
Target Shipping
The brand of the dishwasher is Costway, so the brand is responsible for shipping, but through the Target online store, you can choose which means you prefer to receive the product. The first one it offers you is one of the collections in the store, after you make the purchase, in 2 hours you can go to pick up the product, without paying anything additional.
Then, there's same-day delivery, which costs $9.99 and shipping arrives within 24 hours of ordering. If you live far away, then you can arrive in a span of 2 days. For people who have a membership in Shipt, completely free shipping is offered. Transportation is free if you have RedCard or if the purchase is worth more than $35.00.