Epson continues to cause a sensation in the United States and continues to make it easy for you to print all kinds of documents. Together with Walmart, they have taken on the task of facilitating this need by bringing to your home or office one of the best tools you can have.
The device resembles the best-selling printers from Amazon and Best Buy. It can provide excellent results in different environments since it adapts to homes and offices. As it is an easy-to-install product, in a few minutes you will have it ready to print. In today's special on Look At The Square (LATSQ) we will introduce you to this printer.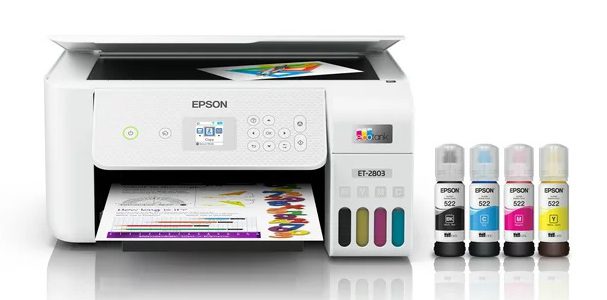 Epson EcoTank ET-2803
It is one of Epson's highest-performing color printers as it works wirelessly and without cartridges. Instead, use high-capacity ink tanks that you can easily refill in minutes. The device works better in a home than in an office. However, it still offers good results in such environments.
The best thing about this product is its low ink consumption, which will save you money in the end. This home printer features a built-in, high-resolution flatbed scanner. It also has a color screen to facilitate the use and configuration of the device. Without a doubt, it is one of the most efficient Epson color models in its entire catalog.
In general, all the qualities that this equipment has to make it high-end. Next, we will mention what its main characteristics are.
Weight and measurements
The Epson EcoTank ET-2803 printer is a compact device that does not require much space in the home or office. You can move it from place whenever you want, because of its weight. This product have a resistant case that adapts easily. On the other hand, its exact measurements are as follows.
Length: 13.70"
Width: 14.80"
Height: 7.00"
Weight: 8.8 pounds.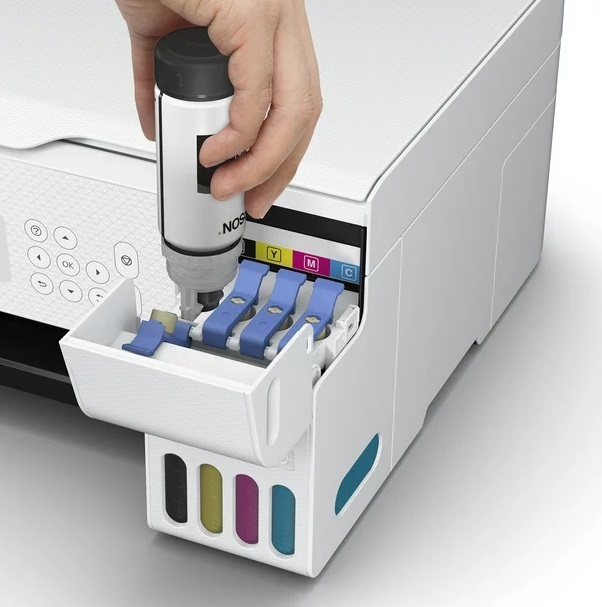 Key specifications
The first thing you should know about this printer is that it belongs to the EcoTank line. Therefore, it does not generate cartridge waste that causes damage to the environment. Ecological equipment works with recycled materials, with which Epson seeks to make the printer more sustainable. As a result, you get significant savings on product replacement inks.
The ink tanks used by the printer have the capacity to print up to 4,500 pages in black and 7,500 in color. Therefore, its quality is far superior to that of the ink cartridges that standard printers use. In addition, it has Micro Piezo Heat-Free technology to optimize print quality. It causes the graphics to have a superior and sharp quality.
Among the main integrated functions that the Epson printer has, it also has a scanner and copier. Both tools are high-resolution and work in color, so you can work more versatile and faster from your home.
The printer has a hands-free function activated by voice and activation via the Epson Smart Panel app. They are options that facilitate the use of the equipment so that you can print in the shortest possible time.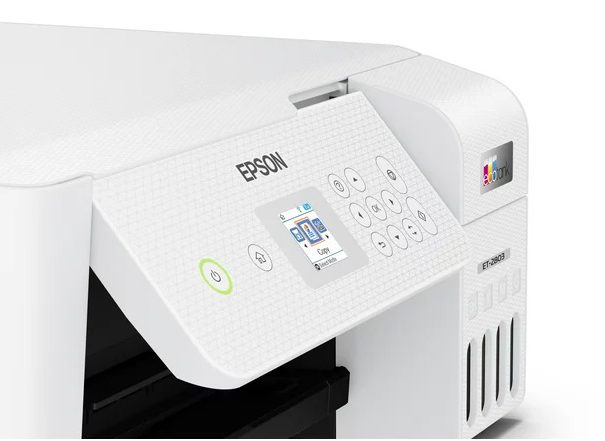 Epson Price
Walmart has the Epson EcoTank ET-2803 printer available in their catalog for $229.00. You can pay it in monthly installments of $22 through Affirm.
Walmart has a 30-day return period in case the printer has a manufacturing defect. In addition, it allows you to protect your purchase with an extended warranty plan for a period of 3 or 4 years. To do this, you will have to pay an additional cost to the printer.