Decorating a home with Zara Home is a fascinating process. There're countless styles you can choose from in the different rooms that make up a household. There are accessories that we need and don't know about, like the decorative boxes from Zara Home. These products give life to your house and allow you to have a better organization.
In the United States, there are no better alternatives to Zara Home's catalog of modern boxes. It's quite tough to find their merchandise in other stores such as Best Buy or Walmart. As popular and sought as they are, they're affordable. Get to know the best decorative boxes that Zara Home has to offer here in Look At The Square.
Zara Home Black Brass Box
Zara Home's two-tier box with a black brass frame is a spectacular decorative product. You can place it in the living room, bedroom, or any other space in your home. In this artifact, you can store your most valuable personal items safely. Best of all, it does not take up much space and is light to transport. Its measurements are as follows.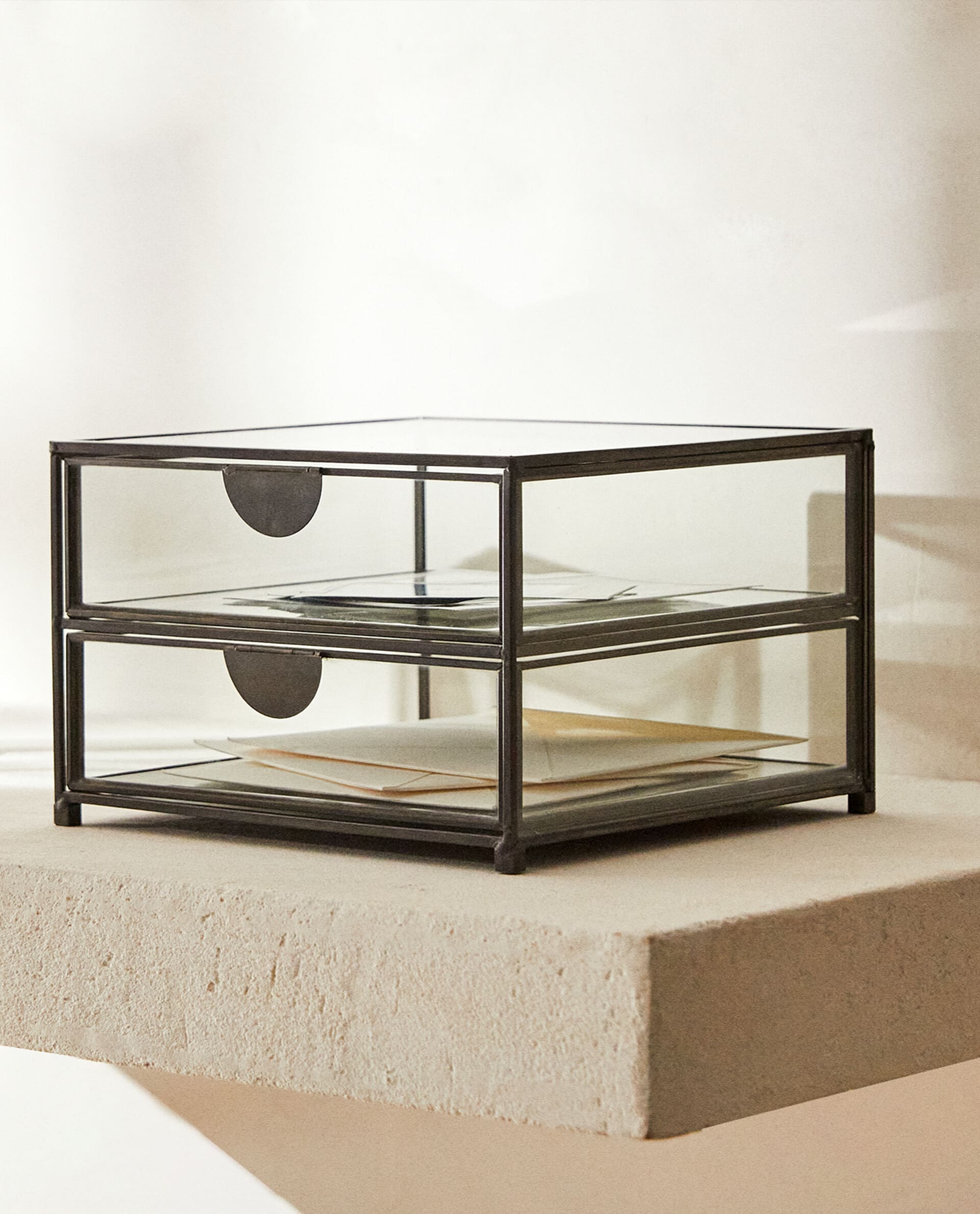 Height: 4.3″
Width: 6.5″
Depth: 6.6″
Weight: 1,548 kg
Glass and brass are their main components. Thanks to this, the box is a durable product, with the ability to decorate your home for many years. However, you have to be careful with it, since it is also delicate. For only $49.90, you can take it to your residence.
Large Box with Black Frame
In Zara Home's catalog of decorative objects for the home, there are boxes in all kinds of styles. If you did not like the previous model, you will surely love the one that we bring you here. It is a rectangular box with metallic edges, in elegant black color. The box is compact and light, with the following measurements.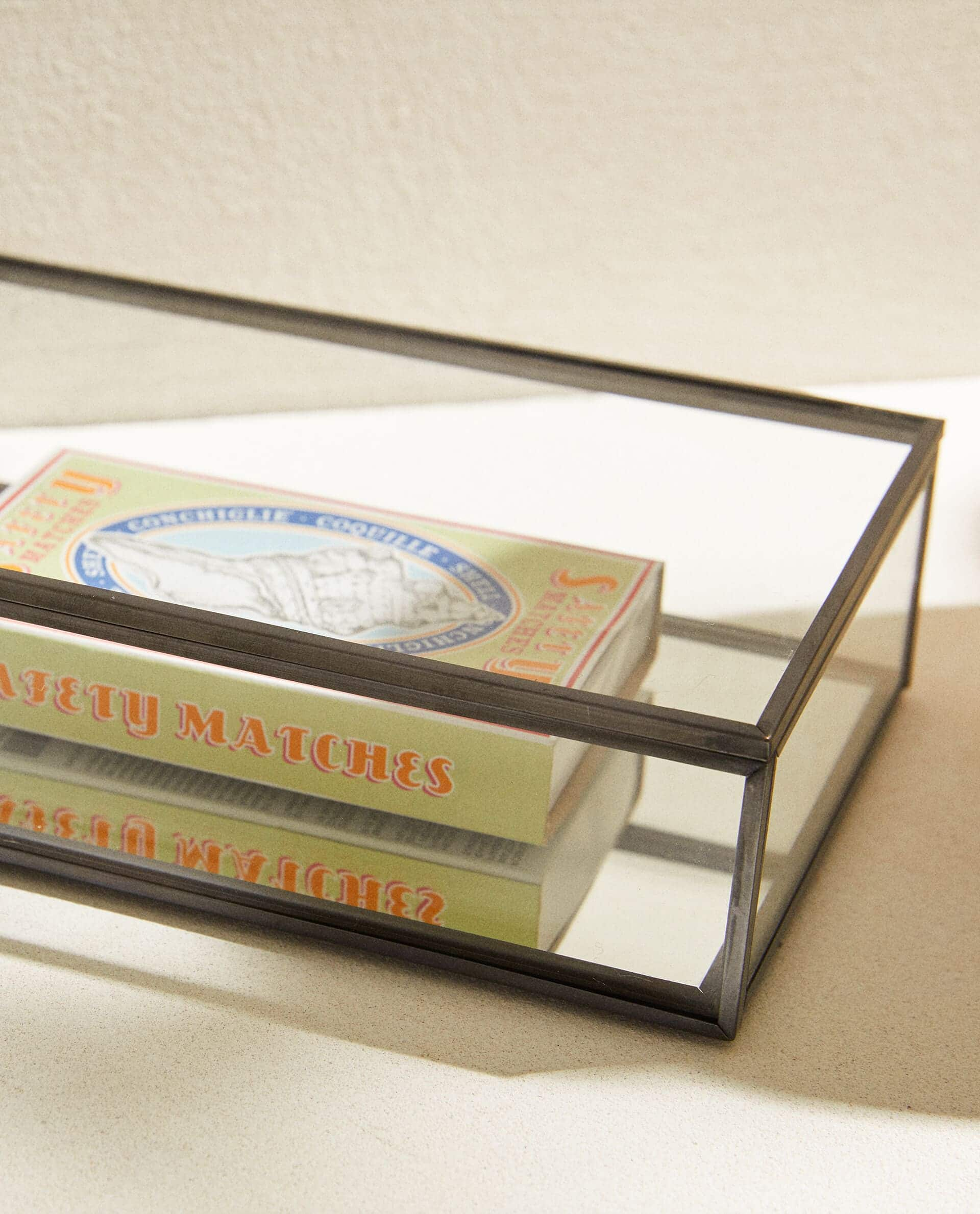 Height: 2"
Width: 7.1"
Depth: 4.7"
Weight: 518g
It is an ideal product to store personal objects. Like the previous model, it uses glass and brass as the main materials. However, it is smaller and therefore takes up less space. Its current value is $29.90.
Zara Home Glass Box with Metal Frame
Among the most popular home decorating boxes, this model stands out above the rest. It is similar in style to those mentioned earlier in the list since it is also made of transparent glass. However, this one has gold-colored metallic edges. In addition to this, you can buy it in different sizes. The most compact and smallest option measures the following.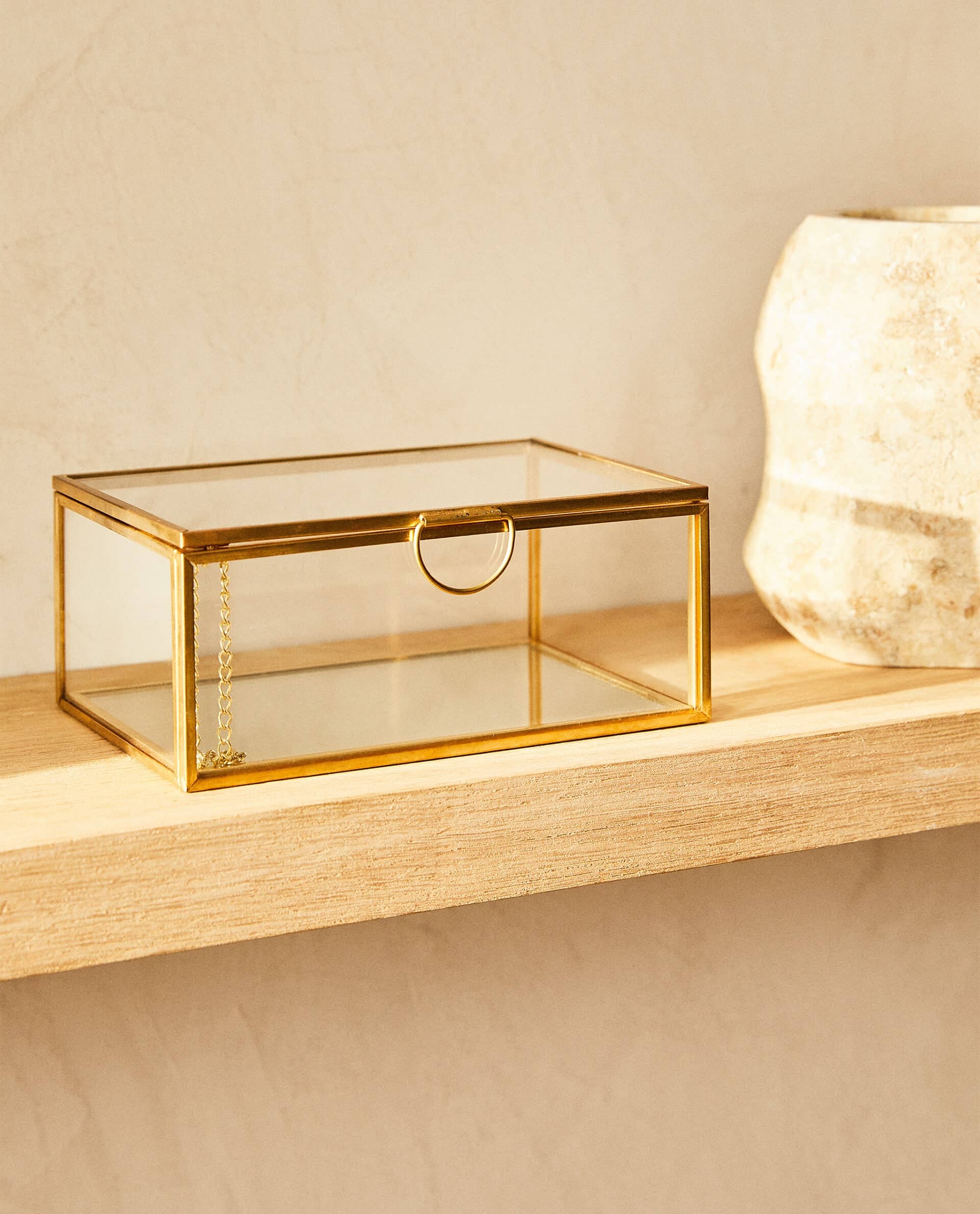 Height: 2.4"
Width: 5.5"
Depth: 3.9"
Weight: 382g
The composition of glass and brass has the same distribution as the previous models. Therefore, its life cycle and resistance level are the same. Therefore, the product is of high quality. The cost that handles in this size is $25.90.
Lacquered Jewelry Box with Drawer
Finally, we go with a model with a different style from the previous ones. This box is not transparent but is white. Inside, it has several compartments to store objects in an orderly manner. In addition, it has an additional drawer at the bottom. Consequently, it is a more spacious product. Measure the following.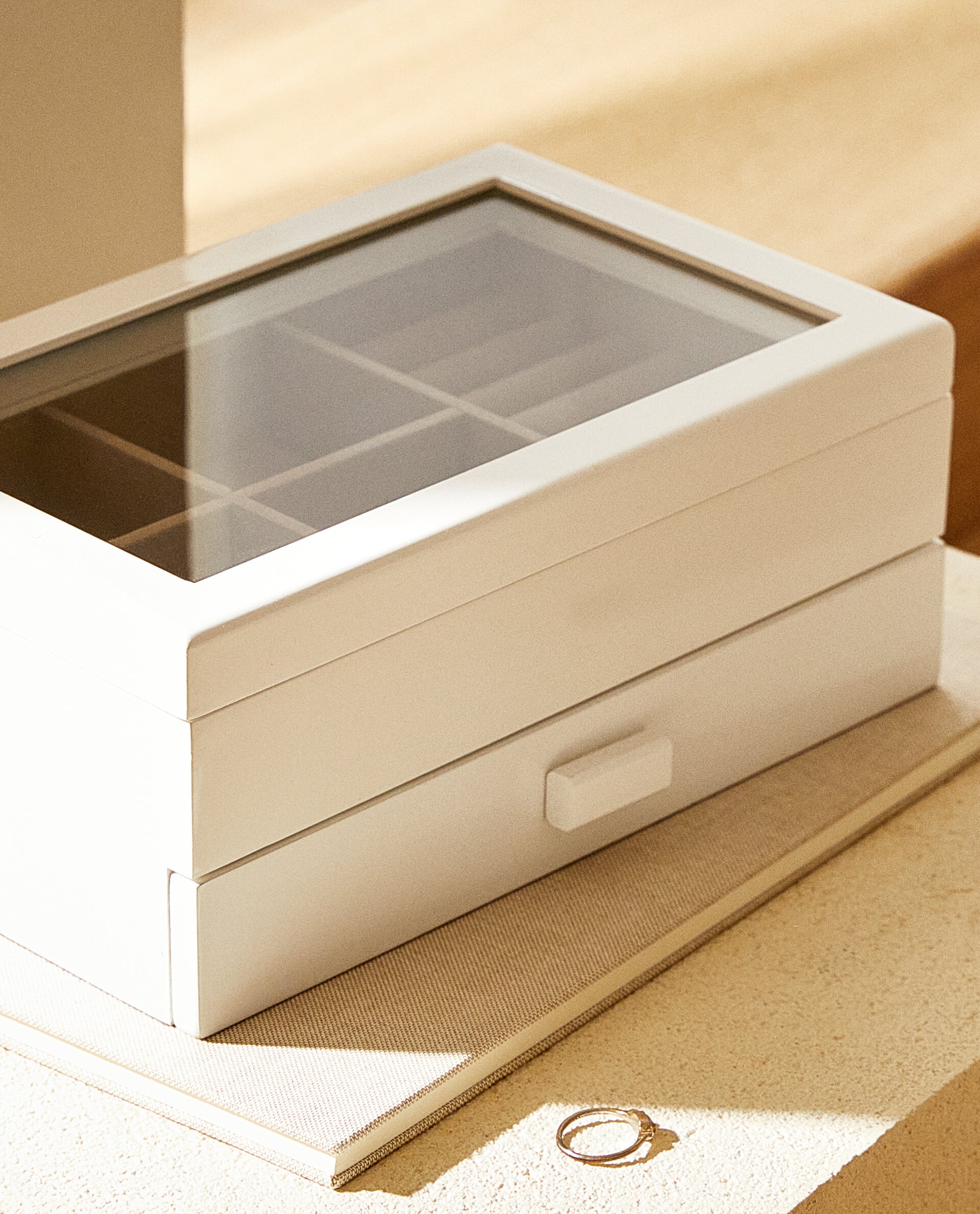 Height: 3.9"
Width: 9.8"
Depth: 6.3"
Weight: 1.09 kg
It uses glass, plastic, and recycled polyester. Thanks to this, the elaboration of the box does not pollute the environment. On the other hand, it has a reduced price of only $49.90.