After a long day of work and accumulated stress, there is nothing more relaxing than a bath with warm water and bubbles floating around. Although there is not always enough time to go to a Spa. But imagine being able to do it from the comfort of your home. Living a relaxing experience is now possible thanks to the bathroom that Walmart and Coleman bring for you, bathtubs, saunas, Jacuzzi, bathtubs, and more.
In the United States, going to a Spa is a very common activity, so it is not surprising that stores like Walmart or IKEA bring their customers different options. However, the experts at Look At The Square (LATSQ) have found a fantastic option for the Coleman brand, which specialized in the production of items for personal care and beauty.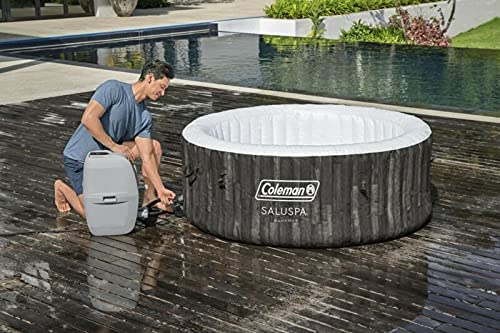 Coleman Health Spa Bahamas Air Jet
Immerse yourself in a warm water bath and experience a relaxing massage with this new Inflatable Home Spa from Coleman. Turn your backyard into a true bubbling Jacuzzi, thanks to the 120 jets that push the water from the bottom to the surface.
Coleman Spa measures 71″ x 26″ and can accommodate up to four people comfortably seated inside. The power of the included motor is powerful enough to provide an optimal experience for all bathers.
To get started, just plug in the included pump and wait for it to inflate, then you can set it up quickly and easily. The construction of the Spa is of high quality and durable, no matter how many times you inflate it, its resistance will prevent it from being damaged.
The fast-running pump heats and filters the water, in addition to controlling the massage system. Thanks to the built-in cover, the water inside it stay warm when not in use and prevents energy loss and waste.
Other features included are a uniform and controlled chlorine dispersion system. Use the cup holders to enjoy a refreshing drink while you relax and forget everything for a moment.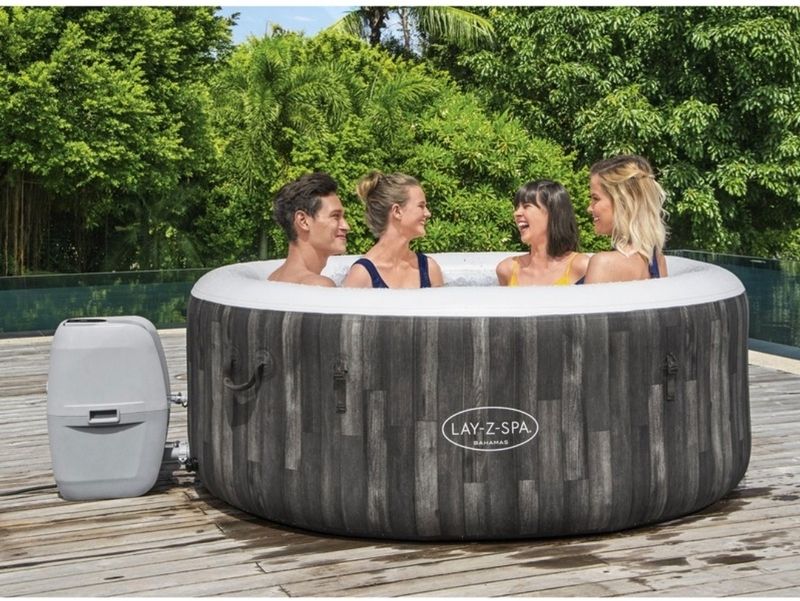 Characteristic
Size of 71 inches by 26 inches, or 1.80 meters by 66 centimeters.
Capacity for four adults.
Water heating controls up to 40 degrees Celsius.
Bubble system thanks to the air jets that release hot air from the bottom.
Duraplus material guarantees the durability of the product.
Energy saving with included timer and cover.
High-quality chlorine dispenser.
Easy pump _ driving.
Cup holder included.
Ability maximum 669 liters.
The Coleman SaluSpa features a sleek multi-color design that makes it look good in any setting and an attractive round shape. It is made of ABS, PVC, and iron materials, which guarantees its maximum durability.
The product has a 180 day warranty period for manufacturing defects or component failures. You can make the guarantee effective through the manufacturer's page.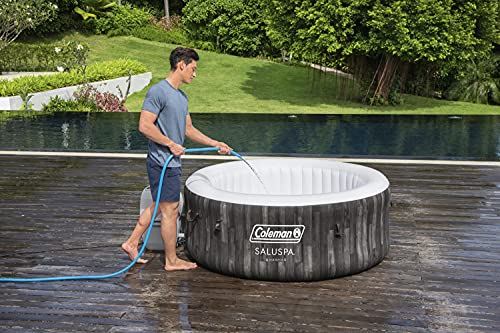 Walmart Price and Shipping
The cost of this Spa is $245 and with the Walmart option + shipping is free. Check the page as it states that shipping may be restricted to the city of Sacramento. If you are not satisfied with the product, you can make a free return within 90 days.
Among the payment methods, credit is accepted with the affirm platform, from 3 to 48 months with a 20% surcharge. Credit approval is quick and your inquiry does not affect your credit score. Start enjoying a Spa at home today.