Country style is back in fashion and Crocs has a product in its catalog that goes perfectly with this new wave of jeans. Crocs Classic Cowboy Boots stand out for playing with the classic model of this brand, combining it with a creative design to be the sensation, carrying a lot of style and maintaining above all the comfort for which they are known. In addition, they are made of a material that is resistant to both water and soil, so you can use them in the field without having to worry about them being damaged.
They include Jibbitz Charms that will make them look like sheriff's boots, while leaving enough space you can give them a personal touch using any possible combination. In addition, they will give a great style to any outfit, as they go well with any type of garment, and thanks to their comfortable interior you don't have to worry about foot pain throughout a walk.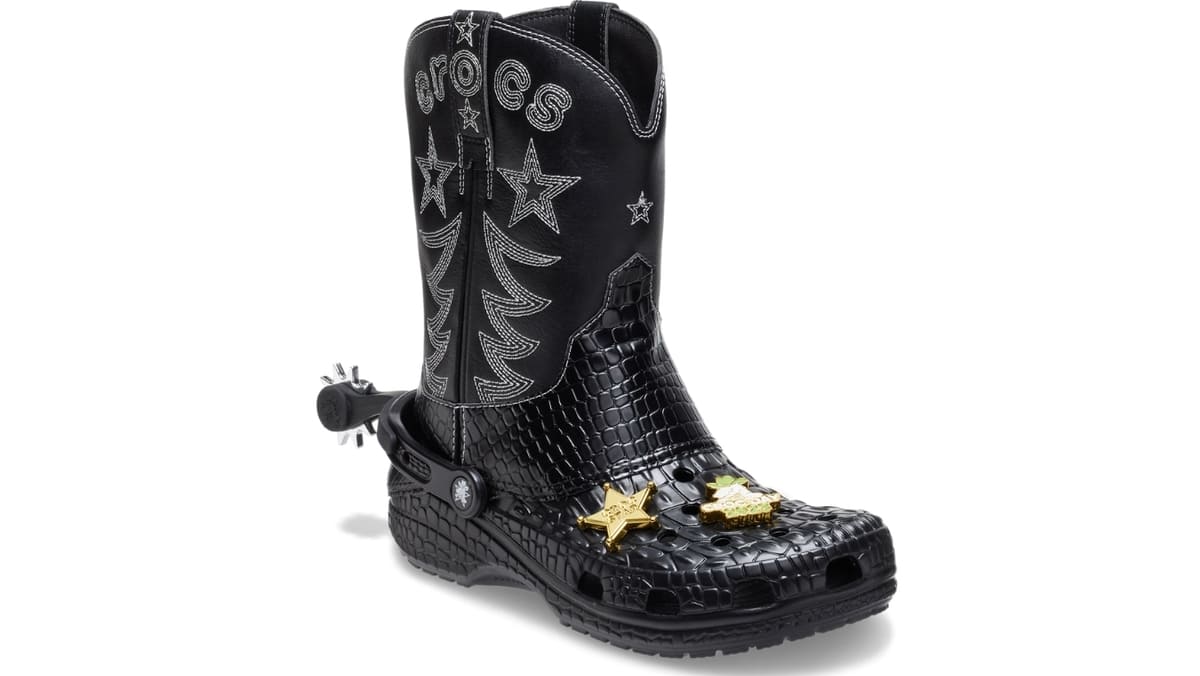 Classic Cowboy Boot from Crocs
With an unexpected twist into the cowboy world, Crocs continues to surprise and please his audience. Now they do it with the Classic Cowboy Boot model, an out-of-the-ordinary shoe that is causing a sensation. These cowboy-inspired footwear are taking iconic elements from the west.
The Classic Cowboy Boot combines the rustic, authentic aesthetic of jeans with the unmistakable comfort of Crocs. This is a combination of styles that will allow you to get out of the box, without losing the comfort of your feet. This way, you can wear the boots in different environments, with different outfits, and for long periods of time.
Cowboy boots with embroidered metal details
The way it's designed, this Crocs shoe makes a bold fashion statement. Especially because of the way they mix the essence of the West with the glitz and glamour of the disco era. This is due to the embroidered metallic details it has on the upper part, elevating its aesthetics and creating a unique style.
These Crocs cowboy boots are proof that fashion is a space for creative expression and personality. Its design will transport you directly to the past, combining different eras in an extraordinary way.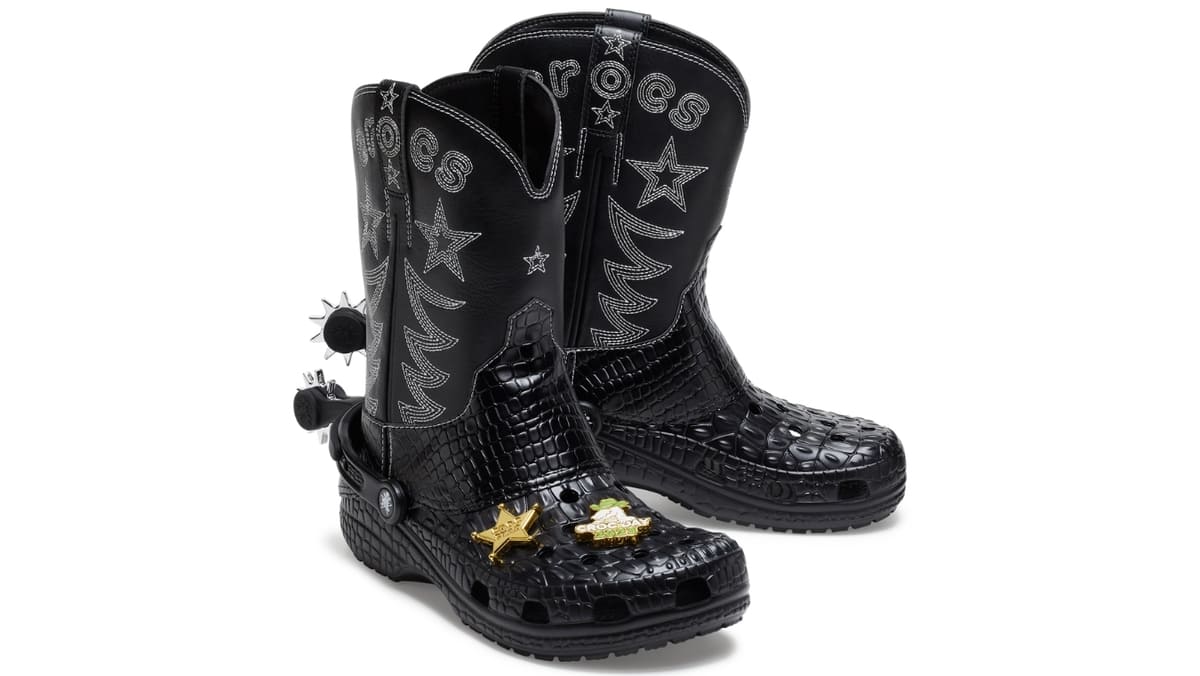 Cowboy boots designed with crocodile skin texture
These boots take inspiration from nature and add a touch of luxury to the iconic denim design.  They are designed with crocodile skin texture, thus creating a bold and eye-catching look. At the same time, it brings a sense of exclusivity and style that will make you stand out within whatever environment you find yourself in.
The incorporation of the crocodile skin texture into the cowboy boots adds an element of mystery and distinction.  And best of all, this is a composition that provides durability to the footwear. This way, they can be part of your wardrobe for many years, without suffering much wear and tear.
Cowboy boots with swivel spur
This shoe features a swivel spur, an iconic feature of cowboy culture, on the back of the boots. The spur is removable, allowing you to customize your look and wear these boots with or without this trim. Therefore, it is a detail that brings authenticity and versatility to the footwear.
These boots are perfect for those who want to incorporate a touch of Western tradition into their attire. The customizable design allows you to adapt it to your stylistic preferences or the situation you are in. As a result, you'll always be able to look stylish when wearing these Crocs cowboy boots.
Classic Cowboy Boot model details
They employ an insole made of Croslite material to elevate foot comfort when walking for long periods of time.
They are designed with ventilation holes to offer efficient breathability in any environment.
It is a denim-style shoe that you can customize with the Jibbitz charms in the catalog.
They have a versatile sole that can adapt to different surfaces, providing optimal grip.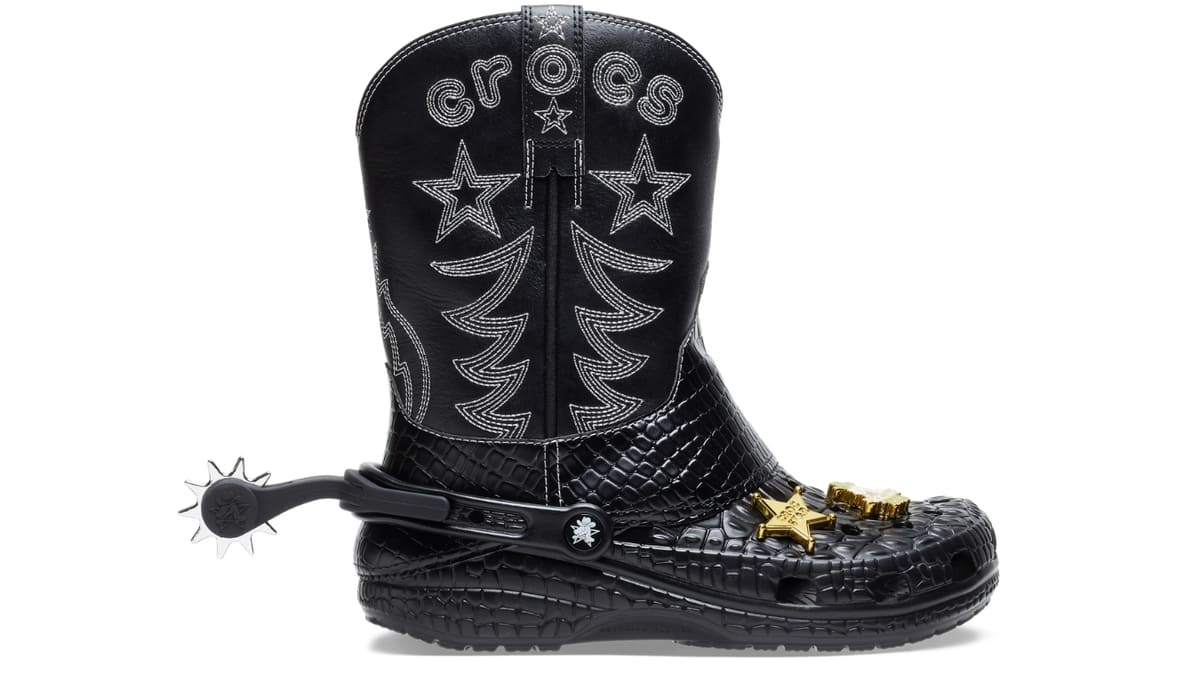 Crocs Classic Cowboy Boot Price
If you want to buy the Crocs Classic Cowboy Boot model, you only need to pay $120.00 on the official website. These come with a warranty, returns, and free shipping to ensure a safe purchase. As a result, you'll be able to start enjoying this innovative footwear in a matter of days.