For women and men who love long walks and walks on extensive trails, Nike has brought and pair of shoes that promises to pamper them. Especially during these extremely active seasons in the United States, comfort becomes much more critical and necessary. In addition, we at Look At The Square (LATSQ) are true believers that the greater the comfort, the higher the performance.
Walk, run, jump or climb without the fear of losing a shoe or getting an injury. The most important thing today is that your feet are protected and stable with a shoe that gives them support and resistance. You don't want to slip on the snow in the upcoming snowfalls that come in winter.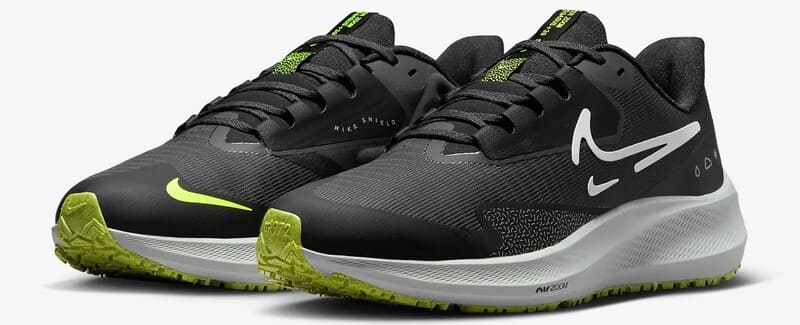 Nike Air Zoom Pegasus 39 Shield
They are sports boots for men, which serve all sports or everyday activities due to their structure. They are available in black, gray, and other shades within Nike's online catalog. The Air Zoom Pegasus 39 Shield model has many qualities to highlight. Among them, we mention the following.
Warm structure
Air Zoom Pegasus 39 Shield is a model of running shoes that uses woven material in its composition. In this way, they help repel water and moisture in the environment while keeping the feet warm. Thanks to this, you will feel warm at all times. This way you will have more energy to exercise or enjoy yourself with your friends.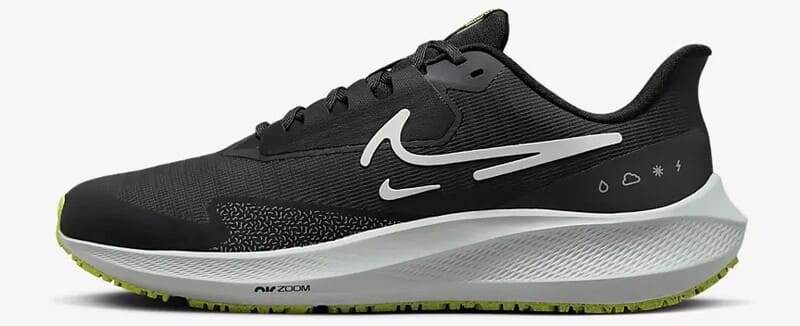 Outsole
To adapt to wet environments and slippery surfaces, these boots use a Storm-Tread outsole. Therefore, it has a texture complemented by microgrooves that resemble winter tires. This will allow traction and stability, so you are always in contact with the ground.
Soft and responsive tread
This men's shoe uses Nike React technology for efficient energy return when walking and running. 2 Zoom Air units complement this light and durable foam in the forefoot and heel areas. It is an essential part of the structure to prevent injuries while giving you greater freedom of movement.
Nike Price
This Nike sneaker model belonging to the Pegasus line has an affordable price. From the official website, you can buy them for $ 140 or 4 interest-free payments of $35.00 through Klarna.
Nike Pegasus Trail 4 GORE-TEX
On the other hand, Nike's online collection also has footwear designed for women. In this case, we bring you the Pegasus Trail 4 GORE-TEX, fashionable designer sneakers. They offer excellent comfort since walking with them makes you feel like you are on pillows. In addition, they are available in various colors and sizes. Like the previous model, Pegasus Trail 4 GORE-TEX has many qualities worth knowing about. Some of them are as follows.
High traction
They are made with rubber along the sole, extending to the boots' front. Thanks to this composition design, Nike running shoes have superior traction. And can adapt to multiple surfaces without losing grip or stability. This is essential for when you walk in nature.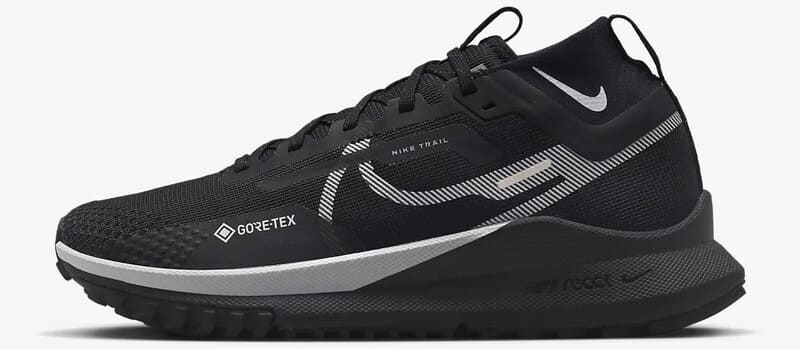 Softness when walking
This Nike Pegasus model resembles the shoes mentioned above in specific detail. One of them is that they also employ Nike React technology to improve the sensation of walking. It is a perfect tool to achieve the maximum possible performance in any activity; you participate with these shoes.
Assured protection
One of the best qualities of this Nike women's footwear is the invisible fit of GORE-TEX. It is a layer of protection that allows your feet to stay warm on wet surfaces. You can buy these Nike Pegasus boots for women for $160 or 4 interest-free payments of $40.00. For the funded amount, you need to have Klarna.