In recent years, the American company Crocs has once again put itself under the magnifying glass of buyers for having an option available for every taste and need. Now comes this model of Luke Combs, ideal for fishing lovers who do not want to forget their passion in these cold times in the United States.
At Look At The Square (LATSQ) we realize why after two decades the store remains unmatched, positioning itself next to renowned stores such as Adidas, Nike, and Skechers. It has a fantastic design, affordable to all audiences and now you can combine them with matching Jibbitz or customize them as you wish.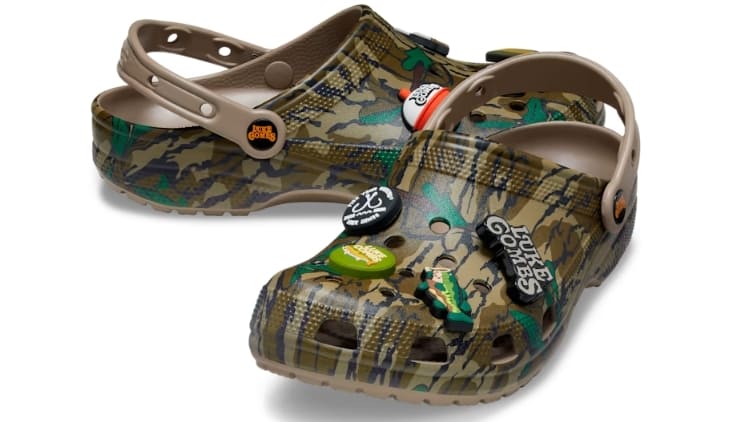 Who is Luke Combs and why is he launching Crocs sneakers?
Luke Albert Comb is an American singer and songwriter well known in the country music scene. We can say that to date he is one of the most popular singers.
Luke, born in Charlotte, North Carolina, has been in the world of music since he was a child. However, his first album called The Way She Rides was not released until 2014. However, it was in 2015 with his second release when he achieved fame after his resounding success.
Luke Combs has been collaborating with Crocs since 2019 with clog designs in styles related to music, nature and most importantly, that are ultra comfortable.
https://www.instagram.com/p/Cll8RfhOJee/
Crocs Luke Combs X Crocs Classic Clog
Just by looking at these clogs, you can realize that they will serve as a luxury to go fishing with your friends. Not only for the incredible camouflaged style it has but also for the functionality this model has.
Luke Combs X Crocs Classic Clog is light and soft, to keep you active and with cool feet, even in humid environments. In addition, it is a shoe that has the following characteristics.
They are waterproof and can float on water.
It has integrated ventilation ports to allow the passage of air to the feet.
It has pivoting straps on the heel for a secure and personalized fit. Besides, its texture massages the back of the feet.
Luke Combs X Crocs Classic Clog is a flexible shoe that adapts to different environments. They do not lose stability on any type of surface.
They do not get dirty easily and their composition is durable. When it requires cleaning, its materials allow it to dry in a short time.
Acquire this fantastic design at a crazy price
You can get these wonderful fishing clogs on the official Crocs website. There you will have the option to buy them for an affordable price of only $70.00. Apart from that, if you choose the Afterpay payment method, the clogs come out in 4 monthly installments of $17.50. In either case, this is a footwear valid for free shipping.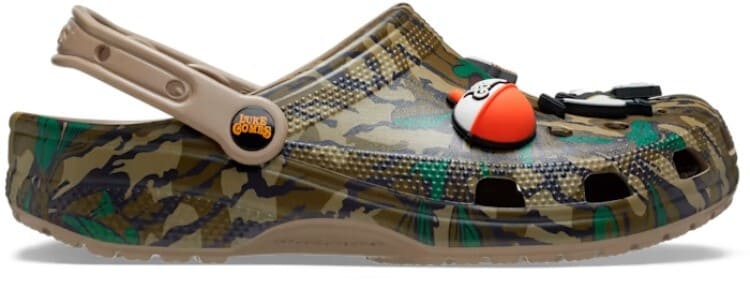 Customize your Crocs with these products
The Luke Combs X Crocs Classic Clog model from Crocs now comes personalized with Jibbitz amulets. However, these can be removed to add others. In addition, this footwear can be combined in different ways. The following products may interest you.
Crocs Luke Combs x Crocs 5 pack
This pack of Jibbitz charms has different fisherman-style models. But it is not only the design that combines with the clogs but also their colors that will shine well with your footwear.
Luke Combs x Crocs 5 pack has a sturdy composition and fits securely on clogs. You can buy them for $19.99 or $5.00 in 4 monthly installments.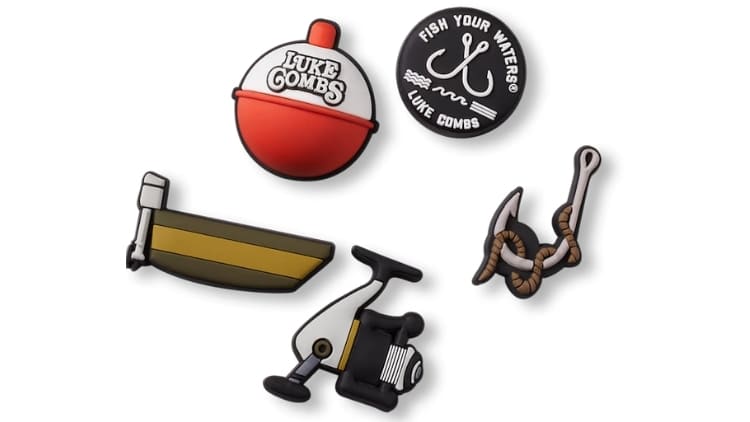 Socks Holiday Hemp Crew
In addition to customizing the clogs, Crocs also gives you the option to complement them with the Socks Holiday Hemp Crew model. These socks are warm, and stretchy and have a design that adapts to the holiday season.
They do not cut off blood circulation in the feet and combine with clogs. And best of all, you can buy them for $17.99.
Socks Ruffle Ankle 3-Pack
Within its catalog, also has socks of a more casual style to wear all year round. The Socks Ruffle Ankle 3-Pack model is stylish and offers both comfort and fit. On the website, you can buy them for a cost of $24.99.