Best Buy knows that incredible holidays are coming up in the United States, and with the Ninja brand, they've colluded to bring you a fantastic tool. Some culinary recipes need to be taken to the oven, and what better than having one that can heat up just by being plugged in. A functional toaster oven prepares all kinds of dishes, from pizzas, loaves of bread, and cakes, among others, without burning them. 
And because for us in Look At The Square (LATSQ), you are the priority at all times, we have put our experts in the art of cooking to test this electric appliance. Here you can learn about its features, price, details, and more about this kitchen product.
Ninja Foodi Convection Toaster Oven at Best Buy
The Ninja Foodi Dual Heat Air Fry is a versatile electronic appliance that can be easily installed inside your kitchen. It has 11 functions that will allow you to make amazing recipes and delight all your guests.
It has a cycle of up to 500 degrees with a direct heating system, which allows you to have your meals quickly with professional results. Don't leave aside your favorite dishes because you don't have an oven to sustain you. It's better to know all the features and details of this one.
Toaster Oven Features
Undoubtedly, this toaster oven can be your right hand when preparing unique dishes, and within it, the following features are known:
Ninja Foodi Dual Heat Air Fry has dual heat technology to heat, brown, or cook your favorite recipes up or down by about 500 degrees.

Its 11 functions make it a versatile oven. These functions are as follows: Air Fry, Sear Crisp, Rapid Bake, Frozen Pizza, Fresh Pizza, Griddle, Air Roast, Bake, Broil, Bagel, and Toast.

Its capacity is XL family size. With it, you can prepare chickens up to 4 pounds, even with toppings.

Is silver in color, so it can perfectly match the style of your kitchen.

Its dimensions are: Width 15.33 inches, Weight 21.23 pounds, Length 20.21 inches, Height 8.15 inches.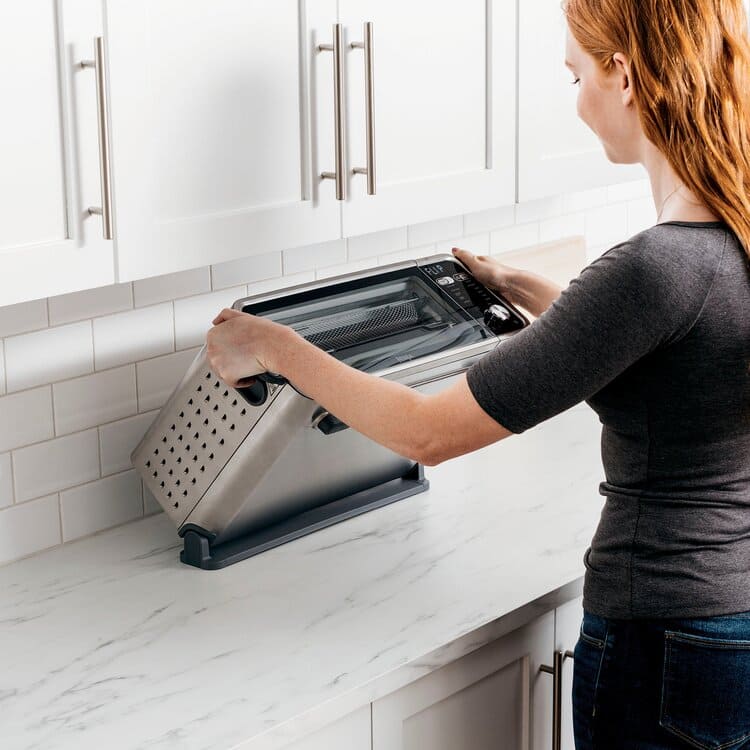 What's included in the box
Along with this oven, other items and accessories come inside its box, and those are as follows:
The 1800-watt hot air frying oven.

An air frying basket.

Wire racks to place all the food.

A crumb tray that can be easily put in and taken out.

A 

recipe booklet

 with more than 15 different preparations.
Advantages of having the toaster oven in your kitchen
It has several advantages to mention if you have decided to acquire it to elaborate your favorite preparations:
Takes up little space; therefore, you can place it anywhere in your kitchen without getting in your way.
With it, you can make multiple preparations without the risk of burns by splashing.

You can prepare appetizers, hors d'oeuvres, main courses, and desserts in the same functional oven.

This is not a risk for the little ones since you can easily disconnect it.

It has a manual control system, where you can adjust the temperature, the timer, and the ignition of the top or bottom burner.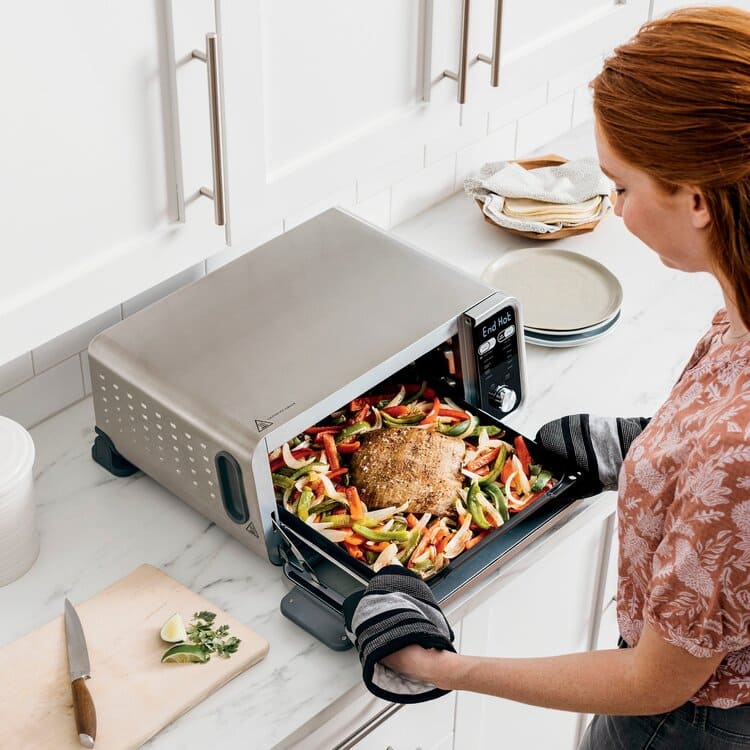 Price of the Ninja Toaster Oven from Best Buy
The Ninja – Foodi convection toaster oven with 11-in-1 functionality with Dual Heat technology and Flip functionality – Silver. It has a total cost of $200 in the sale price, as this one was previously around $290, which means you save about $90 if you purchase it today from Best Buy. We should also mention that this price does not include shipping unless you have a Best Buy TotalTech membership.