ALDI promises that soon you will be cooking like a professional thanks to its new pans and pots. In addition, the whole family gathers in the United States to celebrate the upcoming holidays, and that's why they deserve to have a perfect evening. Preparing food to perfection is getting easier.
However, at Look At The Square (LATSQ), we know that not everything is air fryers, ovens, or barbecues; you also need to sauté your food. And so that you have all the utensils at hand, we have brought you this fantastic collection of kitchen items sweeping ALDI's sales.
ALDI Crofton Mini Cast Iron Cookware
The Crofton Mini Cast Iron Cookware is a miniature-sized kitchen accessories kit composed of a frying pan, iron, and saucepan with a lid. You can choose to buy them together in a single package or as individual accessories, depending on your personal preferences or needs at home. They withstand ovens up to 500°F, making them ideal for all types of dishes.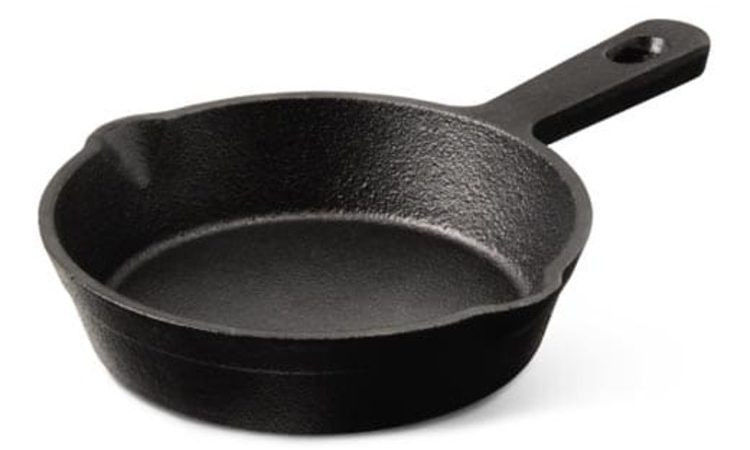 These kitchen accessories are pre-seasoned and ready to be used to prepare your favorite foods. Each of them has the following capabilities.
Mini Skillet: 13.5 ounces
Mini Iron: 12.6 oz
Mini saucepan: 8 ounces
As for the price, they are all worth the same; that is, you can buy them for as little as $5.99 or $17.97.
Crofton Mini Cast Iron 2-Quart Dutch Oven
We continue with the miniature-size Crofton Mini Cast Iron 2-Quart Dutch Oven that ALDI has to offer you. It is available in green with a silver knob or white with a gold goatee, depending on your kitchen. It is made of cast iron and has a capacity of 2 rooms. Besides, It's an accessory that cannot be missing in the home to prepare all kinds of dishes.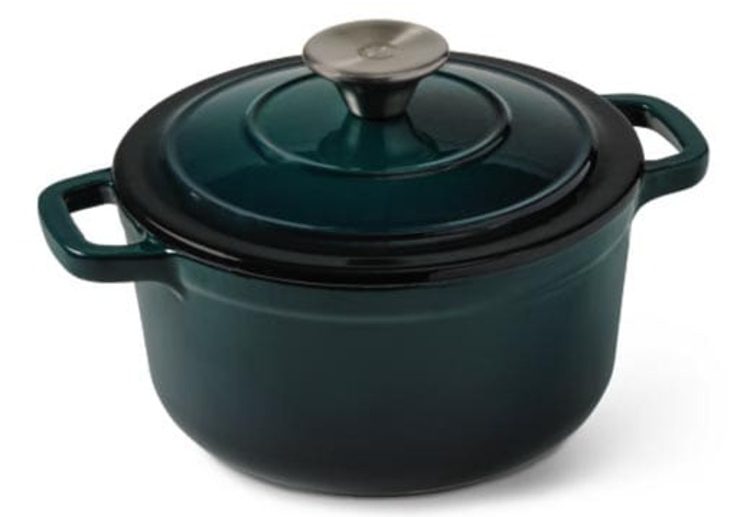 The exterior and interior structures use long-lasting porcelain enamel with high heat retention and distribution. In this way, it can be in ovens up to 482°F without suffering damage to its composition. In general, it is a product that requires little maintenance, only cleanings after each use. It is priced at $18.99.
ALDI Crofton Cast Iron Grill Pan or Frying Pan
Another essential product your kitchen needs to complete is the Crofton Cast Iron Grill Pan or Frying Pan. ALDI offers you two options: a 12″ grill pan or a 10.46″ frying pan.  Both are available in white or gradient green to choose from when purchasing from the website.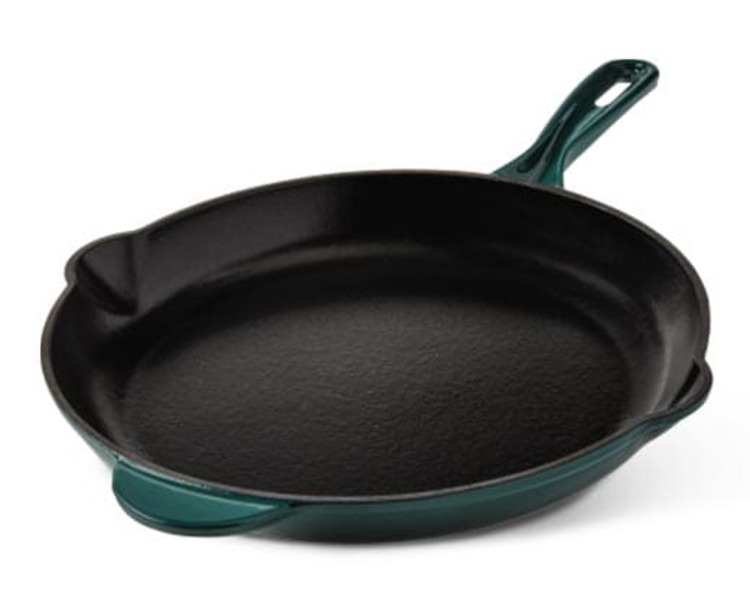 Like the previous product, this cookware uses long-lasting porcelain enamel indoors and outdoors. In this way, they have more excellent resistance to different temperatures, with retention and distribution of heat. They can work on electric stoves, gas stoves, and much more. Each is priced at just $18.99.
Crofton Cast Iron 4.6-Quart French Oven
Finally, ALDI offers you to complete your kitchen with the Crofton Cast Iron 4.6-Quart French Oven, available in white or green. It is compact in size, with dimensions of 11″ x 8.6″, while its capacity is 4.6. It has the same qualities as the other products on the list regarding design and resistance.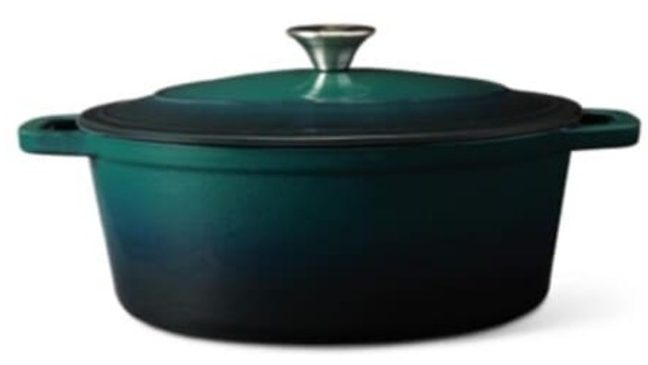 However, this kitchen utensil has a higher price than the others, but it is still economical. You can buy it for $29.99.