Jump to the highest hills, run through the most rustic floors, and walk for hours without feeling uncomfortable in your feet thanks to Skechers. In addition, the experts at Look at The Square (LATSQ) care that you can practice any sport and get where you want without the risk of your feet being mistreated. Because, keep in mind that the feet support the hip, and this gives support to the body. If you don't have good support, sooner or later you will feel the repercussions on your back.
And you don't want that, because there are still a lot of places to go in the United States and you need to be in excellent physical condition. In addition, if you combine these models of sports shoes with sweaters, leggings, or shorts from Adidas you will see that you can get wherever you want most comfortably and safely.
Skechers GO WALK Glide-Step Ryder
It is one of the best-rated shoes on the Skechers website, thanks to the style and structure it has. GO WALK Glide-Step Ryder is a black shoe in all its composition, with the availability of sizes ranging from 7.5 to 13. They have laces for you to fit as you like, complemented by a mesh top and synthetic material.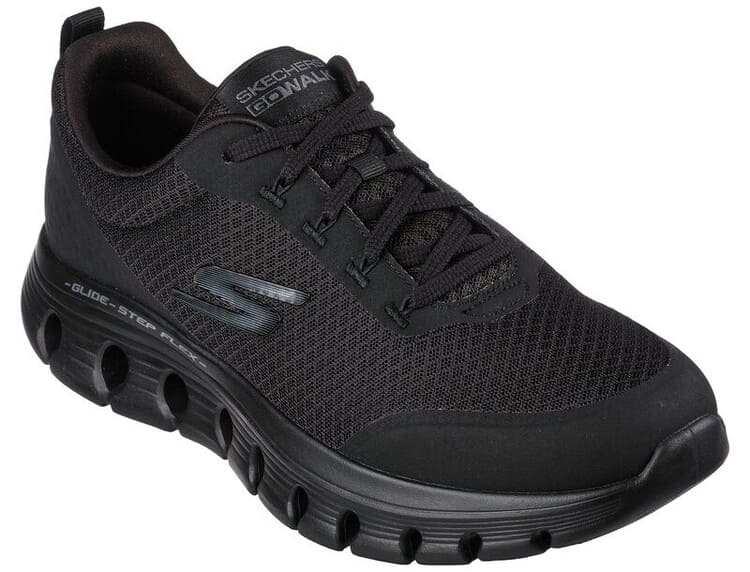 GO WALK Glide-Step Ryder has an excellent structure for walking and running. First of all, they have a Skechers Memory Foam Gel-Infused insole, lightweight Glide-Step midsole, and ULTRA GO cushioning. Then, when stepping on any surface you will have a soft, light, and reactive sensation that does not generate discomfort.
At the same time, you'll get a natural boost with each step while having stability and high-strength traction. And best of all, they are sports boots that use 100% vegan materials for their preparation. The price of these men's sneakers from Skechers is $90.00, with payment options financed in 4 monthly installments.
Glide Step Sport New Approach
We continue now with the Glide Step Sport New Approach model from Skechers, it is a shoe with a design similar to the interior model. In particular, they are also black, although, these have a white tone sole. The availability of sizes ranges from 7.5 to 13. In addition, they have medium or wide structure options.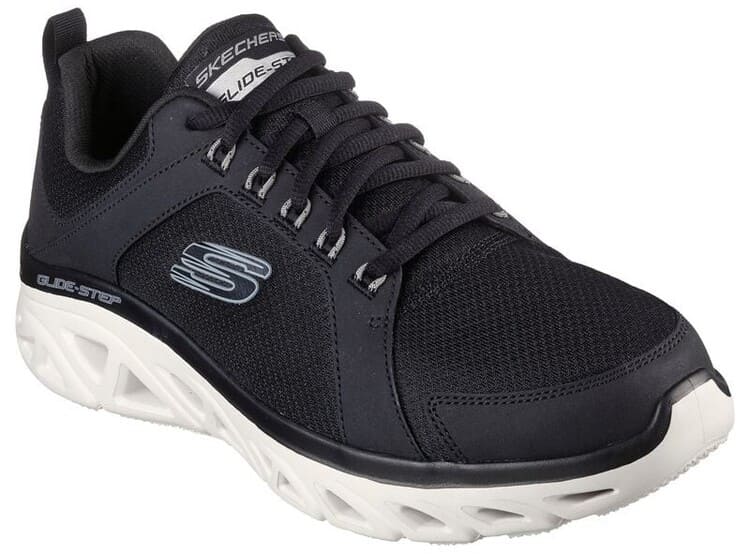 Glide Step Sport New Approach are lace-up shoes that have a neck and mesh upper. On the other hand, they use a Skechers Air-Cooled Memory Foam insole to improve the way your feet perspire. This is complemented in a natural and symbiotic way with the Glide-Step geometric midsole, which also gives extra momentum and energy.
It is also necessary to mention that these Skechers sports boots have a heel of 1 1/4 inches. As for the sole, it is flexible rubber traction to adapt to all types of surfaces. The price of the shoes is $90.00 or 4 installments without additional interest of $22.50, through the Afterpay payment method.
Skechers GO RUN Swirl Tech
Finally, Skechers brings you one of the most versatile shoes in its entire collection. This is the GO RUN Swirl Tech model, medium-width shoes, and sizes ranging from 7.5 to 13. On the other hand, they are available in black, white, and blue. They are laces for a secure fit and have a special design for running.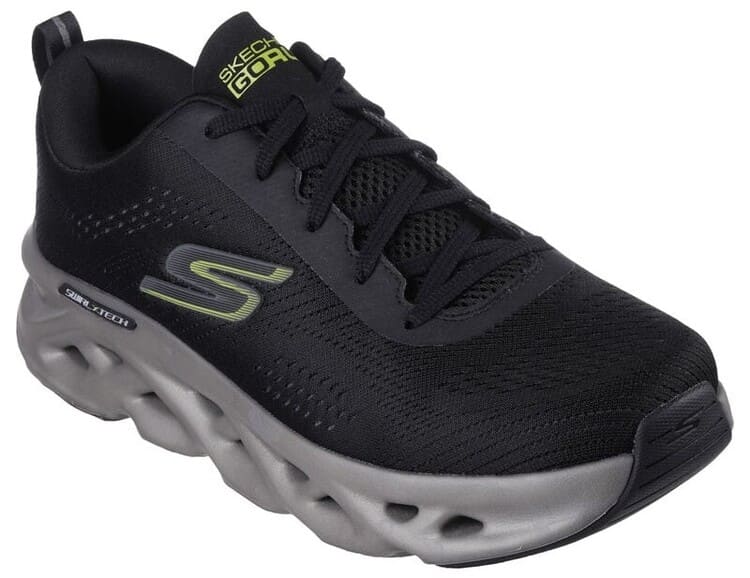 As for their design and support, these shoes have a padded HYPER BURST midsole with responsive and ultralight features. It has a breathable Skechers Air-Cooled Goga Mat insole, which is complemented by high rebound cushioning. To improve perspiration, it also features a layer of Ortholite Comfort foam insole. Without a doubt, it's a shoe of excellent design and composition that is worth buying. Especially because they have an affordable price of $82.99.