Skechers is not only aimed at hardcore sports lovers, but also at those who love the comfort and feeling of warm feet. Especially when the seasons start to get much colder, and we start looking at our home with much more longing. Afternoons in front of the fireplace, with slippers that protect the feet from the cold floor.
We at Look At The Square (LATSQ) already put on Target's Christmas pajamas, and of course, the outfit can't be complete without velvet slippers. They make you feel that you always walk on a soft carpet, prevent perspiration and caress your feet with each step.
Skechers BOBS Too Cozy Meow Pajamas
They are sandals for women in black with an embroidered cat design on top. You can buy them in medium or wide widths, while the availability of sizes ranges from 5 to 11. They are composed of soft microfiber, suede texture, faux leather edging, and padded memory foam insole for comfort.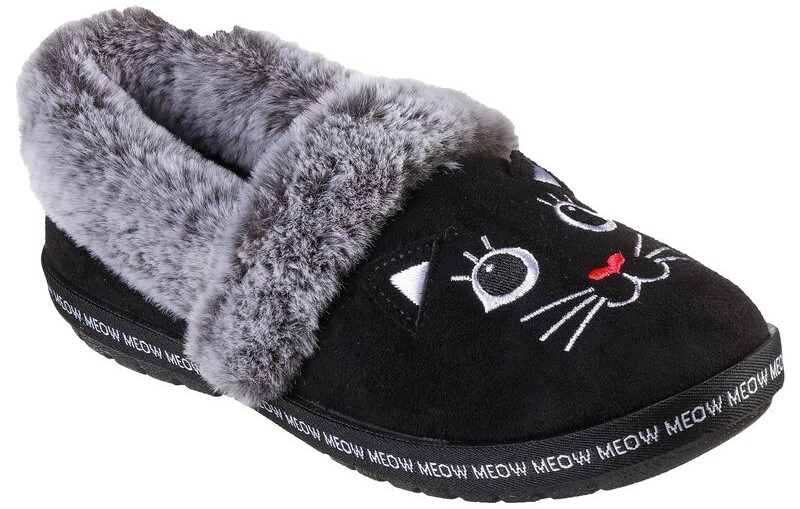 With the BOBS Too Cozy Meow Pajamas model by Skechers, you can walk inside the house feeling comfortable. It is a shoe that adjusts to the shape of your feet, allows perspiration, and protects from the cold at the same time. They are complemented by a flexible rubber traction sole to adapt to all types of surfaces on which you walk.
On the other hand, the BOBS Too Cozy Meow Pajamas model by Skechers has a fairly affordable price. For only $48.00 you can take them home for this holiday season. In addition, with Afterpay services you can purchase it for just paying $12.00 for a period of 4 months.
BOBS Too Cozy Ruff Time
Another model of slippers available in the Skechers catalog for this Christmas is the BOBS Too Cozy Ruff Time. It is a shoe with a structure similar to those mentioned above. However, these have a striking checkered print in dark tones. Apart from that, they have a 3D embroidered dog face design on the front.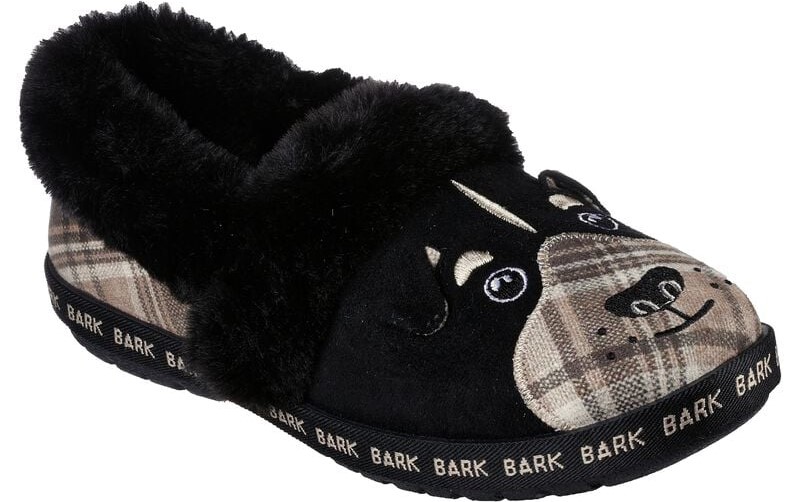 BOBS Too Cozy Ruff Time sandals from Skechers are made of fabric woven into the upper area. They have faux leather lining and a padded Skechers Memory Foam insole. In general, it is a shoe with an elaboration that only uses vegan materials. On the other hand, the traction sole has allowed them to adapt to indoor and outdoor spaces.
Belonging to the same collection of Skechers and having a similar design, these slippers also cost $48.00. You can pay it in 4 monthly installments and without interest through Afterpay. In addition, if you are a registered user of Skechers Plus, you can receive slippers at the door of your home, with free shipping.
Skechers BOBS Too Cozy Jazzy Pawty
Finally, the BOBS Too Cozy Jazzy Pawty model for women is also available in the Skechers catalog. They are charcoal sandals and medium width, available in sizes from 5.5 to 11. They stand out for having a leopard print design and a 3D embroidery of a cat's face so that your feet stand out easily.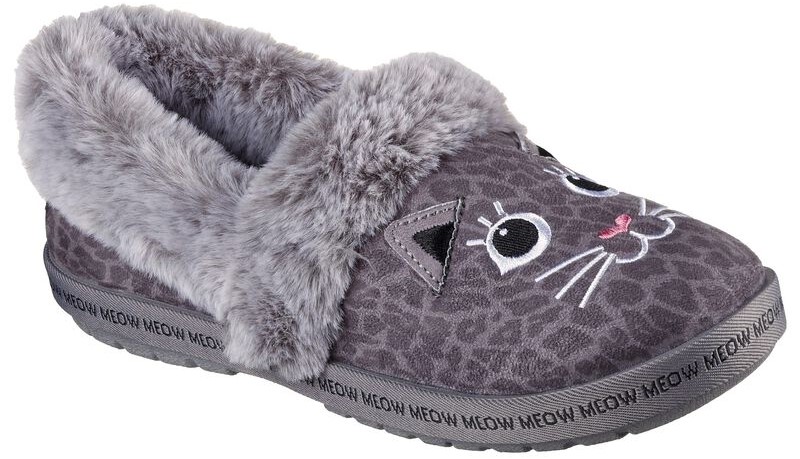 This model of slippers from Skechers has the same structure and composition as those mentioned above. So, BOBS Too Cozy Jazzy Pawty footwear is durable and resistant, with the ability to adapt to different environments. Being vegan, for every purchase made Skechers makes donations to animals in need.
With these slippers, you can not only be comfortable during the holiday season, but you can also take care of your feet. And best of all, they are sandals at the same price as the others on the list. That is, you can buy them for only $48.00.