A watch is an accessory that works for much more than just seeing the time. These devices express elegance and originality. Especially those male models. Watches are devices that combine different styles, casual and formal. In the United States, Macy's is one of the best options to buy watches, due to its extensive collection.
These men's accessories are available in diverse styles and colors. They fit wonderfully with other clothes since they are an ideal complement. In other stores like Amazon or Best Buy, you will not get the prices and additional benefits that Macys offers in its catalog of watches. There are many options to choose from, and among the most popular, we highlight the following.
Men's Gold Plated Stainless Steel Bracelet Watch
This is an original Macys watch, designed by the iconic Tommy Hilfiger brand. This men's accessory has a gold plated bracelet, which combines perfectly with its classic style. It is a model with a black dial and 44 mm, with quartz movement. In addition, a stainless steel watch can work for many years.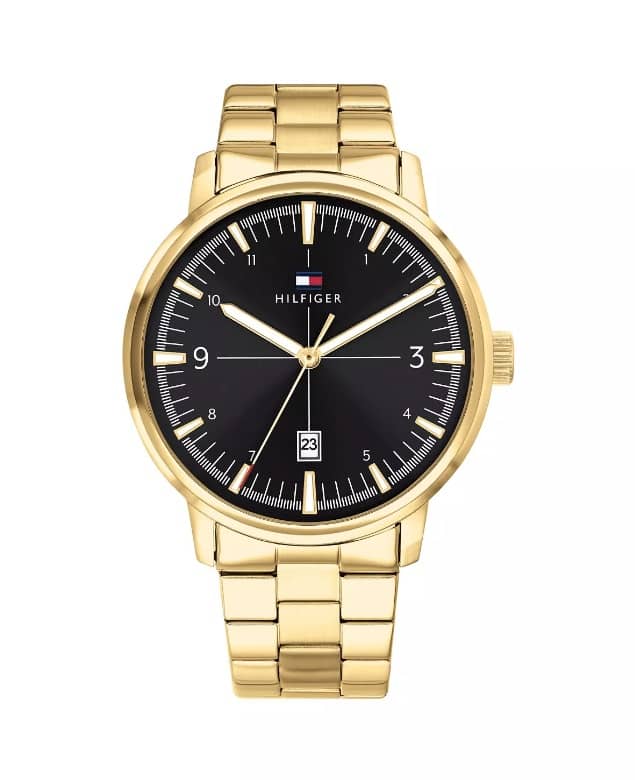 This accessory for men comes with a button deployment and adjustable length, which ranges from 22 inches. It can be used at any time, thanks to its water resistance. It can be submerged up to 30 meters. Your purchase comes with a gift box and a 10-year limited warranty. It has a value of $125.00. You can buy it in four interest-free payments of $31.25.
Macys Eco-Drive Men's Promaster Diver
Another of the most popular men's watches at Macy's is this refined Citizen Promaster Diver model. It is an accessory developed by Eco-Drive, so it does not require a battery to work with high precision. It has a unique style that combines gold color with black. The watch features luminous markers and a three-hand quartz movement.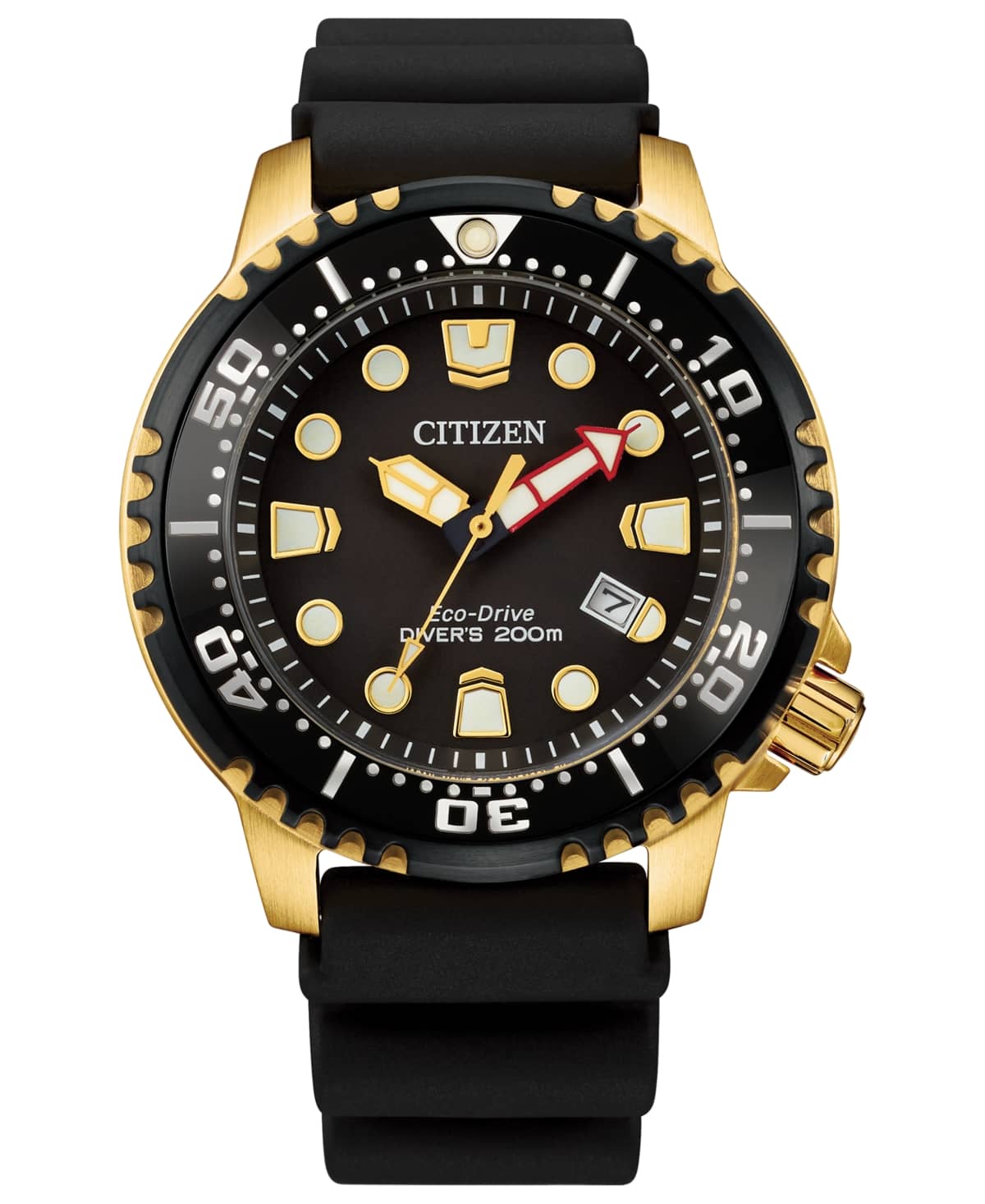 It has a black rotating bezel and the case is spherical in gold-colored stainless steel. It has a buckle closure, with a black polyurethane strap. Like the previous model, this Citizen watch is water resistant; it can be submerged up to 200 meters. It has a 5-year limited warranty, is worth $395.00 and you can find it in four interest-free payments of $98.75 or with 12-month financing.
Macys Men's Swiss Bold Thin Gold
We continue now with a Movado watch, which belongs to the popular Bold Thin collection. This Swiss-made watch, available at Macy's, is one of the most exquisite in the catalog. It has a completely gold design, which is light and does not generate pressure on the wrist. It has a 42mm round case, accompanied by a gold dial and Swiss quartz movement.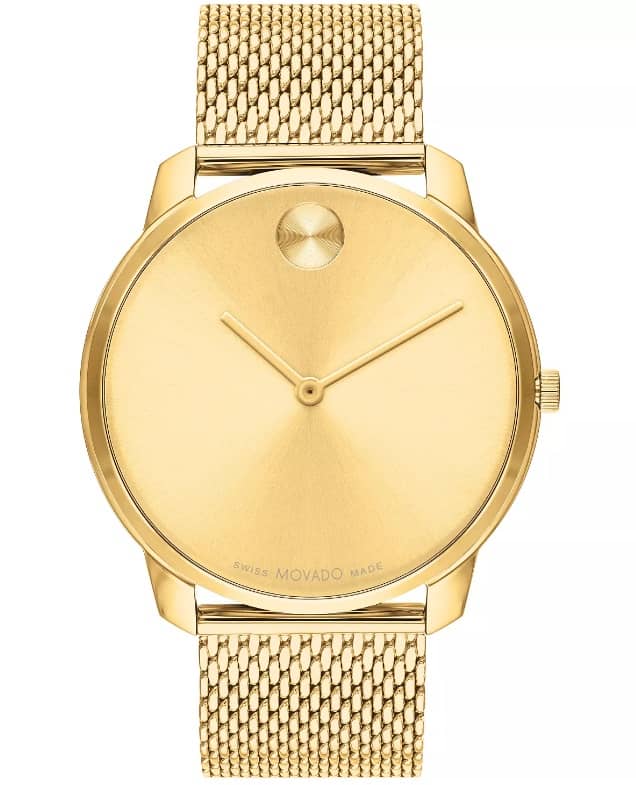 The watchstrap is a stainless steel mesh, which is gold-plated. This product has 30-meter water resistance. In addition, your purchase comes with a 2-year limited warranty. Its current price is $695.00. There are deferred payment options in 4 months or 12 months.
Men's Swiss Two-Tone Stainless
Lastly, Macy's has one of Versace's most recognizable watches available. This is the two-tone Medusa model for men. It has a unique and easy-to-combine style, due to the classic shape of the watch. It has a three-hand Swiss quartz movement. The case is spherical and with a gold bezel, 42 mm.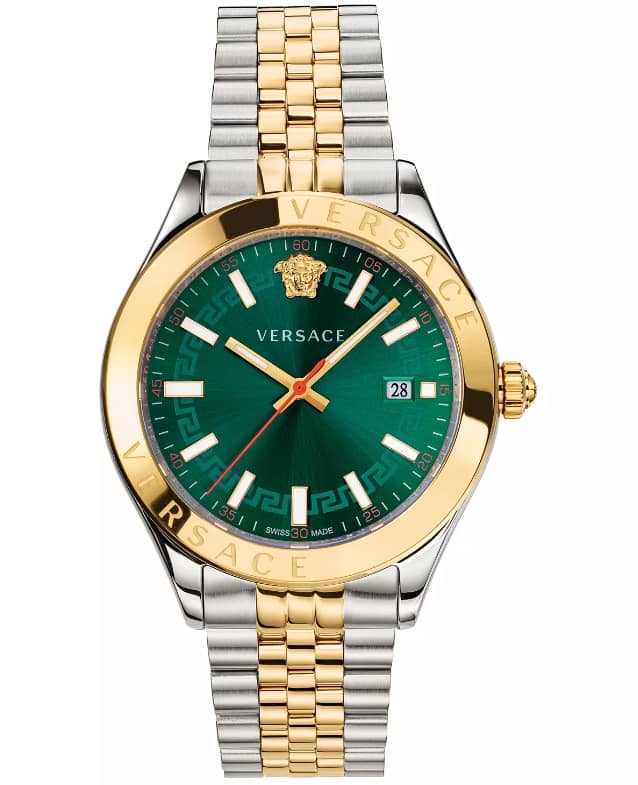 As for the strap, it combines a two-tone style, in gold and silver colors, made of stainless steel. This model can be submerged up to 50 meters underwater. It is one size fits all, with a two-year guarantee. Its cost is $995.00. Like the previous model, there are options to buy it in suggested payments for 4 months or 12 months.