Loading clothes and accessories when you go on a trip or camping is a tedious process you may need an Adidas backpack. On many occasions, we cannot carry everything we want, due to lack of space. Adidas brings you the solution to that problem, with its new collection of backpacks. They are among the best models available in the United States, in terms of design and space.
The best thing about these Adidas backpacks is that they are available at very affordable prices. Other brands like Nike have similar accessories but are much more expensive and of inferior quality. Within the Adidas website, you will find a wide variety of models. In this guide, we will tell you about the most popular ones.
Yola Backpack Yola
This training backpack is one of the most noticeable products on the Adidas website. It has an original and ergonomic design, with reduced weight and the ability to store multiple objects. You can use this product to store your training, work, or study accessories. Even all three at the same time. Its dimensions are 12.25″ x 4.5″ x 16.5.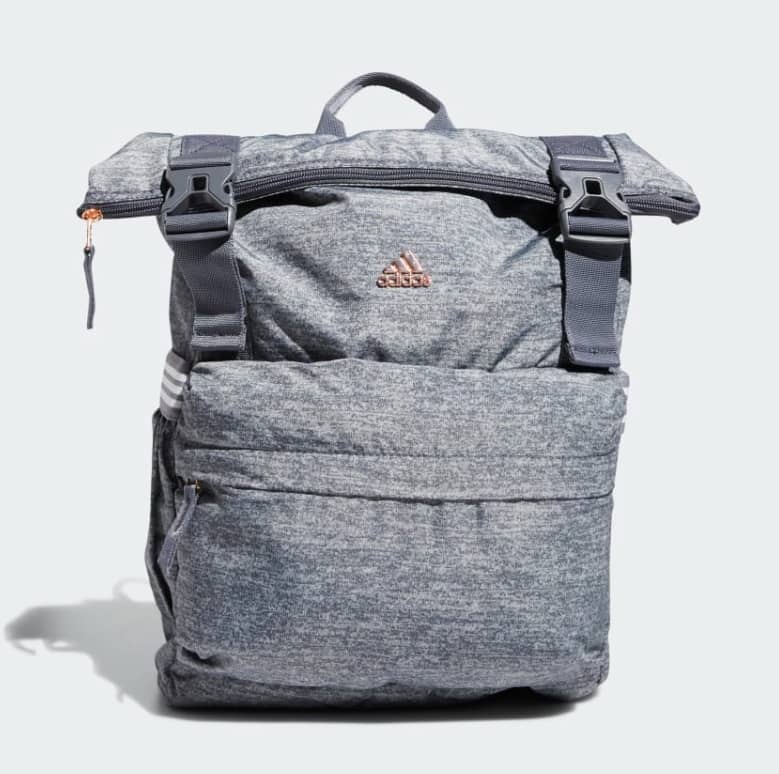 Ecological and recycled materials make up the backpack, such as nylon with lining and polyester. It has a front zipper pocket, a middle one with lining, and two to store water bottles or filters. With an elegant medium gray color, you'll have no problem combining it with your clothes. It has a reduced price of only $23.
Prime Backpack
We continue with a classic-style backpack, belonging to the new Adidas collection. It has 12 colors available, including matte black. The backpack has enough space to store personal items and accessories for training or work. Its design is shoulder straps, so it is shock absorbing and light in weight.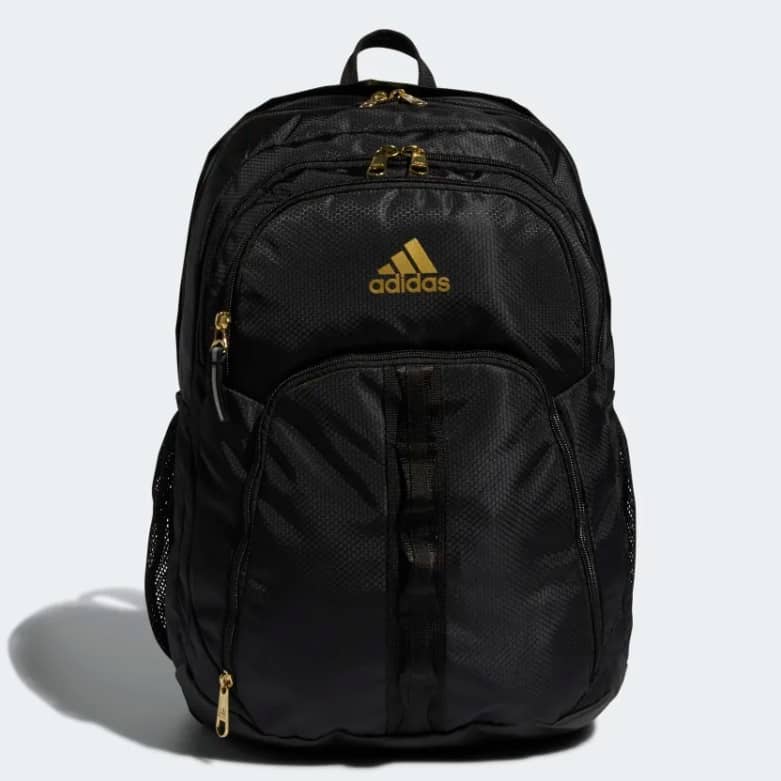 Recycled polyester is the main material of the Adidas sports bag. Its measurements are compact, only 12.5″ x 11″ x 20.25″. It has exterior and interior pockets with zippers and two sides to carry water filters. Inside the backpack, there is a laptop compartment with padding to provide security. Its current value is $65.
Adidas Backpack Utility Premium Non-Dyed
Now, let us go with one of the most stylish backpacks in the Adidas catalog. It is white in color, large in size, and light in weight. Due to its design, it will serve you in any activity you do where you need to leave the house. It is a 12.5″ x 7″ x 17″ backpack made from recycled polyester and uses natural color to eliminate environmental damage.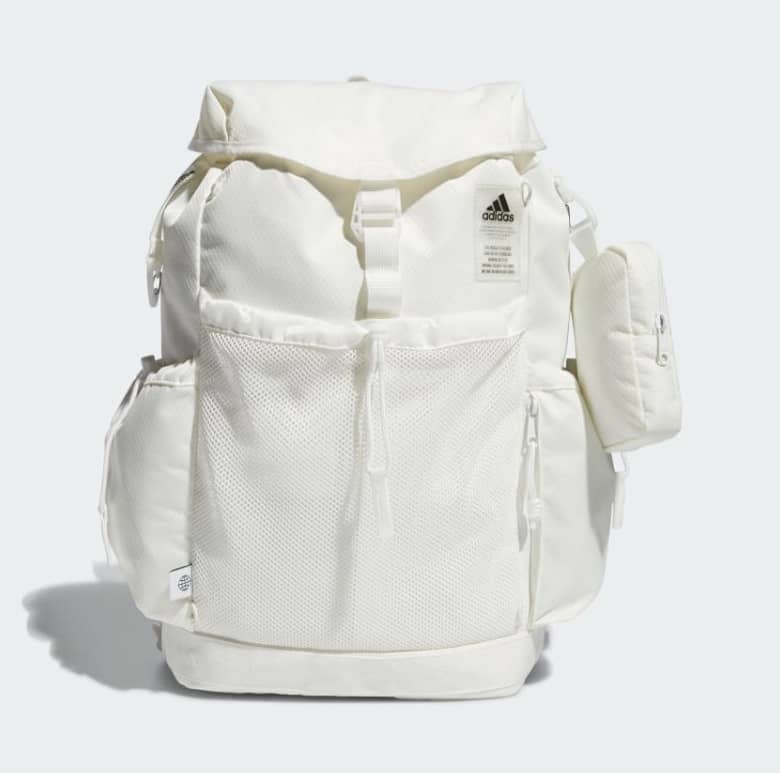 The backpack has a zipper closure on the back panel and a reduced size on the side. It includes a small bag on the side with a lobster hook, so you can detach it to load separately. It also has a mesh pocket and other sides. On the Adidas website, this product costs $85.
Adidas Prime Backpack
Finally, in the Adidas online catalog, you can get this multifunctional backpack with a classic design. This model is the same as the one mentioned before in the list, with a different shade of black. It is made of washable material with recycled polyester. It is available in 13 different colors, including black. Therefore, it is a backpack for men, women, and children. It serves your right to train, work or give it the use you prefer.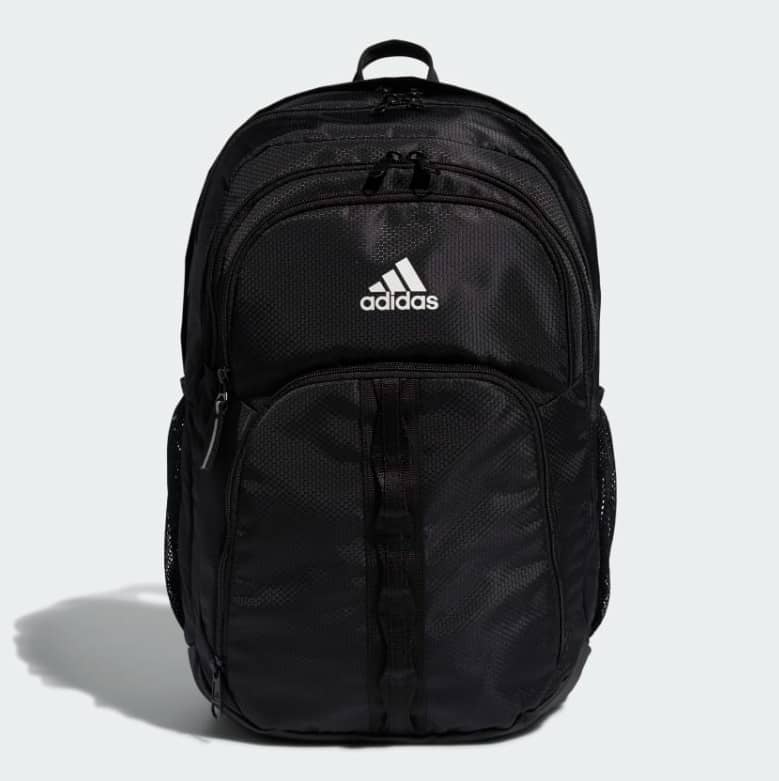 This Adidas backpack has multiple front and side pockets. Thanks to this, you can store your items in an orderly manner. The main one is equipped with a padded compartment for laptops. The straps of the bag are made of a flexible material so you can adapt them to your personal preferences. The price of the backpack is $65.