The bells begin to ring in the streets of the United States, announcing that Christmas is coming, and Crocs wants to celebrate with you. The streets are starting to turn white, and at Look At The Square (LATSQ) we are ready to wait for Santa's arrival. If you have already filled your house with the decorations of Zara Home or Urban Outfitters, now you must prepare your Christmas outfit.
Find the ideal pajamas, coats and jackets, but do not forget about good shoes full of color and that is comfortable. On this occasion, Crocs is pleased to bring you a fantastic model that you can also complement with beautiful accessories. You will be fashionable, and you will also combine with all the characteristic colors of Christmas.
Crocs Classic Lined Holiday Charm Clog
The Classic lined holiday charm clog, like all Crocs shoes, is perfect for anyone and any activity. It's the shoe of choice for doctors, but it's also worn at home, in the garden, at the beach, in parks, and even in supermarkets.
The great versatility of this casual shoe is due to the PCCR resin, which, when heated by body temperature, softens and molds to the foot. As it is a resin made with antibacterial substances, the proliferation of bacteria or fungi is impossible, even in this model with a soft and padded lining.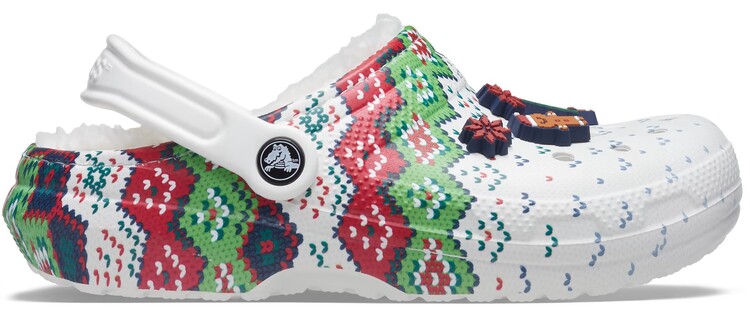 Perfect to combine
This Classic lined holiday charm clog design combines perfectly with casual clothes. That is, it will look amazing with tight or semi-baggy pants and shorts. Now, if you're looking for a lighter, more casual look, try pairing the Classic lined holiday charm clog with skinny, straight-cut jeans. Paired with a T-shirt or holiday sweater, you'll be ready to convey the season's spirit.
If you want a more relaxed outfit, pair your Crocs with a fisherman's pants. This way, you'll look your best in their gorgeous jacquard print and the adorable Jibbitz of your choice. The lining of the midsole overlays the inner edge of the Crocs, but since it is white, it matches with any other shade.
This border gives it a more Christmassy look and incredible comfort and convenience, much better than the classic slippers; plus, you can even wear them to work. The Classic lined holiday charm clog is available in sizes 6 through 12, in red with white or white with colored jacquard. Both styles are available for only $69.99, with free shipping and free returns on any order.
Combine your Crocs with these beautiful Christmas Jibbitz
The best thing about this Crocs model is that you can combine them with cute Jibbitz designs that will complete your outfit. Thus, you will walk full of colors with all the beautiful Christmas motifs.
Jibbitz Christmas Nutcracker 5 Pack
Who is not familiar with the nutcracker and gingerbread cookies at Christmas? They are one of the emblems of the beautiful season and certainly cannot miss. Also, if you plan to give these crocs as a gift, the cute Jibbitz in the form of a gift bun will provide the touch that was so lacking. To fill your days with color, purchase the Jibbitz Christmas Nutcracker 5 Pack for only $19.99.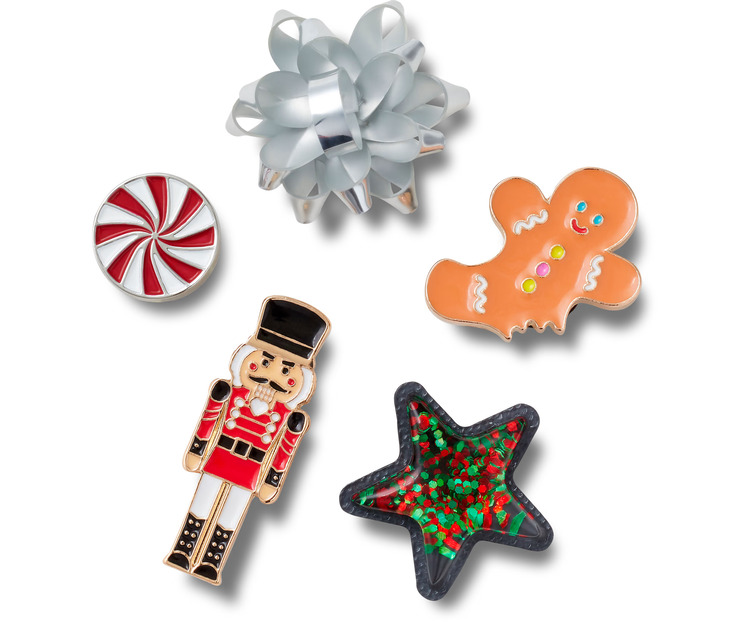 Jibbitz Elf 5 Pack
Next, we find a nice collection of elves full of colors that can never be missing at Christmas. According to the stories, they are the ones who help Santa make the toys that are later distributed in the sled. They are ideal to combine with these crocs, mainly because they are full of color and their designs are adorable. You can purchase the Jibbitz Elf 5 Pack for only $19.99.