Marvel and Crocs have gone hand in hand numerous times, and this one is no exception. Because the Californian store undoubtedly knows how to take advantage of trends, and in full swing of the most recent Marvel movie: Black Panther: Wakanda Forever, it has not been left without launching a design that pays tribute to it in its United States catalog.
With a jet black color, and some Jibbitz that resemble claws, they become a unique, striking and attractive design for adults and children. At Look At The Square (LATSQ) we consider it a perfect 10/10 as a gift for Christmas. While you can get similar designs on Amazon or Skechers, when you're looking for true originality, there's only one place to look, Crocs.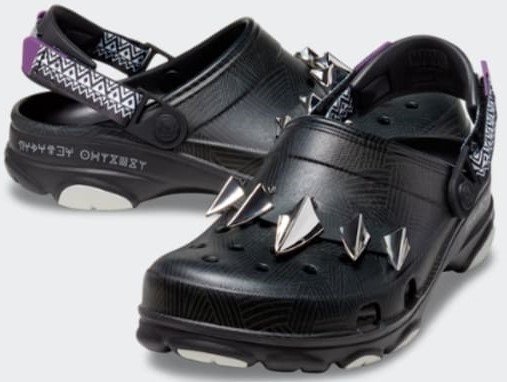 Crocs Black Panther All-Terrain Clog
It is a special edition clog of black panther, the popular Marvel movie. This is an official collaboration that premiered just with the arrival of the sequel to the long-awaited film. The Black Panther All-Terrain Clog model is available for men and women, with an elegant style that can be combined in infinite ways.
And best of all, it is that it is a clog of great comfort for the feet. They have integrated cushioning, with a design that allows perspiration while keeping the feet secured. Thus, you can use the Black Panther All-Terrain Clog model to be inside or outside the home. They will help you look comfortable and with a unique style.
Main qualities
The upper part is composed of Croslite foam, which is molded in its entirety.
The soles have sturdy studs with improved tread. In this way, you will get optimized support and traction for different surfaces.
On the sides it has perspiration ports so that the inside of the clogs does not accumulate heat or moisture.
They feature adjustable turbo heel straps that allow a personalized fit to your personal preferences.
Its structure dries in a matter of minutes, which facilitates the process of washing the clogs.
They are lightweight and have a flexible composition to increase their service cycle.
They come complemented with Jibbitz amulets inspired by the popular superhero movie.

Combine them with this accessory
One of the main advantages of these clogs is that they can be worn in different ways. You can combine them with pants, shorts, or skirts of any type of color, regardless of whether it has a warm or dark tone. In particular, with the following accessories from the Crocs catalog.
Crocs Wakanda Forever 5pk
They are a set of Jibbitz decorative charms with a black panther design, in different styles. They serve to complement your Crocs in the way you prefer and change their appearance, without losing their original essence. The Wakanda Forever 5pk model fits easily and is easy to clean, so you won't have much trouble with basic care.
It is necessary to mention that these Jibbitz amulets for clogs are not suitable for children under 3 years old. In particular, because of the risk of suffocation, they represent, since they can be confused for toys. If you want to buy this Jibbitz charm pack, you only have to pay a cost of $19.99.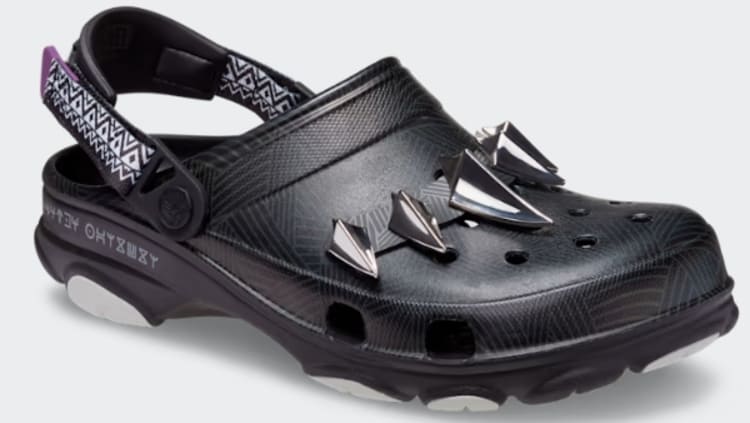 Black Panther All-Terrain Clog Price
From the official Crocs website, you can order these clogs with free shipping. The Black Panther All-Terrain Clog is available for $59.99.  They have warranty coverage for 90 days; in case you need a return. At the moment, they are not available to buy them in funded payments.