The new models of Skechers bags are a must-have since they are the most compact, comfortable, and practical version of those large bags for traveling where you can store almost your entire house. They are very similar to the best-selling models from Adidas and Nike, and without a doubt, they maintain a level of style that makes them direct competition no matter where you look at it.
While the United States leads a very active lifestyle, it is necessary to have everything on hand anytime you may need it. That is why the Look At The Square (LATSQ) magnifying glass has fallen on these unmissable models, which will go fantastic with your sports or casual clothes. And where you can keep your phone, wallet, notebooks, makeup, clothes, and everything you need for your day.
Skechers Accessories Small Mesh Duffel Bag
It is a multipurpose backpack, since it can be useful on different occasions. The Accessories Small Mesh Duffel Bag model from Skechers is compact in size and minimalist style. Due to its composition, you can travel in a light and safe way, with your essential objects for personal use.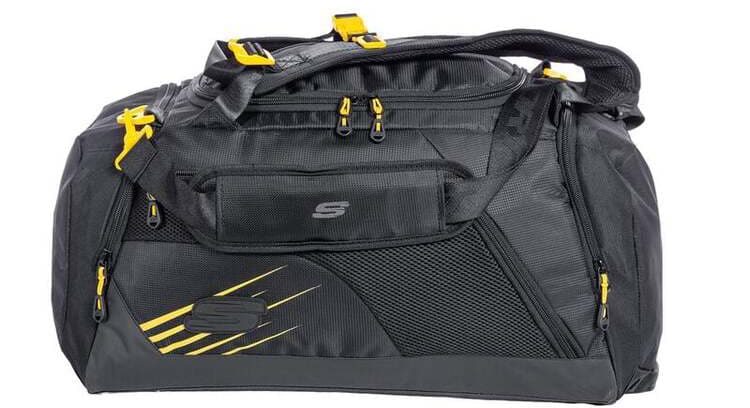 What can you not miss about this model?
Its structure is made of soft and resistant polyester fabric with mesh panels.
The base panel that it has is reinforced, for greater durability.
It has several key design details. On the side of contrasting color, logo and hardware.
It has the following dimensions: 19 x 10 x 10 inches.
The front pocket opens easily and has a zippered top flap.
The shoulder strap is contoured and can be adjusted to your preferences.
It has upper carrying handles.
It is also necessary to emphasize that the Accessories Small Mesh Duffel Bag model from Skechers is quite accessible. Within the website, you will have available the option to buy it for a price of $50.00. You can pay it in 4 monthly installments of $12.50 with Afterpay.
Skechers Accessories Small OTG Duffel Bag
Within the catalog of Skechers bags you can find a wide variety of options. Another model that may interest you is the Accessories Small OTG Duffel Bag. Not only for the design it has, but for the structure it has to store your personal objects in an organized way.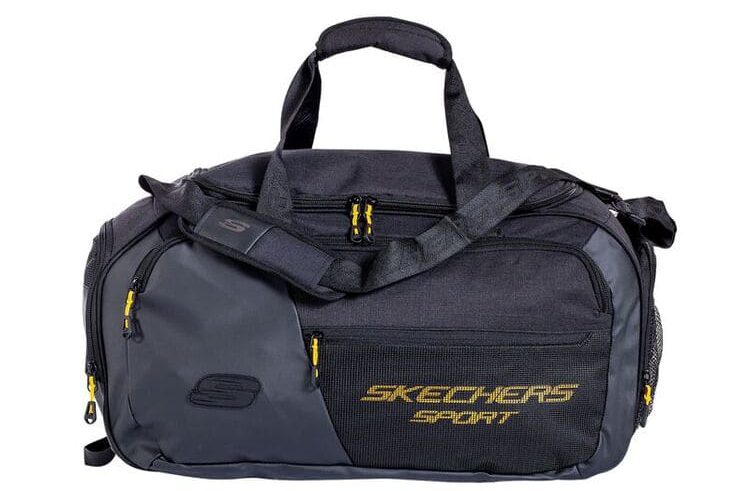 Unmissable qualities that make it a must-have
It has the following measurements: 21.7 inches long x 11.2 inches wide x 10.6 inches deep.
This model of sports canvas bag uses a splendid soft polyester fabric.
It features integrated mesh panels to keep your clothes and accessories fresh.
The closures are easy to open and have durable workmanship.
You can carry this bag on your shoulder, thanks to the adjustable strap it has.
In general, the Accessories Small OTG Duffel Bag model from Skechers has a similar structure to the product mentioned above. Both in design and price, given that this costs $50.00 and has financed payment options available.
Skechers Aspire Hiking Backpack
If you are looking for a bag to travel or train with a different style, Skechers meets your needs with the Aspire Hiking Backpack model. It is perfect for outdoor excursions, due to its resistant elaboration and lightweight. In addition, it has a lot of internal space, in multiple closures.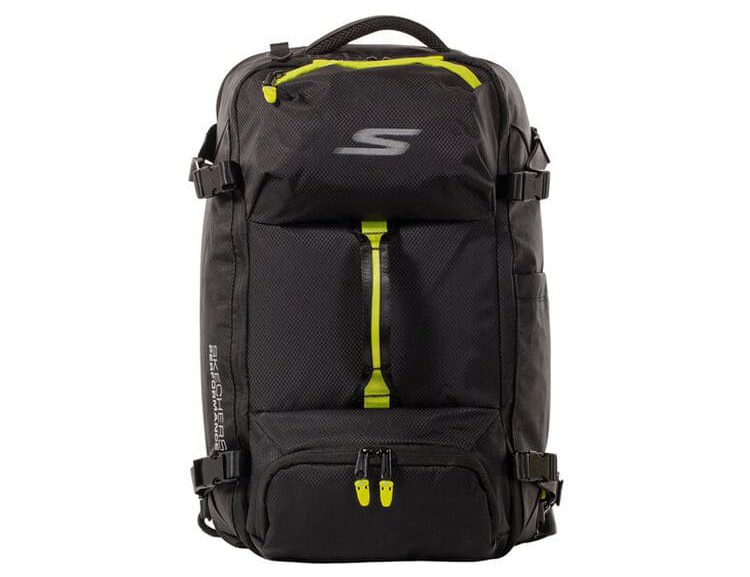 Take a look at their best specs
Composed of polyester fabric
The main compartment has double zippers.
It has multiple exterior pockets.
It comes with a small bag and an extra zippered mesh bag.
The straps are adjustable and quick-release.
The Aspire Hiking Backpack is available at a discount. It used to be worth $70.00, but now you can buy it for $59.99.