It's never enough Nike boots for style lovers… Because why settle for a single model, when daily are innovating and improving footwear technologies? What your foot needs today, you probably won't need tomorrow… So, since you can change your lenses progressively, it is also correct to do so with your sports shoes.
At Look At The Square (LATSQ) we remind you that, no matter what you decide to do, your feet are your best allies. You want to get to the corner, climb a mountain, run for hours… Your feet do all the work. And you cannot stop investing in your health, and also not stop showing off a pair of new boots that compete with the best models from Amazon and Skechers.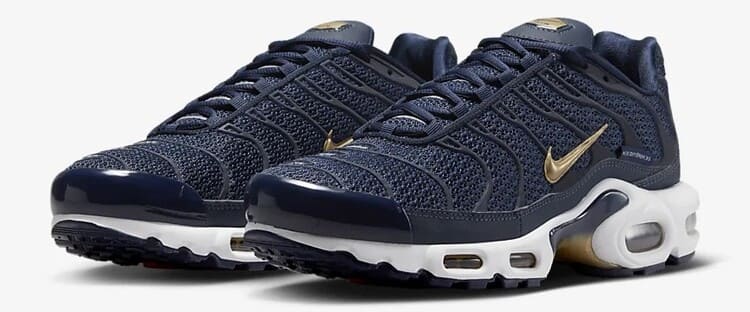 Nike Air Max Plus 'FFF'
For lovers of soccer, Nike brings the Air Max Plus 'FFF' model of the French team. They are sneakers for men of the last generation, ideal for sports, exercise, or casual outings. Best of all, they are available in multiple sizes. Therefore, you will have no problems when choosing some.
Its design is on par with Nike trends and public preferences, since they are dark blue, with white sole and gold details. The Air Max Plus 'FFF' model uses synthetic material for the elaboration of the boots, to make them lighter. In this way, they are much more comfortable to wear and durable than normal shoes.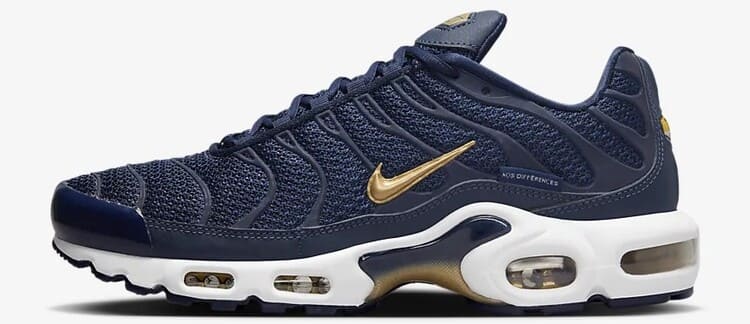 The shoes are low-cut and have a high-quality composition. In particular, the area of the insole, sole, and midsole uses rubber and foam for its elaboration. In this way, they help improve perspiration and provide an incredible return of energy. All this is achieved without losing comfort in the feet, since with them on you will feel in the clouds.
This model of Air Max that Nike has available on its website adapts to all types of surfaces and activities. At no time does it lose stability or traction when walking. As a result, the risk of injury with these shoes is reduced to the maximum. If you want to buy these sports boots, their price is $169.95.
Air Max 95 '3 Lions'
The other football shoe that Nike has available in its catalog is the Air Max 95 '3 Lions, model.  In this case, it is a pair of shoes designed in homage to the England team. It has a design with the characteristic colors of the British, white, and blue, and small details in red. There is availability in small and large sizes.
These sports boots are made of synthetic fabric, so you will not have perspiration problems when walking with them. In general, its elaboration is similar to the model mentioned before Nike. In particular, the Air Max 95 '3 Lions' are designed for running but adapt perfectly to all types of physical activities.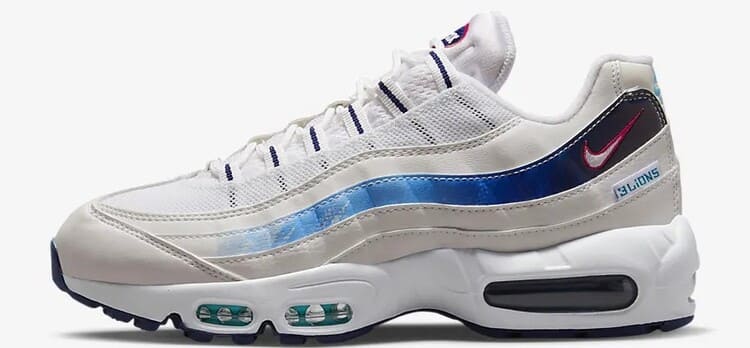 Due to the stability, they offer and the return of energy they possess, by using these boots you can achieve your maximum possible performance. So, if you want to surpass yourself or set new goals regarding your physique, this Air Max shoe will help you with it. To put the icing on the cake, you can also use them when you go out with your friends.
In short, this is one of the Nike shoes that offers more possibilities for activities of all kinds. They work well in different environments and surfaces, without losing the wonderful traction they possess. Thanks to the structure of these shoes, you will be able to use them for many years, since they are resistant and durable. The price of these sports boots is the same as the previous model of Nike Air Max. That is, you can buy them for $169.95.