The United States is filled with terrifying ornaments, everyone prepares at home to create a phenomenal costume, and you… How are you preparing for this next Halloween? For your family and for you, Target has prepared endless options to celebrate this holiday at the top. You don't need to go far, because here at Look At The Square (LATSQ) we show you the juiciest options this season.
On Halloween, you should not miss the screams. Skeletons, witches, pumpkins, goblins… What creature would you like to become this year? No matter what your preferences are, this American company has everything for you. So that you and your family have a repertoire of costumes for each day of the month of October.
Target Halloween Skeletons Matching Family Pajama Set – Hyde & EEK! Boutique™ Black
Sweet or tricks will not be the same again thanks to the collection of skeleton pajamas that Target has for you this Halloween. Reinvent the way you spend this holiday, enjoying with the whole family at home. When the night comes, going out to look for candy or tricks, will be more fun if everyone in the family is united.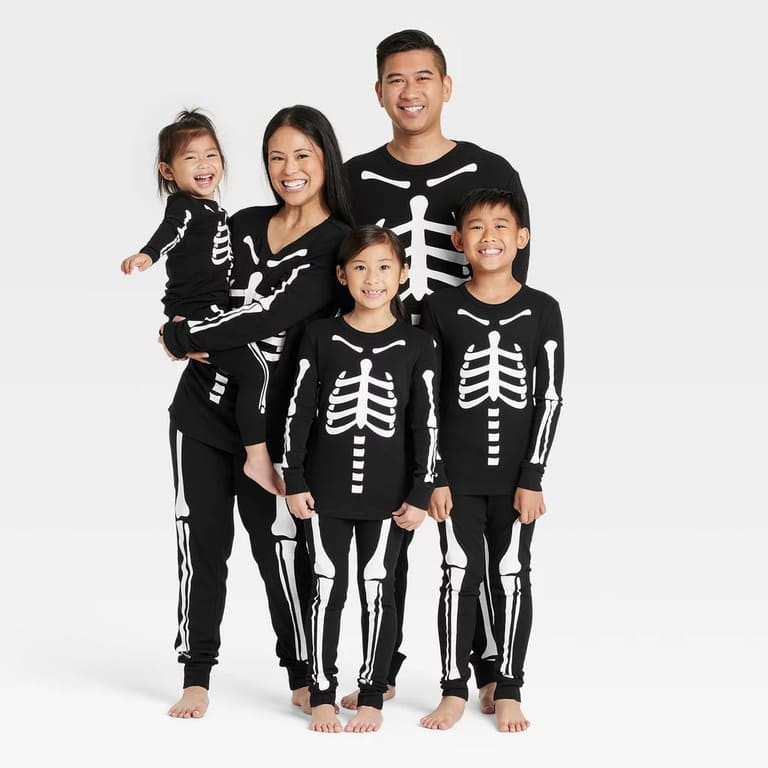 Each piece of this skeleton costume includes a round neck top. In addition, pajama pants with pursed cuffs at the ankles provide a greater fit and protection against the cold. If the main and most striking feature is the design of white skeletons. Available in numerous sizes, you can purchase this set of skeleton pajamas for $25.00.
Halloween Pumpkins Matching Family Pajama Set – Hyde & EEK! Boutique™ Orange
Next, this model will be fantastic to fill your Halloween with color. How can a witch's day decoration be without a haunted pumpkin? So, on the nights of sweet or trick, you will see how everyone is dazzled by your costume.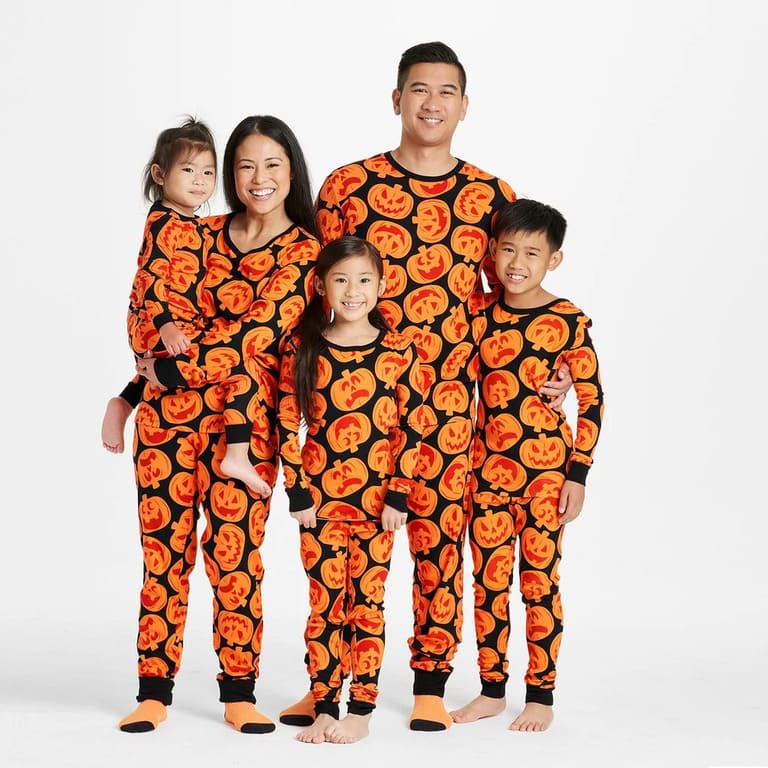 In addition, thanks to the comfort of the material, it turns out to be a fantastic pajama to spend an evening with the family. The union makes each holiday much more fun. And if you and your family are united, you'll love having these fantastic pumpkin pajamas from Hyde & EEK! Boutique™ on hand. Those who strive to make their designs unique, ergonomic, and extremely comfortable for the whole family. And it can be yours for just $25.00.
Target Halloween Matching Family Pajama Set – Hyde & EEK! Boutique™ Orange
Next, we have one of Hyde & EEK! Boutique pajamas thanks to its fantastic orange color so characteristic of Halloween. Your whole family will be ready to receive guests, give a party or go out to enjoy the sweet or trick in the most comfortable way.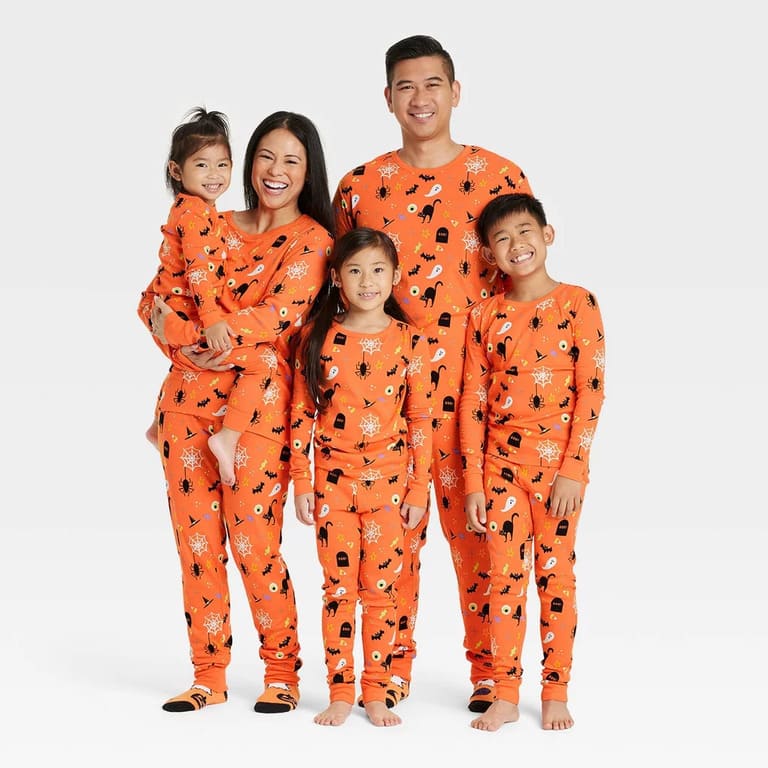 In addition, there is something for the whole family. From babies to adults. Because no one is left behind when there is family fun. In addition, this brand cares about its pajamas being comfortable, ergonomic, and of the highest quality. So, if you are struck by its bright orange color, you will not be afraid that it fades after the first wash. Hyde & EEK! Boutique™ has pajamas for all tastes, and this specific model can be yours for just $25.00.
Fall Leaf Print Matching Family Pajama Set Collection Cream
Finally, let's not forget that we are in one of the most colorful and familiar seasons in The United States. Therefore, this pajama is ideal for spending an afternoon in the backyard garden of your house with your family and friends. The nights are warmer when you spend them as a family.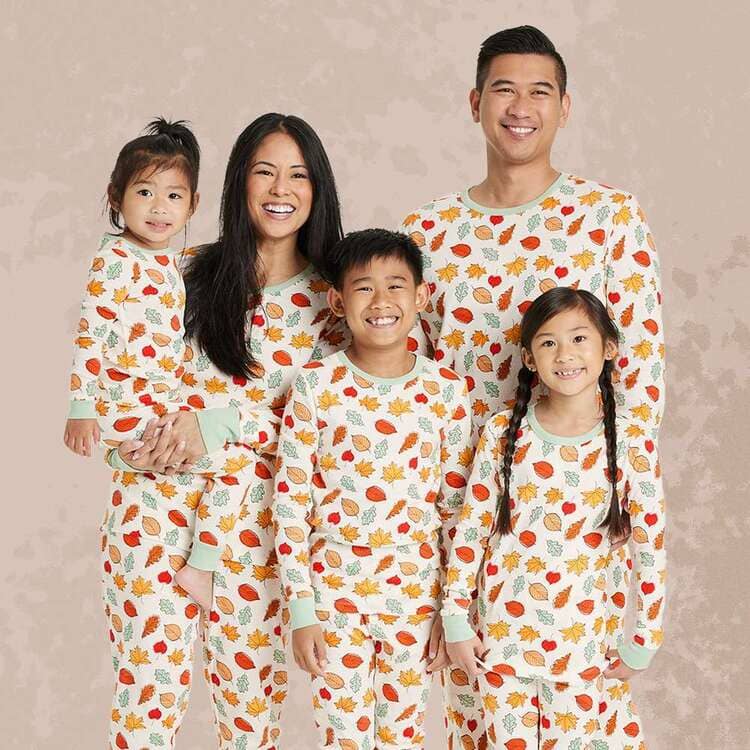 And besides, these pajamas have an autumn print that will help them create cute memories this season. It is made of 100% cotton, to guarantee the softness, comfort, and breathability of each piece. So, enjoy the fall with this pajama set for only $25.00.