You already have the Christmas tree, lights, and outdoor Christmas accessories… But of course, you need something to decorate your table when eating. Thanksgiving turkey will look much more appetizing if you sit at a table full of your favorite Christmas colors. And at Look At The Square (LATSQ) we know that the holiday mood won't be complete until you pick up a tablecloth and candles that scream Ho, Ho, Ho!
They are not the same designs as always; they are designs with special Christmas motifs for the occasion. And you do not have to repeat the same tablecloths of last year because for that Zara Home makes you aware and knows that what you want are new, striking, and very Christmas designs. Red, white and green are colors that automatically make us think of Christmas, and in combination with gold, you have what you needed.
Zara Home Poinsettia Tablecloth
It is a printed tablecloth with Christmas style to decorate the counter of your dining room, in order to bring the Christmas spirit to your home. Poinsettia Tablecloth is a high-quality product, durable, and easy to clean when you suffer from a stain. Best of all, there are 2 size options available, which are as follows.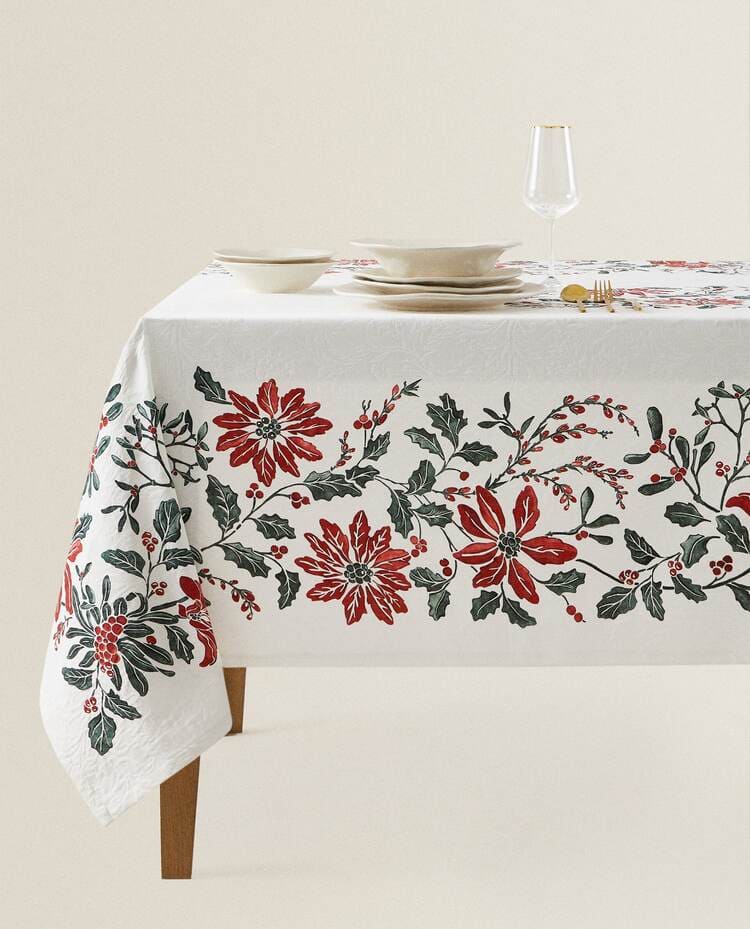 6 to 8 guests: 59 x 98.5 inches.
Round: 71 inch.
Poinsettia Tablecloth is made with cotton, so it is a product that you can wash by machine, with a gentle cycle. You should not use any type of bleach, as it can cause damage to its print. As for the price, this is an accessible Christmas accessory, which costs $109 in any of the 2 sizes available.
Check Embroidered Tablecloth
We continue with the Check Embroidered Tablecloth model from Zara Home, a tablecloth with a different style than the one we presented before. In particular, the design that it has since it is of squares with embroidered branches on the edges. Like the Christmas product we mentioned before, it has 2 size options with the following measurements.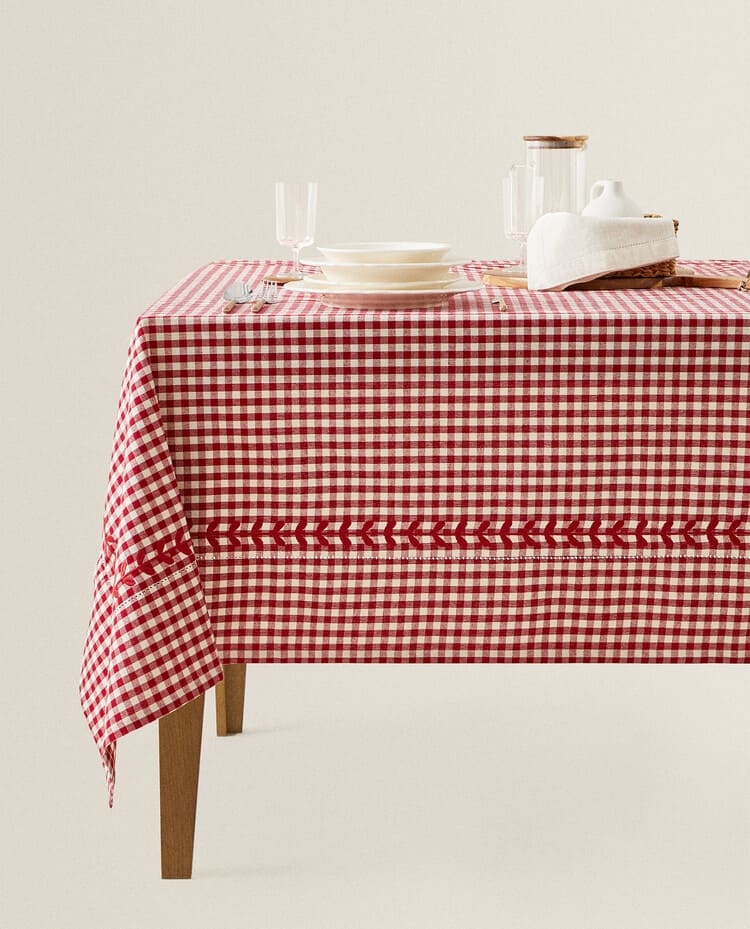 6 to 8 guests: 59 x 98.5 inches.
2 to 4 guests: 59 x 59 inches.
Check Embroidered Tablecloth uses cotton and polyester for its manufacture, which means that it is a durable and high-quality accessory. As for their basic care, they are the same as we mentioned in the previous tablecloth. On the other hand, this decorative product for the holiday season can cost $69.90 or $89.90, depending on the size.
Zara Home Raised Glass Candlestick
The product we are going with now is not a tablecloth, but a chandelier to decorate the table during the Christmas season.  Raised Glass Candlestick in silver or grayish color, to choose from the Zara Home website. It is cylindrical in shape and has a design of embossed lines. The dimensions it has are the following.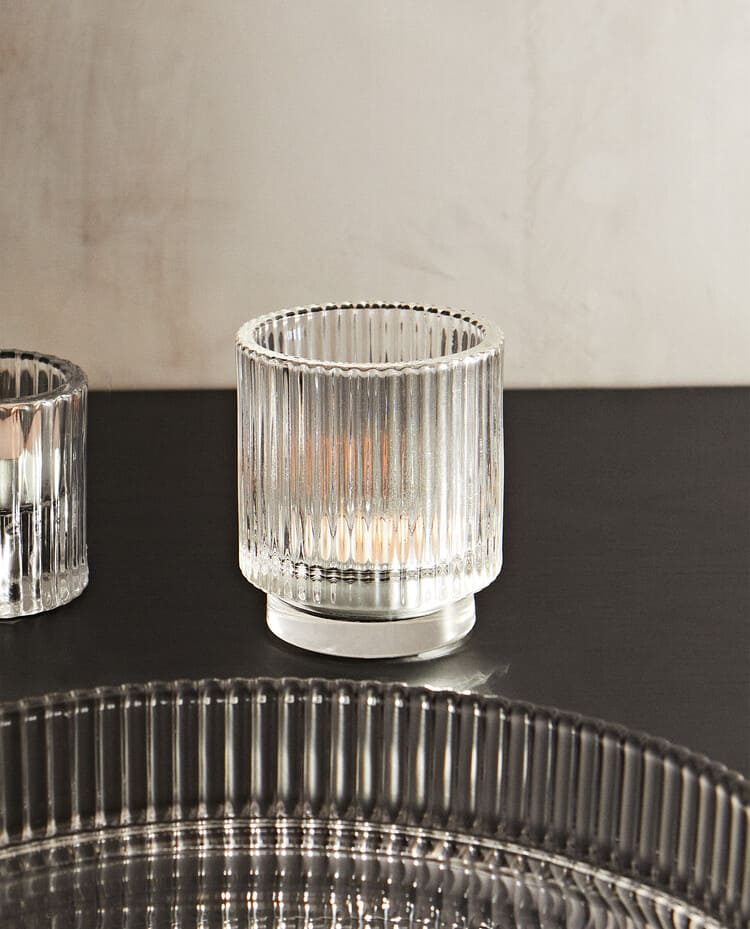 Height: 2.4 inches.
Width: 2.2 inches.
Depth: 2.2 inches.
Weight: 230 g.
Raised Glass Candlestick has a 100% high-quality glass structure, to serve as an accessory in the home for many years. It can be very useful outside the Christmas season, because of the classic style it has. In addition to all this, it should be mentioned that it is an affordable product since it only costs $9.90.
Embroidered Decorative Tablecloth
To finish the list of recommendations, we must talk about the Embroidered Decorative Tablecloth model from Zara Home. It is an elegant tablecloth with a Christmas embroidery design, in white with red details. It will serve to decorate the table of your dining room splendidly, in addition, this accessory has good measurements.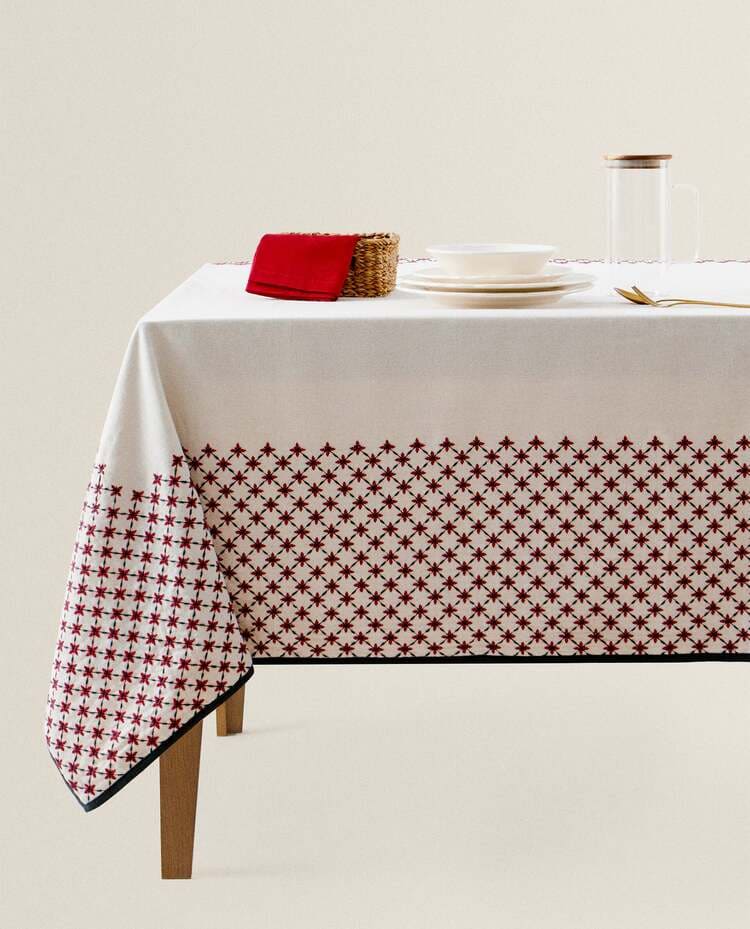 6 to 8 guests: 67 x 98.5 inches.
Embroidered Decorative Tablecloth uses cotton, linen, viscose, and polyester for its elaboration. This consists of main, secondary, and embroidered fabric. The product price is $179.