Are you tired of the Halloween season arriving and not being prepared? You still have time to choose a good costume. The new fashions of dressing up in the United States are becoming more creative, with fun or dark costumes. In this aspect, the Urban Outfitters collection covers all these needs.
Don't think UO would be left behind, because he decided to join the competition with Target and Walmart by offering you unique costumes and accessories.  They offer you the opportunity to stand out among your friends, regardless of the theme of the party. In this Look At The Square (LATSQ) guide, we'll tell you more about these costumes.
Urban Outfitters Garfield Jumpsuit Halloween Costume
This Garfield Jumpsuit Halloween Costume from Urban Outfitters is perfect for Halloween and the rest of the year, since it also serves as pajamas. It is full-bodied, and long-sleeved, tail and hood. In addition, it is available in small and large sizes. Being a polyester garment, you will have to wash it by hand, but it will have a fresh and soft feeling.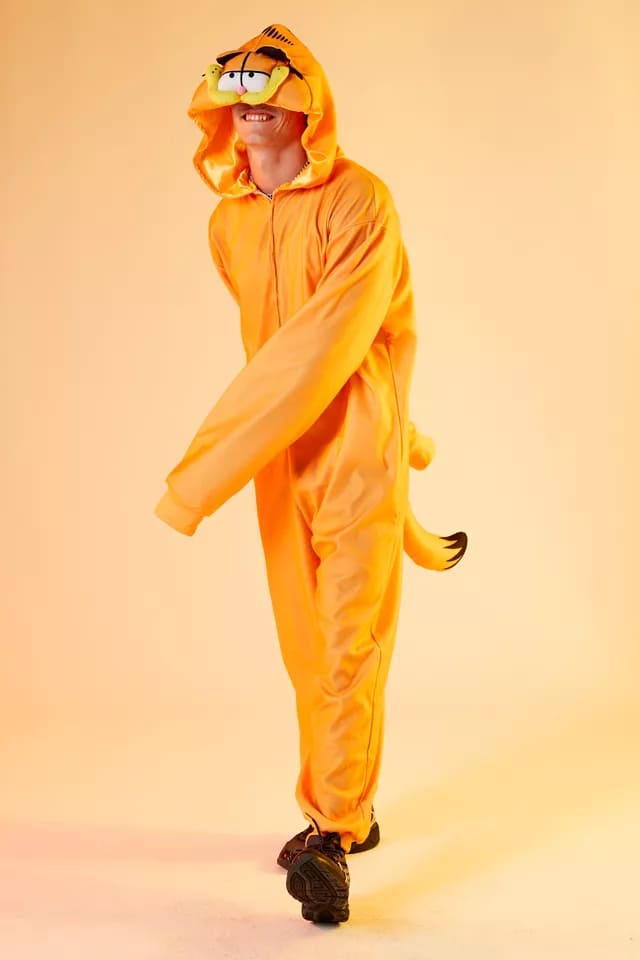 Without a doubt, this set is one of the best options to consider for this Halloween. You will be able to stand out with ease and comfort, while others will have no trouble recognizing you. The most important thing is that the product has an economic price of $79.00 or $19.75 in 4 monthly installments, via Afterpay or Klarna.
UO Easy Peasy Halloween Face Gems
Buying a complete set is not always everyone's favorite option. For that reason, Urban Outfitters also has available in its catalog these splendid stickers of precious stones. You can buy them in the color of your preference since there are several options to choose from. In addition, they adhere easily to any skin type.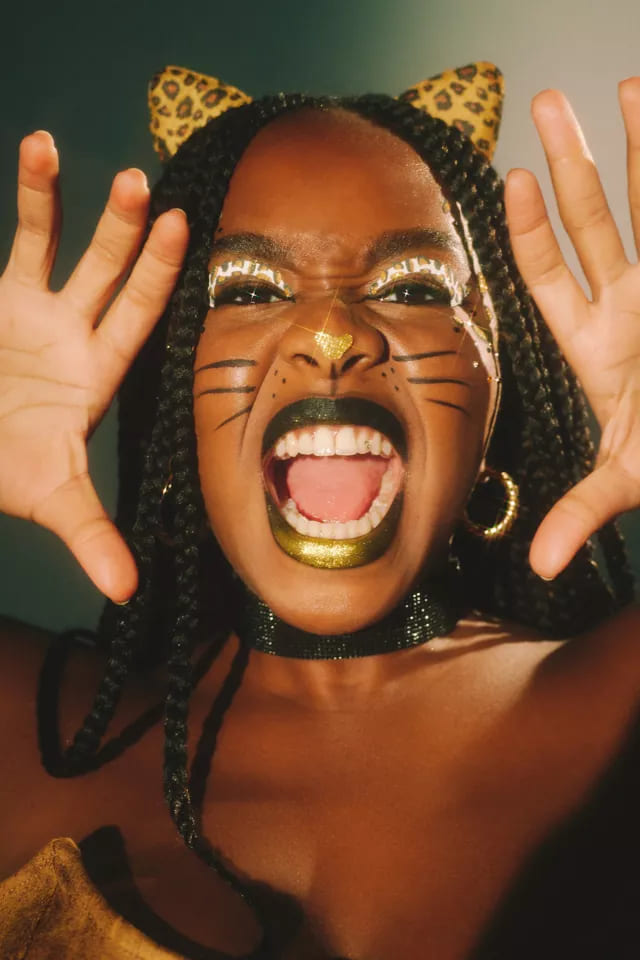 This Halloween accessory comes with a sheet and uses acrylic with glass for its composition. In this way, it adapts easily to the skin and can be removed at any time, without much effort. Being an add-on for costumes, it has a price of only $10.00 or $2.50 in payments financed for a period of 4 months.
UO Nico Lace Sheer Maxi Dress
For women, Urban Outfitters pleases them with a long transparent lace dress, which includes a body. It has a sexy design with cleavage, a V-shaped silhouette, and an opening in the leg area. Besides, it's an elegant black color and size S, made with polyester and spandex.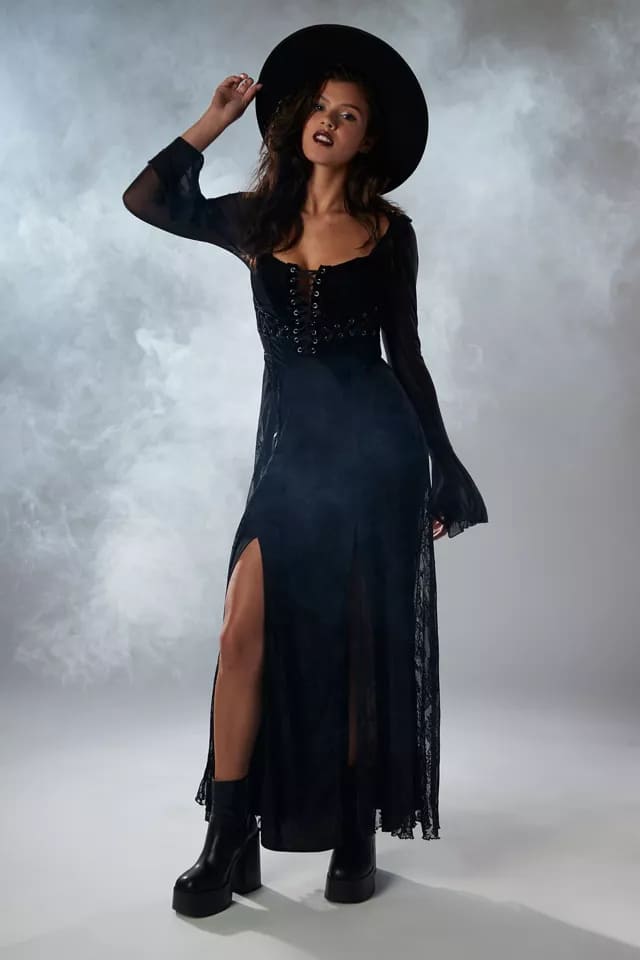 The best thing about this garment is that you can wear it in other seasons and not only on Halloween. You can even combine it with other accessories to give it a more sensual or gothic touch, depending on the way you prefer to dress. Its current cost is $149.00, although, you can cancel it in 4 interest-free installments of $37.25.
Urban Outfitters Pickle Rick Halloween Costume
In recent years, the Rick and Morty animated series has become one of the most popular and well-known around the world. For fans of the classic Pickle Rick episode, Urban Outfitters brings this one-piece, one-size-fits-all costume. It can be used by both men and women, being an easy set to put on.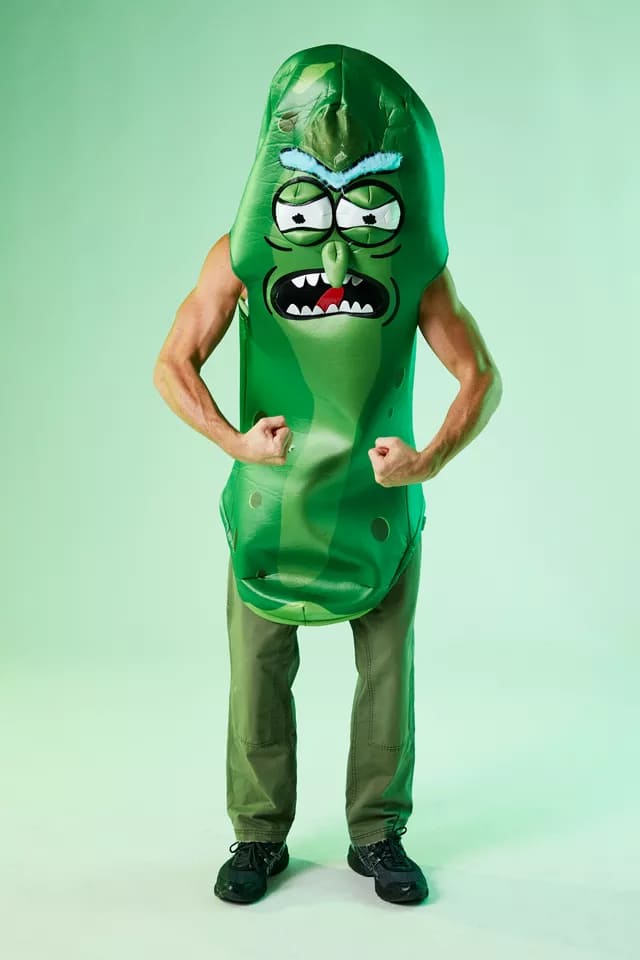 Like the other outfits on the list, this Pickle Rick Halloween Costume garment is made with polyester. In this way, you will have to wash it by hand to take care of its texture so that it does not lose the green coloration it has. This costume costs $59.00, however, with Afterpay or Klarna you can pay it in 4 installments of $14.75, without any interest.