Adidas is such a versatile store that it also includes in its catalog very comfortable sandals that will fill your outfit with style. Especially for this fall and winter in the United States, which are family seasons, it is necessary to be comfortable. Not only for you to walk in style but also to keep your feet comfortable at all times.
We at Look At The Square (LATSQ) are big fans of avant-garde. Therefore, we deal with not only the model of a shoe but also its versatility and originality. And like Crocs, the sports store also knows how to give you everything with a single shoe design.

Adidas Pouchylette Slides
These Adidas Pouchylette Slides are original Adidas sandals with a unique design within the world of slippers for the home. They are designed for women, with availability in sizes 5 to 11. They have a color called night sky, which uses a dark blue, orange, beige, green, and white tone, all homogeneous.
This Adidas home shoe stands out for providing unique comfort when massaging the feet. However, sandals are also separated from the rest by including a small storage bag. Besides, they're compact and offer total security for storing personal items. Other features of slippers are as follows.
General composition
Many details in the structure of these Adidas women's sandals are worth mentioning. First, you have to start because they have an exterior and textile lining that provides a better feeling and texture when used. In addition, they have a synthetic sole that gives an excellent return of energy and adapts to various surfaces.
The most important thing about the composition of Adidas women's slippers is that they do not cause harm to the environment. More than half of the processing materials are recycled content. Despite this, it is still a shoe of the highest quality that can last for many years. That is, you will have no cause for concern.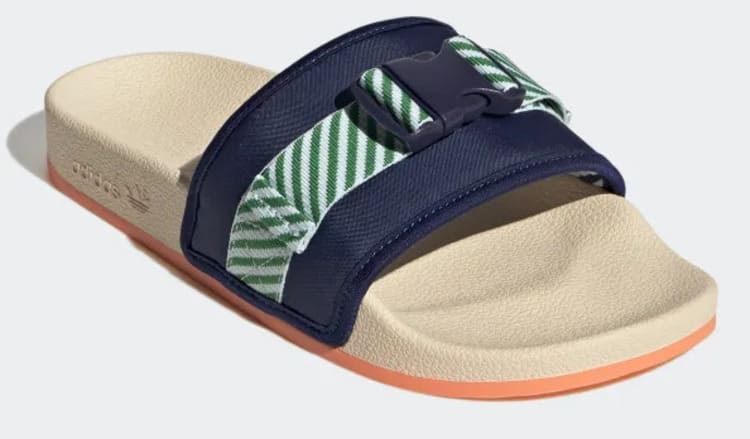 Due to the general composition of these sandals, you can use them for long periods. They adapt to the shape of your feet to make you feel comfortable while allowing the air to keep them cool. Having a synthetic sole, the stability and traction they possess are highest in any environment.
Kangaroo pocket
Among the main qualities of Adidas flip-flops for women, it is necessary to mention the kangaroo bag. It has a zipper on the strap and can be worn over the sandals for comfort while not reducing safety. Inside it, you can store your most valuable personal belongings without risk.
This kangaroo-like pocket is pink and compact, so you won't be able to store many belongings. So, you must ensure that you keep only your essential materials. As for its quality is a durable and resistant accessory that uses recycled materials to prevent damage to nature. Also, believe it or not, it is a functional accessory that you can use for any purpose. Not only to decorate your Adidas sandals, but to store some coins in it, or if you are very creative, even your house or car keys. Just make sure you don't lose them!
They're styled in the same style as a Crocs Jibbitz, oversized that doubles as a coin purse that clips onto your Clogs. However, they maintain the originality of the design created by Adidas. That means that you can combine both accessories and make all your shoes fashionable.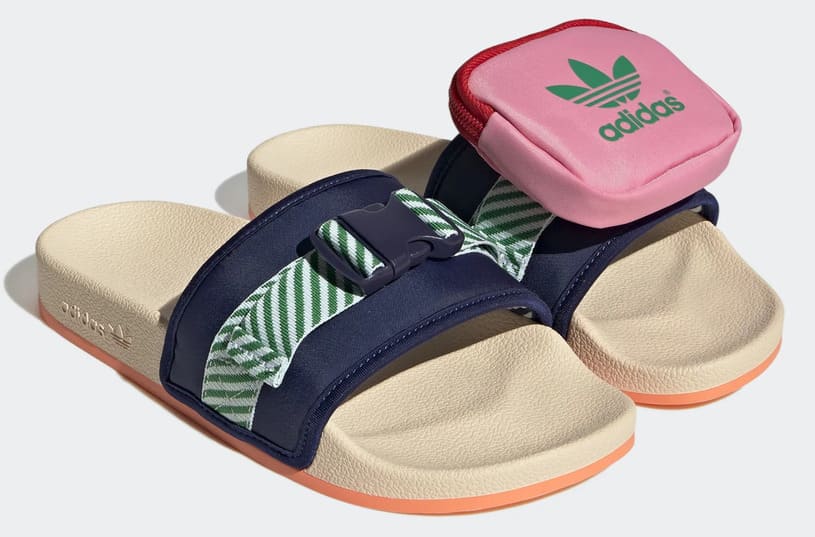 Adidas Price
Despite being unique footwear within the Adidas catalog, these sandals have a relatively economical price. You can buy them on the official website for as little as $80. If you have an Afterpay, Klarna, or Affirm account, you can divide the payment into four monthly installments without any interest.
On the other hand, it should also be mentioned that users belonging to Adiclub get additional benefits. In particular, regarding unlimited shipping, returns and exchanges.