It's amazing how the Crocs brand always finds a way to surprise and adapt to each era, without being outshone by stores like Skechers, Adidas or Nike. Introducing a totally revolutionary model, it brings to life the idea that you can hit the snowy streets wearing your favorite Crocs model.
With a coating that protects your entire foot and heel, you will not feel cold when walking through the streets full of snow. They resemble hiking boots and have a dark color that makes them match almost anything. And best of all, you can also customize this model with the Jibbitz that you like the most. You can find them in the web catalog anywhere in the United States, after knowing all their characteristics in Look At The Square (LATSQ).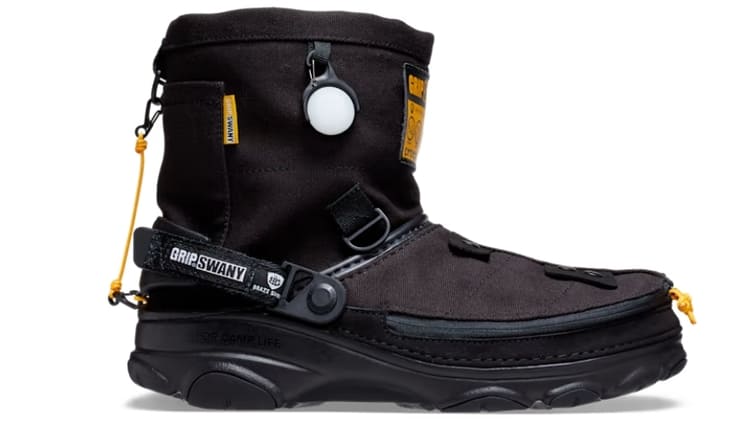 Crocs GRIP SWANY X atmos X Classic All Terrain Clog
It is a different shoe from the classic clogs of Crocs, both in the design and the composition it has. The GRIP SWANY X atmos X Classic All Terrain Clog is high-cut, and designed for outdoor use or during the winter months. They keep your feet protected and warm, so you don't get cold when you leave home.
Without a doubt, the GRIP SWANY X atmos X Classic All Terrain Clog model is functional and versatile footwear. It adapts to all types of environments and surfaces, with a design that is easy to combine. These women's shoes will serve you when working, going out with friends or on outdoor excursions. They will allow you to prevent any accidents.
Important details in your design
It is a shoe that comes with Jibbitz amulets under the protective fabric.
These include an LED lamp with 2 lighting modes for going out at night.
They have a back pocket where you can store small personal items.
Carrying these clogs on top is no problem, thanks to the detachable rope on the heel.
They have a composition of textile material that is pleasant to the touch and allows comfort on the feet.
The ecological leather lining that it has keeps the feet warm and protected from the cold.
You can open and close the top with the side zipper for ventilation.
They use a rubber sole for better traction.
The midsole optimizes cushioning when walking.
The straps are adjustable for added safety.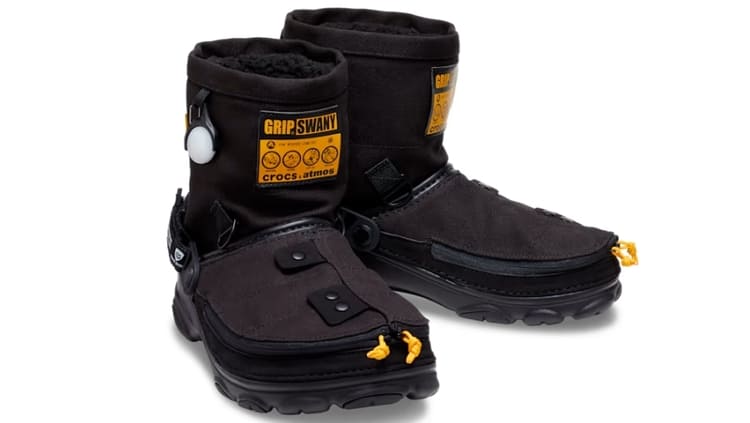 Buy them for a star price
From the Crocs website, you can buy the GRIP SWANY X atmos X Classic All Terrain Clog model for an economical price. These cost $100.00 and can be purchased in 4 monthly installments and without interest of $25.00, with Afterpay services. In addition to this, they are clogs whose shipping is completely free.
Complete the look with incredible Jibbitz
Thanks to their design and composition, these clogs can be used with different complementary accessories from Crocs. Among them, we highlight the following products.
Crocs Wakanda Forever 5hp
It is a pack of amulets to customize the clogs in a different way. You will love the Wakanda Forever 5pk model if you are a fan of superhero movies. In addition, their colors blend well with the design of winter clogs. This product is priced at $19.99.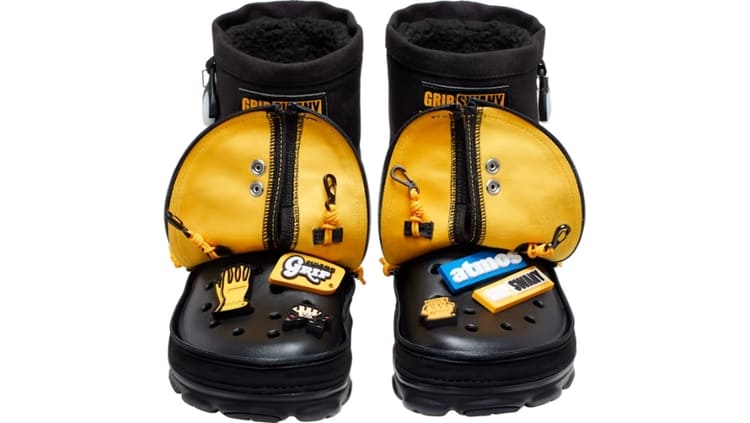 Crocs Socks Stripe Ankle 3-Pack
On the other hand, the product Socks Stripe Ankle 3-Pack from Crocs will help you add an extra layer of protection to your feet. These socks allow efficient circulation and adapt to your texture, thanks to their elastic construction. The package is priced at $24.99 or $6.25 in 4 monthly installments.