On this occasion, Crocs decided to go further with its clog designs and Jibbitz. In America, it's worth noting, but the more original you are, the better it will be.  At Look At The Square (LATSQ), we are experts in originality, and we want to show you a Crocs model that will hallucinate children and adults.
Beyond the comfort you may feel, walking the streets this Halloween will be much more fun with this model. Especially if your little one has decided he wants to dress up as a dinosaur this year. With a suitable costume, this shoe design will be fantastic for any children's party, and you will always be comfortable.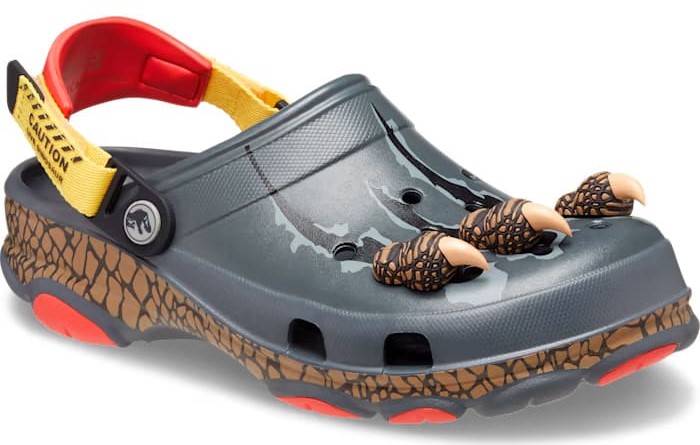 Crocs Classic All Terrain Jurassic World Clog
The Crocs store has always known how to stand out—making us laugh, surprising us, and especially keeping our feet comfortable and protected. On this occasion, it brings a unique model that even adults will want.
If you've ever seen the Jurassic World movie series and are an inveterate fan, you're sure to want this model. With Jibbitz in the shape of Tyrannosaurus Rex claws, you will walk around your house or down the street like a star. This model of Classic All Terrain Jurassic World Clog is in size for children and adults.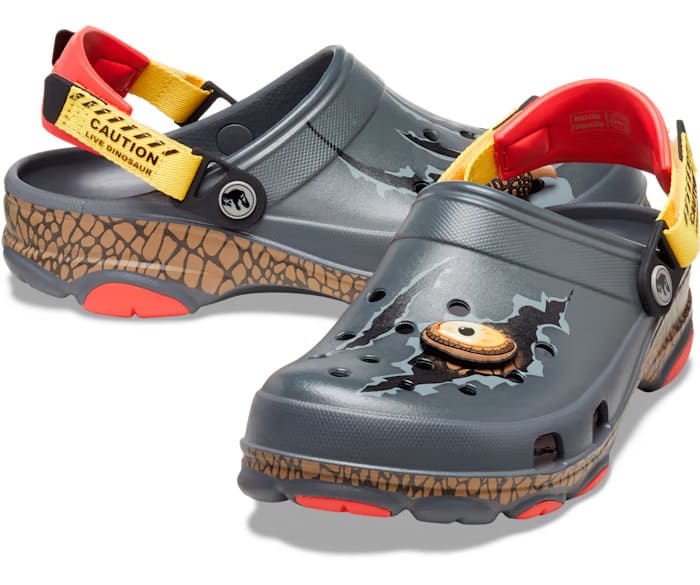 Unique Jibbitz models
A hilarious detail of these Crocs is that they have the most striking Jibbitz you have ever seen. One of the designs resembles the claws of a dinosaur, while the other is a threatening eye that appears to come out of the depths of the Crocs. We assure you that your little ones will spend hours playing while enjoying the feeling of being a dinosaur-like in their favorite movies.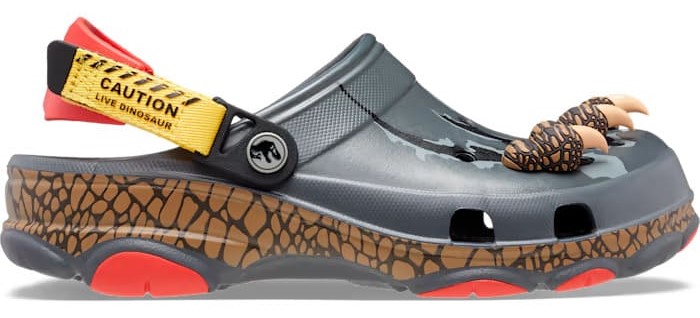 Excellent design and price
Something else that stands out from this fantastic Crocs design is its unique color and design. It has a beautiful gray color, with tear designs on top. Besides, it has a yellow with a red strap to give much more support to the foot. In addition, something unique about this model is that the back strap can be adjusted to provide more looseness or grip to the foot. This ensures that no matter what you do, your shoes won't fly away. All this and more, you can enjoy for only $69.99.
Other fantastic Crocs designs
If you thought you'd seen it all, Crocs always finds a way to surprise you. And just as you discover this exclusive design, it also has funny designs for madness lovers.
Classic All Terrain Jurassic World Kids Clog
This is a similar design to the previous one, with the big difference that it comes exclusively for the little ones in the house. The Classic All Terrain Jurassic World Kids Clog is ideal for little ones to complete their Halloween costume. And if you're a fun mom or dad, you can match your Crocs and dress up the whole family as dinosaurs for this Halloween. With light and striking colors, your little one will enjoy the experience of being a dinosaur next to you for only $59.99.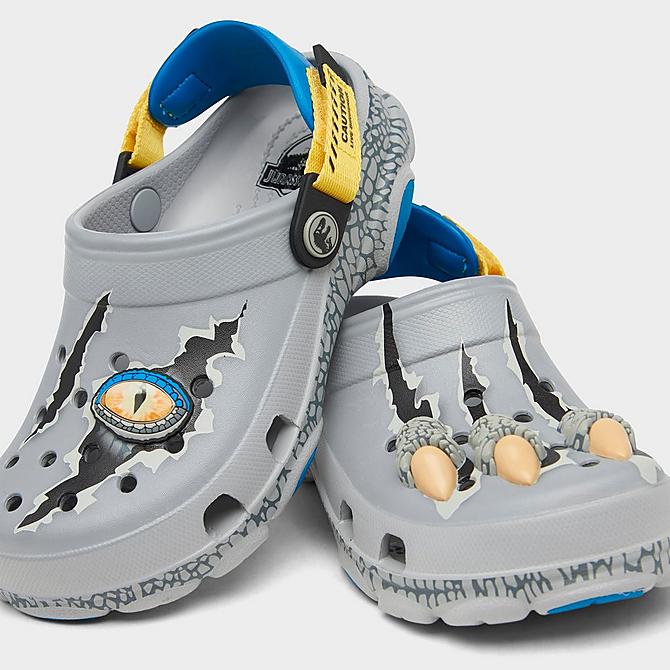 Kid's Classic All-Terrain Cinnamon Toast Crunch Clog
When we say Croc's designs are unique, we mean it. And we proved it with the new Kid's Classic All-Terrain Cinnamon Toast Crunch Clog.  Its fantastic design and colors make it ideal for little lovers of cinnamon rolls. With animated Jibbitz and an adjustable strap. Your little ones will enjoy their unique Crocs wherever they go for a comfortable price of $54.99.