The little ones at home can now enjoy their favorite characters while they walk. Halloween is just around the corner in the United States, and that's why the little ones should be prepared. Crocs know how to pamper the little ones, and today in Look At The Square (LATSQ) we put it within the reach of your hands.
Ideal for walking comfortably, running long distances, and protecting the feet of the little ones. In addition, they will be able to decorate their Crocs in the best way in the style of the Disney movie they love so much. All this, at the best price, quality and colors will attract everyone's attention.
Crocs Single Jibbitz from the movie Cars
Now it's easy and affordable to personalize your Crocs shoes with the individual figure of Cars Your star character, take Lightning McQueen everywhere, and feel his speed on your feet from the first moment. You can place this Jibbitz brand accessory in the holes of the Crocs and fits perfectly without any risk of falling out.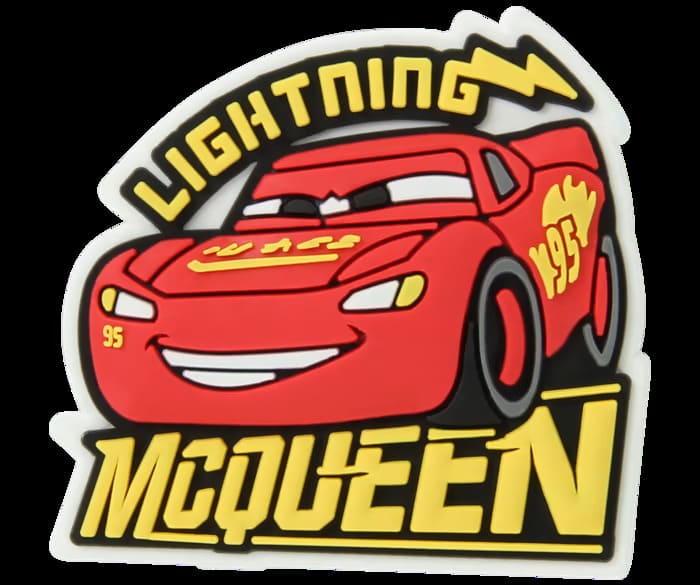 Decked out in classic movie colors of red and yellow, this Jibbitz has a simple and elegant design while bringing out all of McQueen's fun and classic look as he rises to the challenge of racing against other cars.
Characteristic
Jibbitz brand accessory.
Official Lightning McQueen figure.
high material resistance.
They are not a toy; they should not be left within the reach of children under 3 years of age.
Hit the gas and go get this accessory for a price of only $4.99 and you can pay with the AfterPay option or PayPal, among others.
Crocs jibbitz pack x 5 from the movie Cars
And if a Jibbitz of Cars gives you speed, imagine what five of them together can do. The 5-pack of Cars charms is perfect for decorating any pair of Crocs shoes and giving them a fresh, unique look that's full of fun and high energy.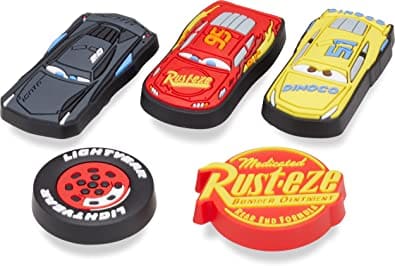 Three car figures are included in the package. One with the main character Lightning McQueen and the other two with his companions. The other two figures include a tire and the logo of one of the leagues in which they run. All the figures are made in high relief and with a design alluding to 3D.
Characteristic
Package x 5 units.
Originals Jibbitz designs.
The colors are vivid and striking.
Heavy-duty material that resists dirt and washing.
They are not a toy, keep out of the reach of children under 3 years of age.
Start your engine right now and get the pack for a price of $19.99 by paying with AfterPay or PayPal.
Cars pack with a pair of Crocs and two Jibbitz
This Crocs pack includes a pair of Crocs and two figures, one of Lightning McQueen and another of Jackson Storm. The Crocs have a striking red color that contrasts perfectly with the two figures, one in black and the other in shades of white and red.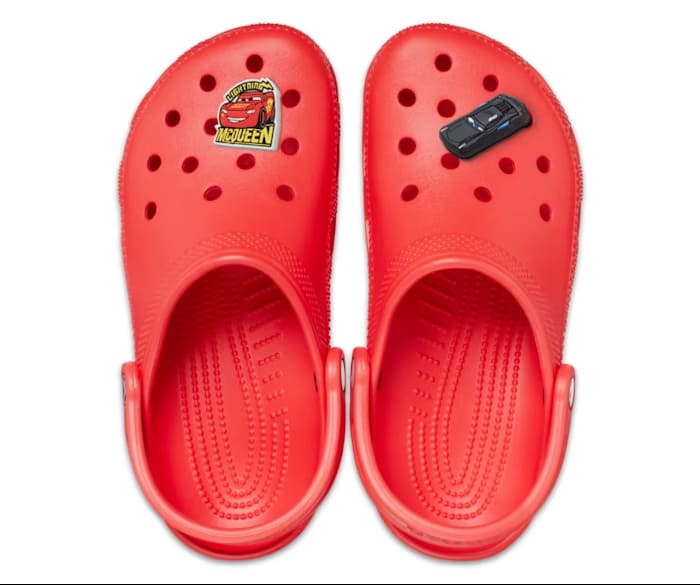 Made of foam that guarantees its durability over time and without wear of any kind even when dirty and washed. Just like the high-resistance material of the Jibbitz.
Price and feature
Includes a pair of Crocs.
Includes a pair of Jibbitz.
9 different sizes.
The price is $59.97 you can purchase them using AfterPay and also PayPal.