Skechers isn't just limited to bringing sneakers, sandals, and coats to all parts of the United States. But also all kinds of accessories necessary for your day-to-day to be totally optimal, and complete any outfit with a touch of elegance. As are these 3 models of watches in black tones combine with anything and are perfect for any occasion.
And in these seasons. is once again including in its catalog the best models to compete against Amazon and Macy's. As every year, an accessory to complete the Christmas outfit is absolutely necessary, and at Look At the Square (LATSQ) we like the idea of an excellent watch that will be with you at all times.
Skechers McConnell Big Push Black Watch
It is an elegant watch that can be used for casual and formal occasions, thanks to the style it has. The McConnell Big Push Black Watch model from Skechers is easy to set up and has a tough composition. Therefore, it is an incredible accessory that you can use and combine for a long time, without requiring constant maintenance.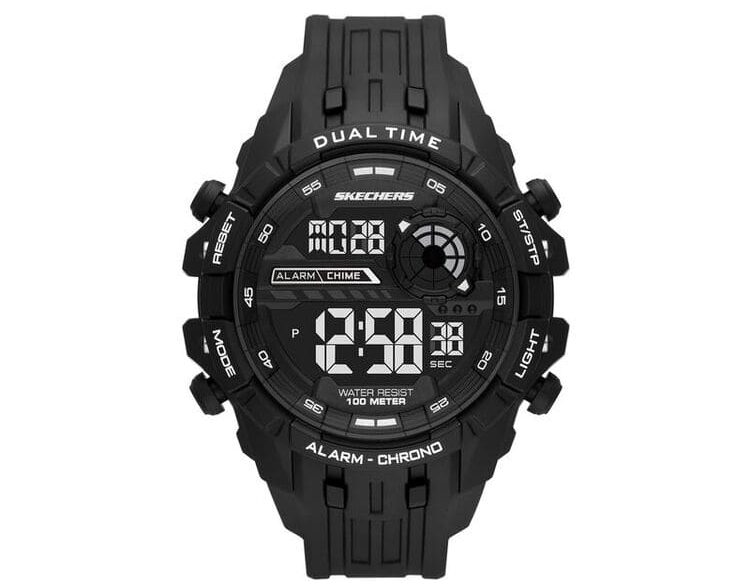 And best of all, the McConnell Big Push Black Watch model from Skechers is quite accessible. Its current value is $45.00 and you can pay it in 4 monthly installments of $11.25 if you buy it with Afterpay. If you subscribe to Skechers' Plus service, you'll get this watch with free shipping.
Key details
It is an accessory that comes in a plastic and stainless-steel case.
The design of strap is made of plastic and adjusts to the measurements of your wrist.
It uses a digital display that displays the time dually.
4 buttons to manage all the integrated functions it has.
Built-in compass function.
It has a water resistance level of up to 100 meters.
Skechers El Ray Black Watch
Another model available within the Skechers watch catalog is The Ray Black Watch. This is an accessory with a different design than the previous one, but, with an equally elegant style that serves for all kinds of occasions. It has several built-in functions and its programming can be done quite easily.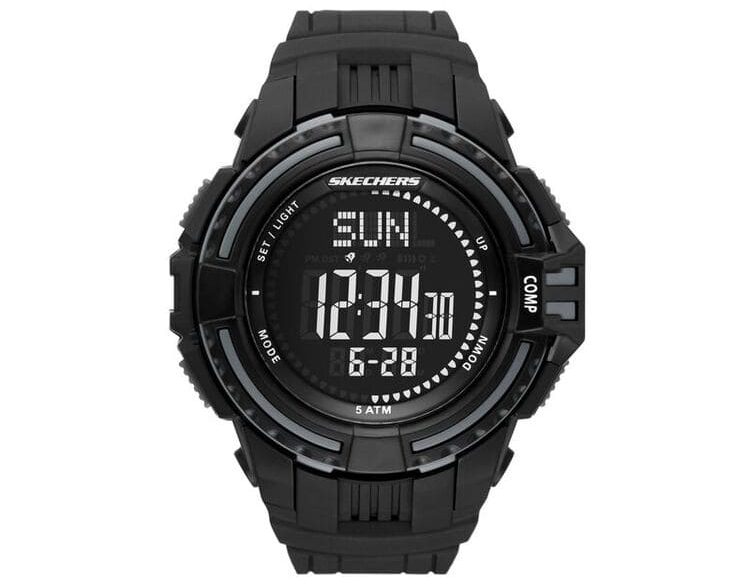 It is important to note that the Skechers El Ray Black Watch model is more advanced than the previous one on the list. Therefore, it has a higher price, although, not for a lot of money. You can buy it for $59.00 or $14.75 in 4 interest-free installments with Afterpay.
Key qualities
It has a case and dial made of stainless steel and ABS material.
The strap used by the watch is plastic, but the closure is made of stainless steel.
Use a digital display that lights up so you can see the time anywhere.
Has a 5-button control and integrated stopwatch function.
Skechers Fast Wrap Black Watch
Finally, we have to mention the Fast Wrap Black Watch model from the Skechers men's watch catalog. It is of a sporty style with several distinguished details, which give it the versatility of use. And best of all, it is quite resistant to different environments.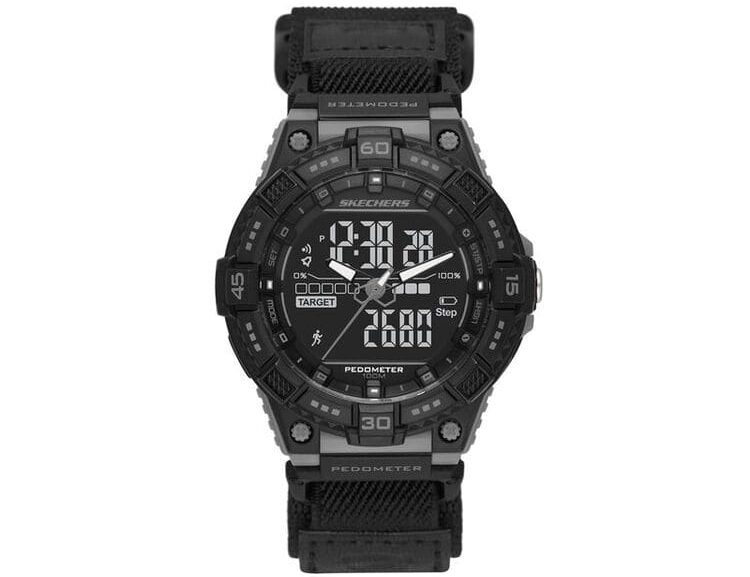 From the official website of Skechers, you can get the Fast Wrap Black Watch model for an economical price. It costs $49.00 and also has the option to acquire it through installment payments.
Important features you'll love
Lightweight ABS plastic case and durable structure.
Woven nylon strap and ABS.
Bezel textured with metal.
Digital display.
Control of 4 buttons.
Integrated timer, alarm, and stopwatch.