When we at Look At The Square (LATSQ) say that Skechers is a very versatile store, we mean it. And he shows it with his new sandals very similar to the Crocs that threaten the famous store with stealing all the attention. For the little ones, they offer design, comfort, and durability.
And the most attractive of all is that they compete in price with the original clogs since they adapt to all types of budgets. You don't have to spend all your savings when Skechers offers you incredible models at such an affordable price that anyone could buy them.
Skechers Foamies Swifters Transluminator Green
It is a model of sandals for children of camouflaged style and medium width, with availability in sizes for children from 4 to 10 years. It is important to note that Foamies Swifters Transluminator clogs from Skechers are also available in other designs, to adapt to the preferences of the smallest of the house. In any case, they maintain the same structure.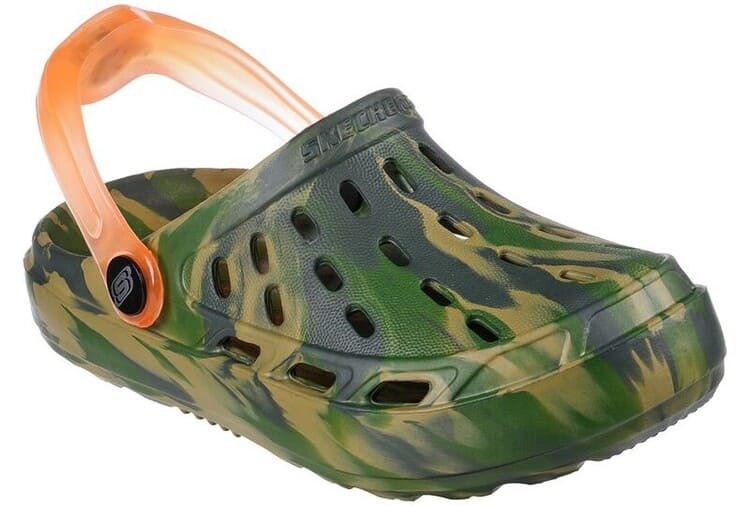 With the Foamies Swifters Transluminator model from Skechers, your children will have sandals to walk in and out of the house. So, they can explore and play comfortably and safely, eliminating all kinds of risks. The upper part of these clogs is perforated and flexible EVA, with a translucent and illuminated heel strap.
It is also important to note that these sandals for children have a splendid padded and cut insole. Therefore, they adapt to the feet to improve the way you walk and be smoother. As far as their price is concerned, you can buy them for your children for only $32.00 or 4 monthly installments of $8.00 with the Afterpay service.
Skechers Foamies Swifters Transluminator Grey
We bring you again the Foamies Swifters Transluminator model from Skechers, but, with a different design than the one we showed you before. In this case, these sandals are charcoal with black and red details. However, they are also available in sizes for toddlers and toddlers. So, you can choose the size that suits the size of your children.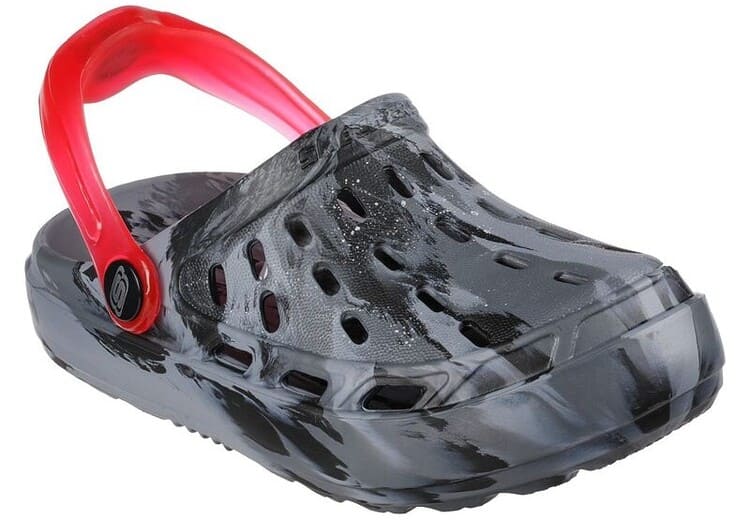 Foamies Swifters Transluminator from Skechers has the same composition and structure as the clogs mentioned above. Therefore, they offer you all the comfort and security that your children need. Best of all, it's equipped with an excellent flexible traction sole to accommodate multiple surfaces, both indoors and outdoors.
Regarding the price of these shoes, you can buy them for the same cost as the previous model. That is, for $32.00 or $8.00 in monthly payments without interest of any kind.
Skechers Foamies Sweetheart Super Snuggly
Let's go now with the Foamies Sweetheart Super Snuggly sandals for girls from Skechers, a splendid model for the princesses of the home. This shoe is available for girls from 4 to 10 years old, with a medium width that adapts to any type of foot. They are blue with artistic details and provide excellent walking comfort.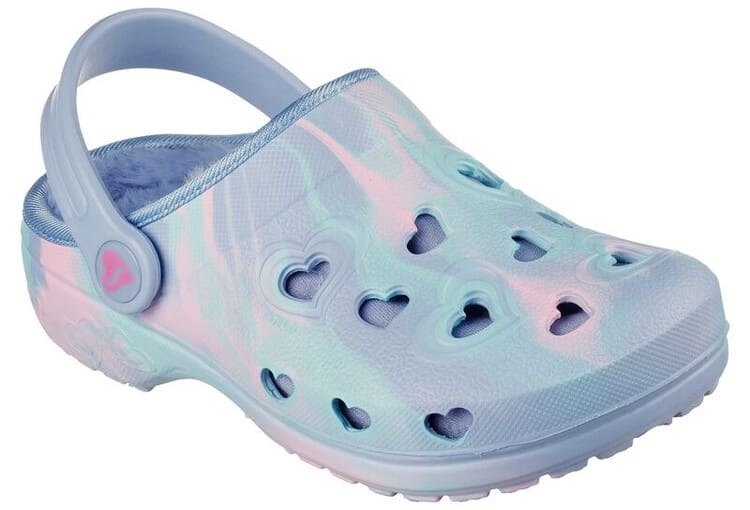 With regard to its composition, the Foamies Sweetheart Super Snuggly model by Skechers stands out for its marble print and cut insole. In addition, they are made of faux leather lining. They cost $32.00 and have the financed payment option available.
Skechers Foamies Navigator
Finally, we must mention the Foamies Navigator model, elegant sandals for large and small children. They are black with details in a dark blue tone. These nautical-style clogs have a convertible back strap and padded insole.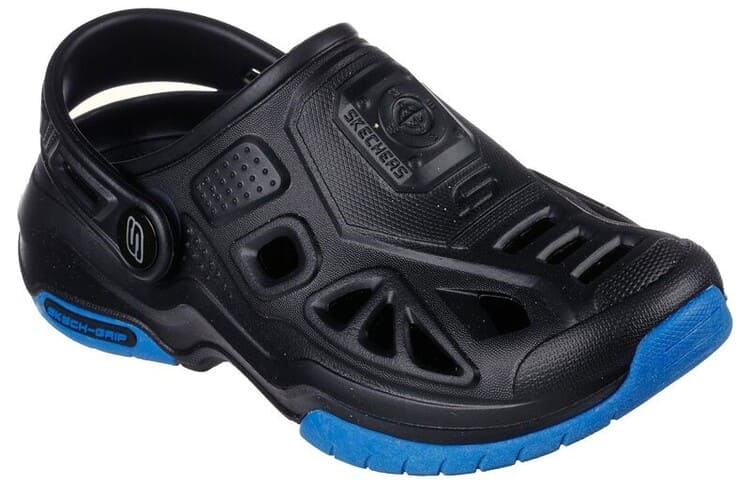 On the other hand, the Foamies Navigator model from Skechers has a flexible traction sole and can be machine-washed. If you want to buy them, you only have to pay the same cost as the other sandals on the list. That is $32.00.