Style and coziness are the most important factors in any shoe or sandal, regardless of brand. Especially when it comes to a child since it helps him feel good when walking and calm with his clothing. Original in all respects, Crocs has a pair of children's clogs that compete with shoes available at Amazon and Walmart in the matter of price and quality.
It is a model that has all the classic features of Crocs footwear, in children's sizes. In this way, it's the perfect gift for the smallest of the house, since they can use them anywhere. They provide comfort at home and style on the street to stand out from the rest. This Look At The Square (LATSQ) guide will tell you all about these Crocs clogs.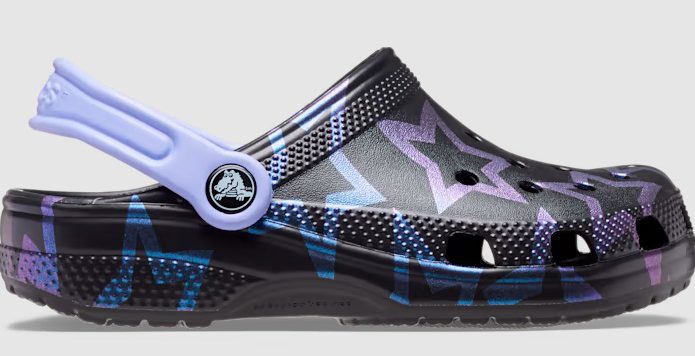 Kids Classic Disco Dance Party Crocs
It is a Crocs shoe for children 5 years and older, with an original and modern style to attract attention. They feature lots of fun graphics and patterns on the upper so your kids can feel attracted to the clogs. Best of all, they are customizable shoes, since they have holes for the Jibbitz charms. Although, these are sold separately.
You can wear the classic kid's disco dance party clogs on any occasion, as they are easy to match. In particular, because the structure of the shoe is black, accompanied by star graphics in blue and purple. Thanks to this, they will help your children to go out and play with their friends or stay inside the house, without dirtying their feet.
This model of Crocs sneakers has many features that are worth mentioning. Next, we will tell you about its main qualities.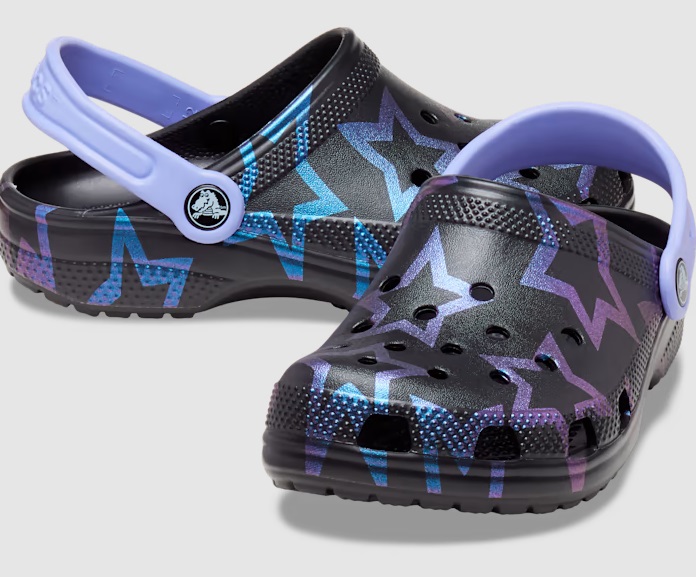 Clog details
It is a light and fun shoe to wear, due to the star graphics on the upper part. Nevertheless, in addition to that, the composition of the sandals is quite comfortable. It has ventilation ports for increased breathability, so your feet are always cool. This helps to avoid bad smells and to feel better while you walk since you will have more energy.
Crocs shoes have pivoting heels, so you can adjust them to fit your feet. In this way, they provide greater safety and stability, reducing the risk of accidents when walking or running with them. The overall structure of the clogs is light and flexible, with an active range of motion in any direction. The traction they offer is high performance.
One of the main features of this children's Crocs model is that they are easy to wash. They can be machine cleaned to speed up the process, without harming their materials and composition. In a matter of minutes, the clogs will be dry and you will be able to use them again.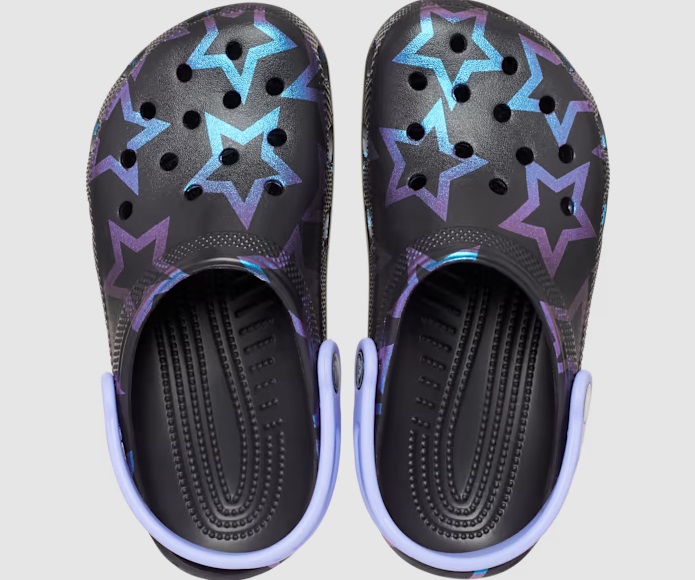 Crocs price and guarantee
Currently, the Crocs Kids Classic Disco Dance Party Clog shoes are available for $44.99. Although, the official Crocs website offers the option to cancel them in 4 interest-free payments of $11.25 with an Afterpay account. All transactions on the official Crocs website are secure and private, so you do not have to worry about a thing.
You will have to pay the shipping price for this children's product separately since it depends on your current location. These Crocs clogs have a 90-day guarantee period, with free returns in case you are not satisfied. The guarantee period begins the moment you receive the clogs at your home.