Being in shape, going to the gym and playing sports is very important for a healthy lifestyle. In the United States, we can literally find a gym on every corner, because there are so many of them, due to the need people have to be in good shape.
If you are one of them and you need a bag adapted to your needs as an athlete, here at Look At The Square, thinking of you, we leave you a complete list of bags for the gym. The same, which are on offer within the Nike store. So that you not only get a functional backpack to keep and store what you want, but also to carry the style of an original and recognized brand within the national territory.
The sports bags offered by the Nike brand
In the Nike store, you are presented with 3 different options of sports bags. They can be adjusted to your needs and style, so you can go comfortably to the gym and do not miss important items such as: a change of clothes, towels for sweating, dumbbells, among others.
Although the model and design of each of the backpacks is different from each other. They all share the characteristic that they have the Nike logo included, in large format and stamped, to ensure the originality of the same.
In that sense, you should know that if you go to a conventional market, these same backpacks are only found as an imitation. Therefore, you should not take the risk and stay until the end of this article, to know the features, details and price of these original backpacks. The options we are telling you about, are as follows:
Nike Sportswear RPM
The Nike Sportswear RPM, is a backpack designed especially to store the implements of exercise, but can also be used for other purposes. It is worn on the back, thanks to its two adjustable straps. Its design is entirely black. Its structure is padded, so that you have greater comfort and can carry delicate objects, without any fear.
Features of this backpack:
It has the following dimensions: 48 cm high x 33 cm wide x 20 cm deep.
It is made of 100% polyester materials.
Is an imported product, which was made in China.
It allows to carry up to 26L.
Its cost is 105$.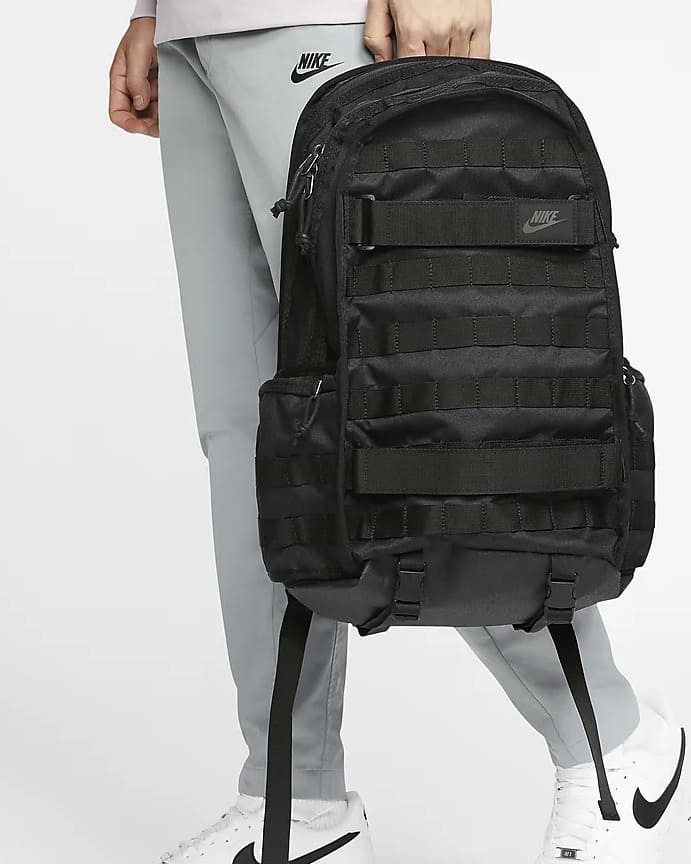 Benefits of carrying the Nike Sportswear RPM:
It has multiple compartments, which you can organize as you see fit.
It has a padded back panel, for comfort on your back.
Its straps are adjustable, so you can improve your posture, while you are using it.
Academy Equipment
Maintain your sports equipment with the Nike Academy Equipment Team on sale in the same store. This one, like the previous one, has a back posture to carry it on your back. Its manufacturing materials make it a comfortable and durable option.
Its design is completely black in color, but with the brand's logo in avalanche pink with some metallic copper stripes above and below.
Features of the Nike Academy:
It has a main compartment with double zipper.
It has the following dimensions: 48 cm high x 33 cm wide x 17 cm deep.
It can carry up to 30L.
It is made of 100% polyester materials.
Its total price is $60.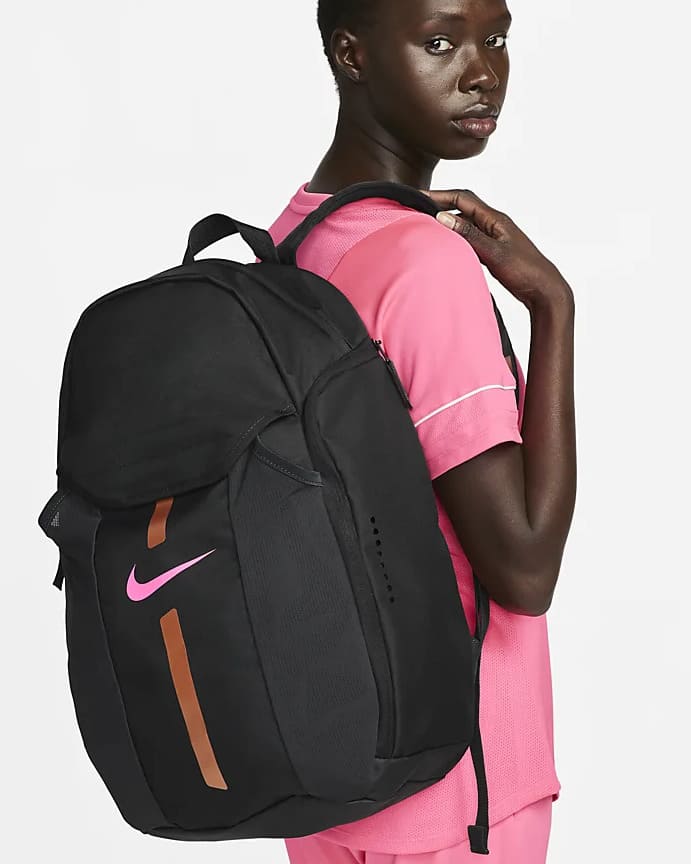 Benefits of using this model:
All its compartments are waterproof, this means that your clothes and other items will not get wet with sweat or water.
The shoulder straps are adjustable.
It has a padded honeycomb in the back, to give me more comfort in the back.
It includes mesh pockets on the sides, in case you want to carry water bottles.
It has multiple compartments, so you can organize your items as you wish.
Nike Academy
Finally, the third option in this list is the Nike Academy designed for sports boots. This is a small bag with only 2 pockets, with zipper and loop to carry it in your hand.
Its design is equally black, with details in metallic copper and avalanche pink.
Features of this sneaker bag:
It has the following dimensions: 36 cm long x 15 cm wide x 18 cm high.
It is made with 100% polyester materials.
Is an imported product brought directly from Vietnam.
It has a cost of 25$.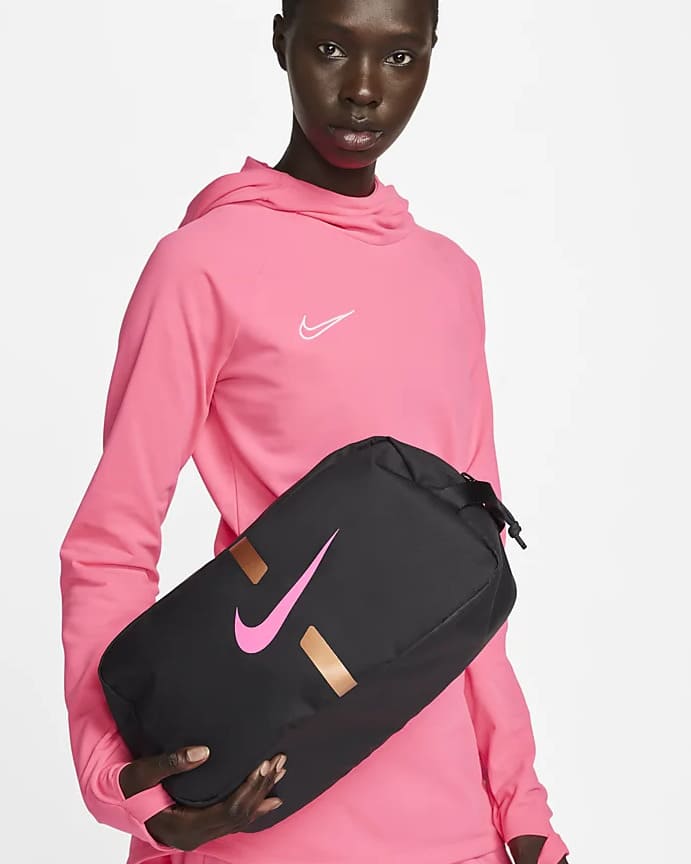 Benefits of using this model:
You will have a sturdy bag, just for your sneakers.
It is easy to carry anywhere.
It gives you comfort and style at the same time.