When we talk about Crocs, our mind tends to go to the sandals to be at home or for casual outings. However, the catalog of this renowned brand has a large number of models, with unique styles. Especially in the women's section. There you can get comfortable shoes, with designs that will keep your feet cool.
For the hot months of the year in the United States or any other country, these women's sandals from Crocs are the best option. You may be able to get them at Amazon or Walmart, but with higher prices or without Afterpay's financed payment options. Therefore, it is best to buy from the official website. In it, you will find fashionable flip-flops like the ones we recommend here.
Women's Crocs Brooklyn Low Wedge
Crocs Brooklyn sneakers for women have been on the market for some time, being one of the most successful models of the brand. It is available in brown, black and green. In large and small sizes. They are sandals that combine with everything, due to the design and the tones that it has. They will make you look spectacular, while you walk without any discomfort.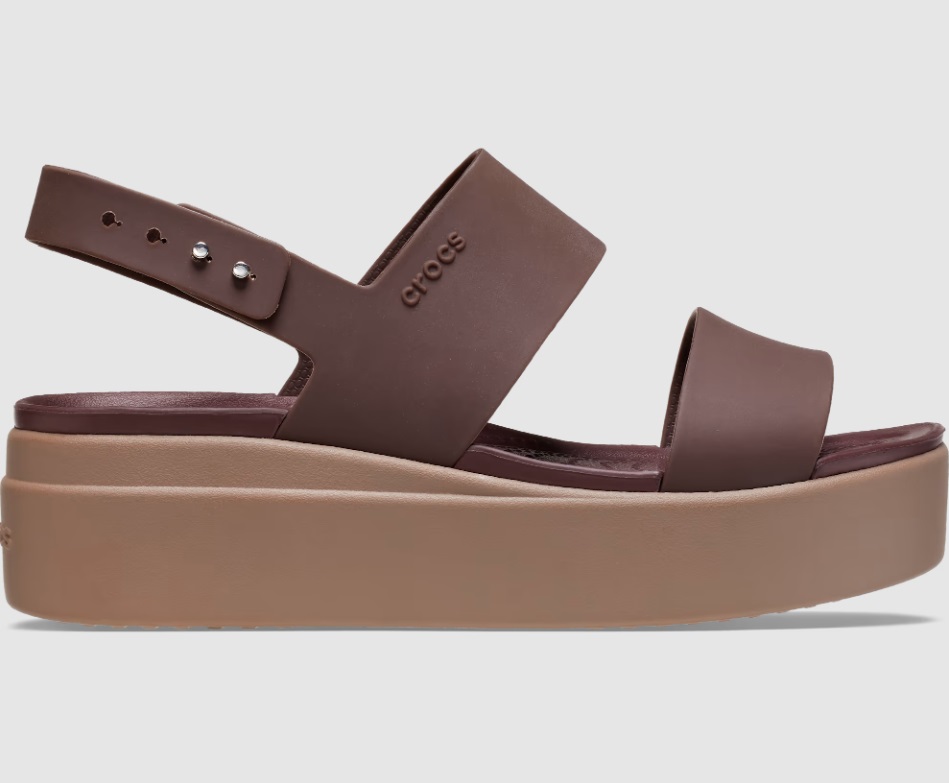 The wedge heel height is 1.7 inches, complemented by soft and flexible uppers. In addition, the insoles are made of foam and the strap is adjustable. You will have security, stability, and freshness at the same time. Therefore, you can use them at home, at work, or on casual outings. They cost $54.99 or $13.75 with the financing option.
Women's Crocs Brooklyn Strappy Low Wedge
We continue with another of the most elegant models for women in the Crocs catalog. It is about open sandals, with a platform and adjustable strap. You can buy it in white, black or light brown, in the size of your preference. It is one of the most versatile Crocs shoes since you can use them in casual and formal outings. At all times, you will feel freshness and comfort.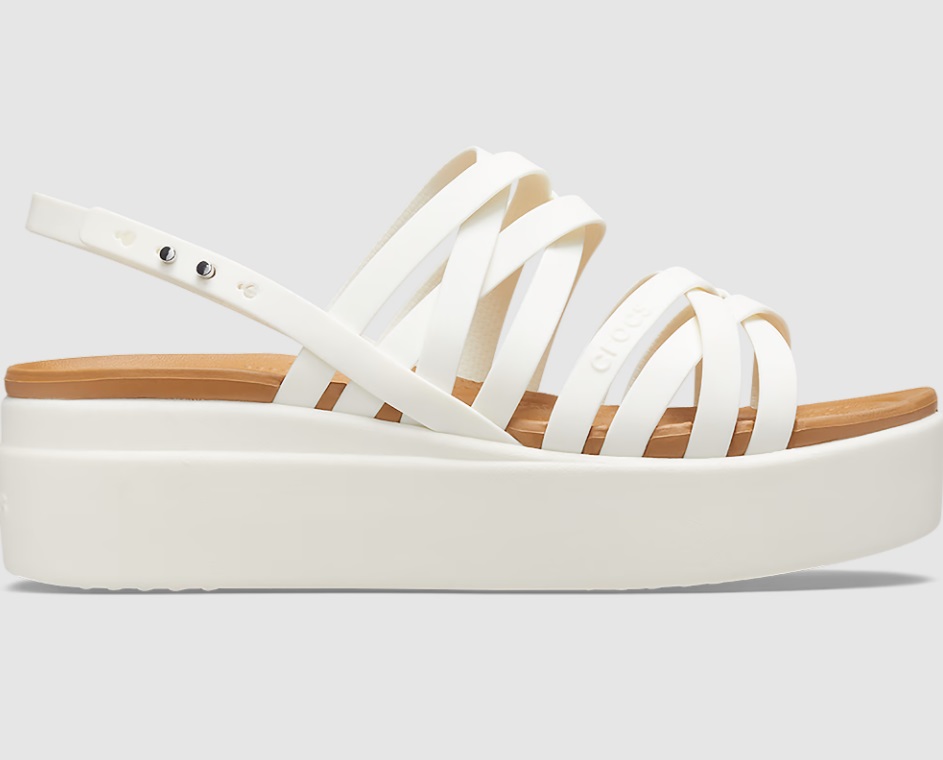 It is a shoe with a light and flexible sole, with a 1.7-inch wedge heel. Despite the added height, this women's Crocs model has excellent stability, grip, and foot support. Best of all, it is a product with free shipping. Its current price is $59.99. On the website, you can buy it in payments of $15.00 for four months.
Women's Crocs Brooklyn Tortoise Strappy Low Wedge
If you are looking for sneakers to stand out effortlessly, this is the ideal model for you. They have an original mocha-colored design, with black spots, which gives it a resemblance to animal print. You will be able to express the versatility of this shoe in different ways since it combines with multiple styles of clothing. They use foam technology as icing on the cake.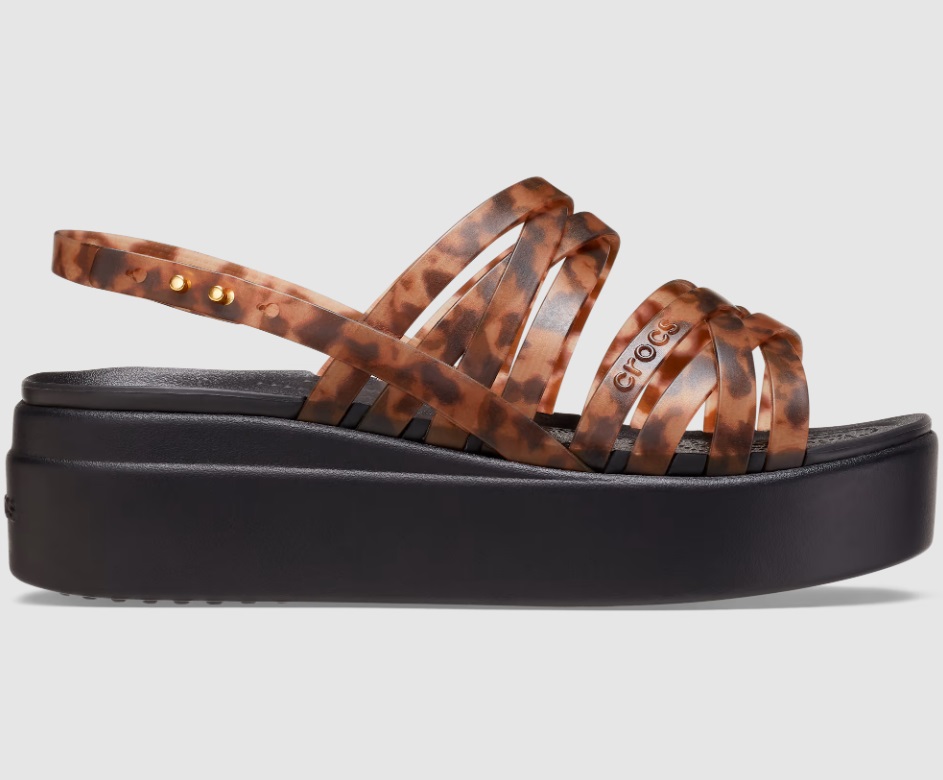 This elegant tortoiseshell shoe is one of the most comfortable Crocs models in the entire catalog. The straps adjust to your preferences and it has very soft and flexible insteps. At no time will you feel discomfort wearing this women's footwear. They have free shipping and a reduced price of $59.99.
Women's Brooklyn Tortoise Low Wedge
This model with a high heel is another good option to consider in the Crocs women's footwear section. They offer comfort and security, thanks to the silhouette of two straps on the heel. In addition, the shoe's design features Crocs' original tortoise shell print. They have a light base and a foam insole, so you will not have any problems walking.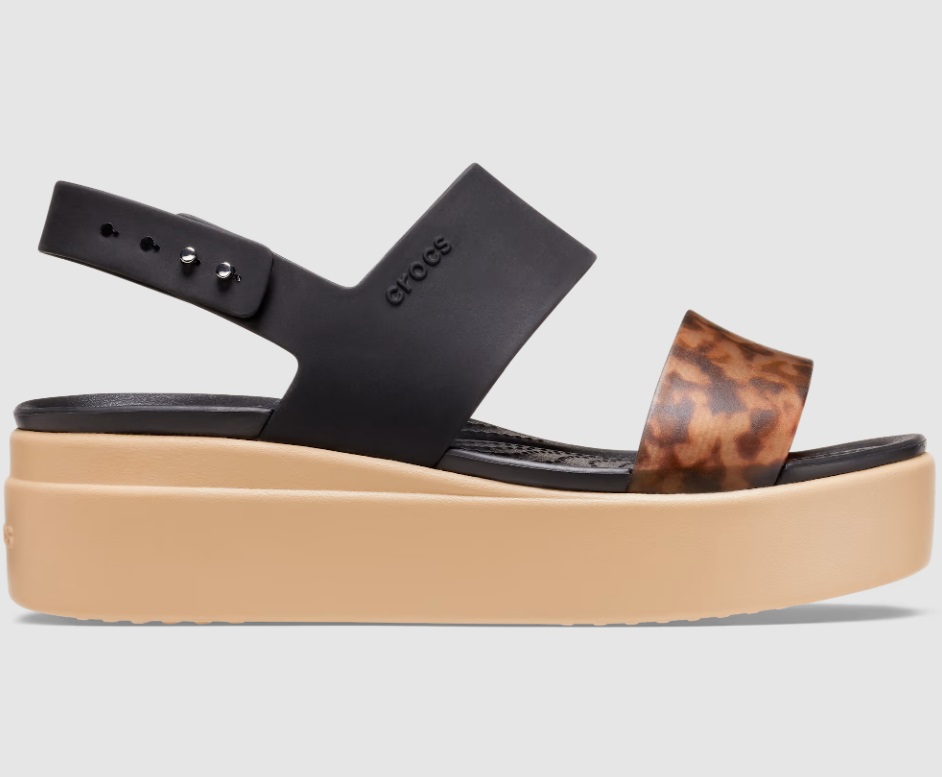 If you are looking for a nice and fashionable construction shoe, this is the perfect option. They will be of use to you on multiple occasions, for many years, since they are also durable. For an affordable cost of $54.99, you can receive them with free shipping.