Elegance and versatility are something that has always made Zara stand out, and when Christmas approaches in the United States, it gives us fantastic options for magazine outfits.  At Look At The Square (LATSQ), we are lovers of classic fashion. And with dresses, tuxedos, and women's suits, parties become more modern and elegant.
You can dress to match the shades of the ornaments for your home that you find in Zara Home or Urban Outfitters. Stand under the mistletoe, enjoying the combination or contrasting colors between your costume and the Christmas accessories. The fashion store Zara has thought about innovating your Christmas, and we will show it to you.
Zara Blazer with Tuxedo Collar
We have the Blazer with Tuxedo Collar, a long-sleeved design with convenient front pockets. The garment's interior is lined to the tone and has a front closure with buttons, which give it a carefree style and, at the same time, elegant.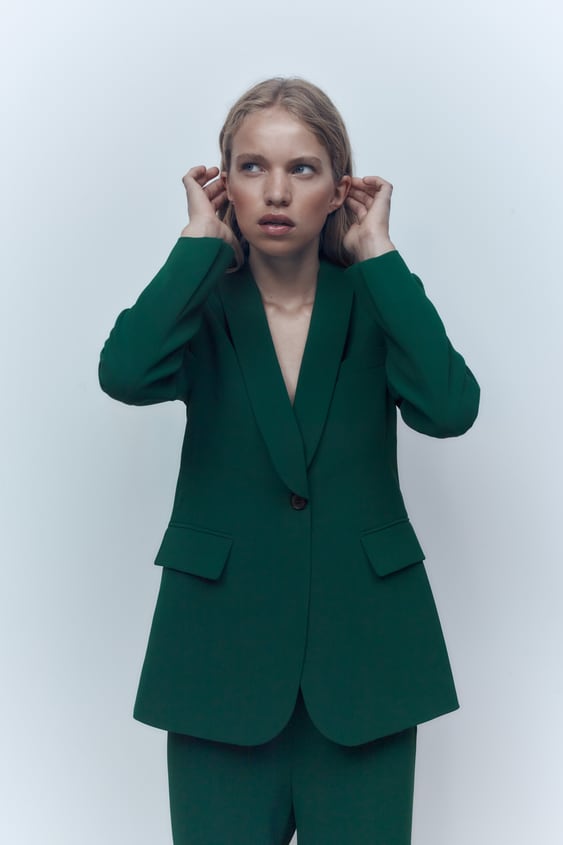 Zara is pleased to report that at least 50% of the polyester is recycled. Using technologies and raw materials that help reduce the environmental impact of the products they produce. So, in addition to enjoying a fantastic design, you can take care of the environment simultaneously. Made of 100% polyester, you can buy this tuxedo upper for $119.00.
Long Flowy Pants
For an extra $49.90, you complete your tuxedo thanks to these Long Flowy Pants that are as comfortable as they look in the photo. It is fluid trousers of high throw, with straight legs and closure with zipper hidden in the side seam. In addition to being a highly striking and elegant model, it is comfortable and easy to place. You can do incredible feats to enjoy these fantastic models because you can have it all at a great price.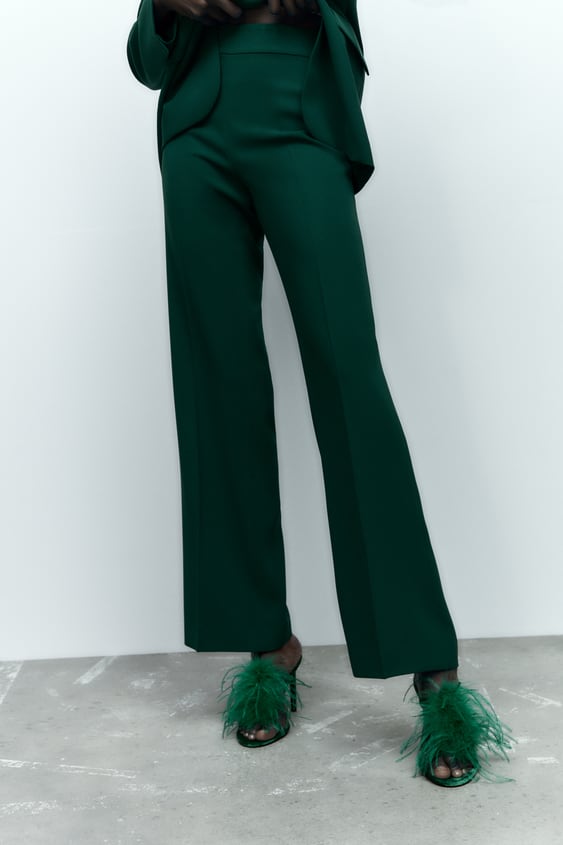 Zara Combination Satin Effect Blazer
Next, we have a much more classic tuxedo model for those looking for a more traditional design. The best thing about this Combination Satin Effect Blazer is that it gives you a carefree and comfortable look, but at the same time very elegant. And in addition, it combines perfectly with any other accessory of the colors you choose. It's a great way to contrast with the Christmas colors and your home's decorations.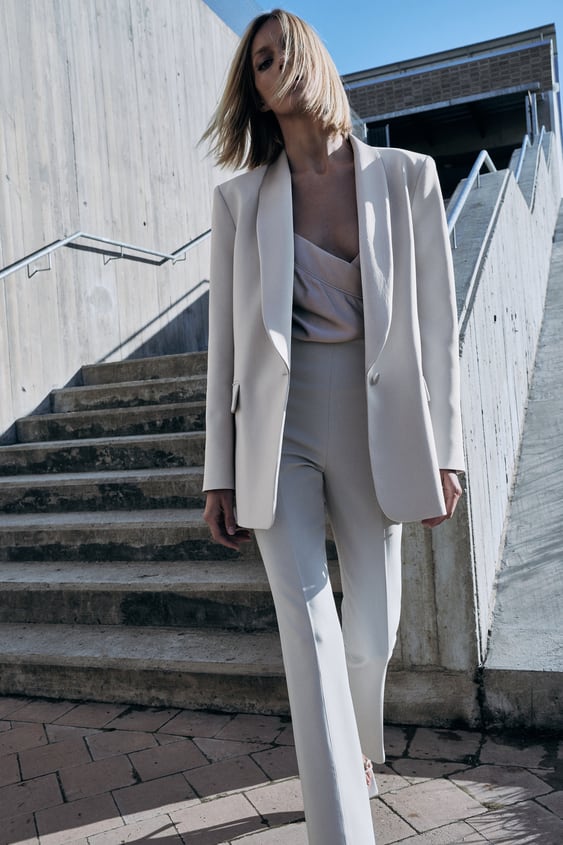 It is manufactured with an exterior of 76% polyester, 6% elastane, and 19% viscose. This makes it a highly resistant, comfortable, and soft fabric that you can easily wash without problems or risks of the fabric wearing. In addition, it has a coating made of 100% acetate that guarantees the resistance and durability of the fabric, protecting it against tearing or fraying. And it can be yours for just $99.90.
Flared High-Waisted Pants
Finally, to combine with the previous blazer, we bring this fantastic option that for only $59.90 extra, will give you a fantastic and elegant garment. This model  of Flared High-Waisted Pants, is ideal for those looking for comfort, ease of movement, and elegance. All in one, so you can stand out at any party with an outfit taken from the catwalk that only you can enjoy.